Manhattan
In Times Square, ground zero of the original bad old days, a dark tinted windowed Mercedes Benz was screeching it's wheels and speeding on 7th avenue. As a police officer walked in the street to obstruct it, the driver hit him, sped off as it turned west into 42nd street. As the cop called for backup, all on foot, and yelled for help to probably passerby on the street, the car was gone.
Also in Times Square, a mentally ill homeless man was swinging a machete and hitting the sidewalk with it. He then put down his weapon on the cops order and then ran away, ditching two other machetes. When the cops arrested Homeless Zorro, he was possessing two more of them.
Again in Times Square, a Navy soldier pulled over by cops who made turned into the wrong direction on 8th avenue turned out that he was carrying a cache of handguns in his car.and a hunting knife strapped to his leg. Good thing no one drew first blood.
In the Upper West Side, a man pushed an 81-year-old woman in a post office and stole her purse, after that he was walking down the avenue with the purse he jostled then he went inside a bank and snatched $300 from a 4-year-old girls hand at a bank ATM machine while her mother was letting her participate in a transaction. The little girl wound up traumatized by the mugging, thinking that the scumbag is going to come back for her other glove.
Also in the Upper West Side on the West Side Highway, a drunk livery cab driver rammed into the back of a police car, injuring two cops.
Again in the Upper West Side, a traffic cop was clipped in the leg by a hit-and-run driver while directing traffic.
In Greenwich Village, two men robbed a convenience store of two grand when the co-owner opened the door for them after coming up from the basement and was held immediately held up at gunpoint.
In the East Village, a fight between two men in a corner store escalated as they fought on the street and one of them stabbed the other and ran off.
Also in the East Village, a firefighter who works at the Ladder 11 station was arrested for dealing fentanyl over the internet. The "Dark" internet.
In Harlem, a man drinking heavily at a party jumped out of window and impaled himself on a fence when his friends told him to leave. A brawl ensued between the revelers as one man broke a beer bottle over another one's head.
In Chinatown, a teenager was killed in a fiery car crash after his drunk friend speeding off the Manhattan Bridge jumped a curb and crashed into a fire hydrant and lamp post. The driver has testified in court that he didn't know he had a passenger in his car.
In the Lower East Side, three patrons were slashed at a bar by a man at 5 a.m.. The bar is owned by a guy who a member of some nightclub lobby group who applied for the once vaunted and unnecessarily stupid night mayor position and just recently had it's liquor license revoked for being a noise making, violence enabling, underage and binge drinking encouraging nuisance to the neighborhood.
Also in the Lower East Side, patrons at a bar celebrating New Year's Eve got held up at gunpoint by a 3 teenagers who proceeded to rob their cell phones and the cash register.
Again in the Lower East Side, a man sprayed lighter fluid on a clerk in a jewelry store and robbed her by threatening to torch her.
And again in the Lower East Side, two men held up a bodega at gunpoint and robbed the Lotto register of $600.
And again in the Lower East Side at the Delancy St. Station, a man committed suicide by jumping in front of the approaching F train at 12:50 p.m.
In the Upper East Side, a millionaire heiress got impatient at a ritzy restaurant coat check as she made a bigoted slur at a man and woman in front of her. When the man confronted her why she insulted him and his family, the one percenter slag hit him in the face with her glass purse, causing a bloody gash.
Also on the Upper East Side, a man beat his girlfriend to a bloody pulp then went into his car and shot himself to death.
Again in the Upper East Side, a man followed an 80-year-old woman to her apartment building then tried to rob her purse but failed in his jostling attempt as the woman held on and yelled for her neighbors.
In the Upper East Side, Hell's Kitchen, East Village and Kips Bay, two burglars have pulled off 16 safe robberies of restaurants, including outside ATM's and their surveillance systems in the month of December, amassing a total of $54,000.
In Washington Heights, an apartment building went on fire that was sparked by a toaster and the flames accelerated up a dumbwaiter shaft and onto the roof.
In Gramercy Park, some entitled actor who gets paid 500 grand an episode from some hit show on premium cable got shitfaced in a bar and got into a row with other patrons trying to hog the pool table, leading to being ejected by the staff and management.
In Soho at the Spring St Station on the E train, a sleeping commuter was being jostled by a man trying to rob him and got slashed in the face trying to stop him.
Again in Soho, a car got totaled when a large chunk of rust colored ice fell off a building.
A man is wanted for simulated gun robberies of fast food chains and drug stores in Greenwich Village, Union Square and Mott Haven, making off with over 2 grand in cash.
In East Harlem, a cop assigned to community affairs was charged for driving drunk and flipping his car on the Belt Parkway a month ago and again in East Harlem.
At the 1st Precinct in Tribeca, an NYPD detective was caught and arrested after being found with heroin and driving without a license.
In Turtle Bay, an elevator broke from the weight of too many party people inside and fell 3 floors straight to the basement, injuring 5.
In Murray Hill at the 33rd St. Station, a drunk ass fell off the platform and onto the track roadbed as the train arrived.
In Midtown, a fire ignited on the roof of the TRUMP tower on the eve of the man and brand it's named after brain exploded and called other nations shitholes during a senate committee meeting on immigration.
Bronx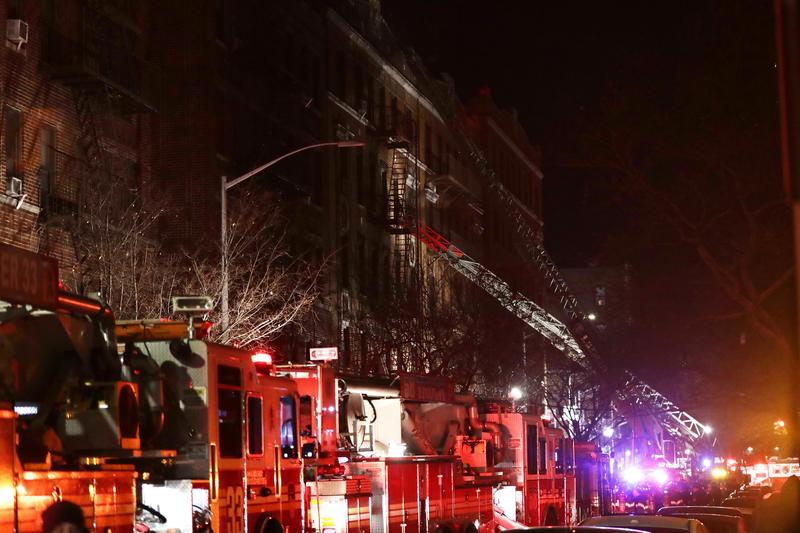 In Belmont, a fire started by an unsupervised 3-year-old boy that was playing with the knobs on the oven then rapidly spread when his mother didn't shut the door and engulfed the entire building in flames killed 12 people and injured 4. The building was also found to have non-working fire and carbon monoxide detectors and the nearby fire hydrant frozen solid from record frigid temperatures.
In Van Nest, a fire sparked in a furniture store in a mixed use building starting at 5:30 a.m. spread to the apartments above, engulfing it in flames. 24 residents and one fireman were injured during the 7-alarm blaze.
Also in Van Nest, gunfire broke out in front of a catering hall that was reserved for a sweet 16 party, killing a 16-year-old boy who got shot in the neck and injuring a 17-year-old boy who got shot in the arm after a 300 kids showed up uninvited and incited a fight.
In Norwood, a man stalked a 64-year-old disabled woman to her apartment then raped her and robbed her of $250.
In Soundview, a man shot his ex-girlfriend and her daughter to death and then killed himself in front of the daughter's one year old child.
In Morris Heights, a drug deal gone bad led to a man getting stabbed to death and another man getting slashed in the face.
Also in Morris Heights, a man was stabbed multiple times in the back as he was sitting in a restaurant by a man he was brawling with on the street before. The suspect claims his victim stabbed him first.
In Hunts Point, a man was found dead lying on the sidewalk with a bullet wound in his head.
In Woodstock, a man fighting with a woman in front of a deli pulled out a gun and shot in the face. The woman died later.
In West Farms, a man was found dead in his apartment with puncture wounds in his neck.
In Wakefield, one person was killed and two were wounded in a domestic shooting.
In Claremont Village in an incident of criminal mischief, a man shot another man inside an apartment building and tried to choke another man who tried to stop him. The culprit was stopped by two cops quickly responding to the shooting.
In Williamsbridge, a homeless man was found dead on a street corner a few days after the blizzard hit the city.
In East Tremont, two board members of a non-profit running a day care center robbed it of $130,000 to pay for a funeral for a friend and new duds.
In Throggs Neck, a man and his teenage daughter died in a fire caused by a hot plate placed by a comforter.
At a transit police station by Yankee Stadium, lockers belonging to Muslim officers were vandalized with bigoted messages and penises.
In Fordham, a teenager commuter who fell asleep was robbed, er, jostled by a man who wound up with his cell phone and credit card.
In Yonkers, gangs of kids brawling on the street took their rumble into a Dunkin Donuts which culminated in a stabbing death of a 16-year-old girl by another teenage girl.
Also in Yonkers, a stupid cop was caught doing donuts with a squad car in a lot.
In Claremont, a drunk driver crashed his car on an NYPD smartcar.
On the Major Deegan Expressway, a man killed himself after sideswiping an SUV and slamming into a wall causing his Mercedes to explode.
Brooklyn
In Crown Heights, a 22-year-old woman was killed by her husband after he pushed her down the stairs and strangled her to death in their basement and left her for dead with their 2-year-old daughter. Cops dispatched to the home by the victim telling the operator that her husband was going to kill her never left their vehicle to confirm the attack, but showed up later after another 911 call from a neighbor hearing the child scream, finally discovering the lifeless body. This is the Blue Wall Of Insouciance in full effect, or more appropriately, none.
Also in Crown Heights, a brownstone apartment building went on fire, injuring 4 smokeeaters.
In East Flatbush, an stupid fucking idiotic building superintendent roasting a pig in the basement of an apartment building because it was too cold outside, caused a two-alarm fire, causing damage to the first floor and the scene of the cooking. Again, this place was torched by the super, the man responsible for the building's upkeep.
The accomplice.
In Canarsie, two cheerleading squads engaged in a vicious brawl inside a high school which continued uninterrupted because of the presence of a single helpless security guard.
Also in Canarsie, a 68-year-old woman succumbed to a heart attack and died when she was hit with a hammer by a 18-year-old woman who with two men forced their way into the victims apartment to rob it. The three then attacked her roommate and stole his wallet, cellphone and video game console.
Again in Canarsie, a fire broke out inside a house, injuring 3 people.
In Windsor Terrace, a teenage boy punched a 77-year-old man after he paid his fare and went through the turnstile at the Fort Hamilton Parkway Station.
In Downtown Brooklyn at the Jay St./Metrotech Station on the R train platform, an 18 year old man rambling incoherently approached a 65-year-old man who told him to back off then got sucker-punched by him and fell onto the tracks. He died of a heart attack hours later from the ordeal. The culprit had a heavy pill prescription from his bipolar and schizophrenic mental conditions.
Also in Downtown Brooklyn, a Muslim woman was shouted at with bigoted slurs and physically attacked with punches by a gang of teenage girls after she told them to stop causing a ruckus at a chain restaurant as other customers just drank their latte's and did nothing to help her.
In Williamsburg, a man went up to three other men on a corner at midnight and shot at two of them three times, killing one and injuring the other. The suspects drove off after the murder.
Also in Williamsburg, a bodega was held up at gunpoint at 7 p.m. by two men who shot at two workers there, hitting one in the back and the other in the chest then ran off.
Again in Williamsburg, a man was struck by a speeding car then two men wielding a hammer and a metal rod chased him and beat him up on the sidewalk.
And again in Williamsburg at the Bedford Ave. Station, a woman fell off the platform somehow and landed on the tracks as she got stuck under the arriving L train.
On the Williamsburg Bridge, a man was sitting in the middle of the tracks causing transit service to stop, doing an uncanny dramatization of the MTA's antiquated, temperamental signal system.
Also in Crown Heights, Williamsburg, East Flatbush, and Bed-Stuy, four men broke into a restaurant by kicking in a sheet wall and robbed it of $100; a man waltzed into an apartment building and walked out with $2,350 worth of merchandisel; two men held up a bodega and ripped off a gold chain from a male clerk and a cellphone off a female worker and $125 in cash and a chinese food delivery man got set up for a mugging by two men who placed an order from an unoccupied apartment, robbing him of $250.
In Flatbush, a woman was found dead with her pants down to her ankles in a parking lot at 6 in the morning in the freezing cold.
In Midwood, an off-duty cop driving in his black jeep turned on his siren and lights and rammed the vehicle in front of him and then went to the driver and the passenger and flashed his gun and then hit the driver and the woman who was with him with his handcuffs. The crooked cop bragged of that he was in the NYPD like it was a gang, then sped off and ran several lights and got away.
In Bath Beach at the 62nd Precinct, a police captain fashioned a garage area into a cigar smoking lounge for indulging in the consumption of foreign contraband from Cuba.
In Sunset Park, a man got shot in his car after a drug deal went bad with two other men.
In Flatlands, a fire station house was found to be a wanton fun house of fratboy hazing and degrading homoerotic rituals
Also in Flatbush, 4 men collaborated in the mugging of a man inside a store, stealing his headphones and wallet.
In Brighton Beach, three men mugged a man, repeatedly punching him and stealing $48.et.
In Brownsville, a man trying to break into his girlfriends apartment was killed when she took a gun and shot him.
Also in Brownsville, a woman killed her husband by jamming a knife in his neck after he punched her in the mouth.
Again in Brownsville, a man tried to purchase a bag of Cheetos with a fake $50 dollar bill, when the cashier told him to get out, the cheap jerk flashed a gun then stole the item and walked out.
And again in Brownsville, a man killed himself turning into the wrong lane as he collided with another vehicle.
Two men are involved in a crime spree of bodega gunpoint holdups in Brownsville, Bushwick and East New York.
Also in Bushwick, East New York, Sheepshead Bay and East Flatbush, a man wearing a contractor safety vest robbed a cellphone store at gunpoint and ran off with some samsungs and cash; a man pulled a gun on a livery cab driver and robbed him of $250; two woman and a man at Macy's shoplifted a fur coat and ran out of the store and three men ran up behind a man and beat him up and robbed his backpack.
In East New York at the Liberty Avenue Station, a homeless man was found dead on the train tracks.
Also in East New York, a dog was found tied to the door of a animal care center with his leg gnawed off.
Also in East New York, Park Slope, Sheepshead Bay, a man held up a bodega store clerk at knife point just to steal cereal; a teenage male was attacked on the 7th Avenue F train station platform by a man who jostled for his cell phone and two men robbed a laundromat and deli at gunpoint and stole $1,700 and pistol whipped a clerk and
In Ocean Hill, a man broke into a woman's apartment around 3 a.m. and pinned her to the bed by her throat and then robbed her of $140.
In Bensonhurst, a man flashed a gun on a teenage male to rob his coat was thwarted when the kid fought back.
In Greenpoint, a man broke into a Chinese restaurant and robbed money from the cash register.
In Greenpoint, Bed-Stuy, Gravesend, Midwood, Brownsville, and East New York, a man held up a dime back with a note he gave to the teller; a man held up a NYCB bank and robbed it of $4,050; two men robbed a gas station attendant of $140 and his wallet when he got a seizure and fell to the ground; a man stole $300 after he entered an office building with an unsecured door; four men ganged up on and beat up a 16-year-old boy for his cellphone and a 14-year-old boy got punched by a man who arranged a hoodie sale with him over social media.
In Park Slope at the Prospect Ave. Station, an inebriated man died when he fell on the tracks on his head.
Also in Bay Ridge and Dyker Heights, two burglars broke the locks on the security gate and stole 8 grand; two crooks robbed a grocery store of $400 and cigarettes and two coffee shops were robbed around 3 a.m. of $300 each.
Again in Dyker Heights, a bus crashed into another car and flipped over, injuring 5 kids..
In Bed-Stuy, a school safety agent beat up and tried to choke his wife at their home.
Also in Bed-Stuy, a home was burglarized of $200,000 worth of jewelry while the owner was away on a UN mission.
Again in Bed-Stuy, a brownstone apartment building went on fire, killing two residents.
In Marine Park, a woman got jostled as she was robbed of her handbag containing her phone and credit and I.D. cards as he was trying on shoes.
In Bensonhurst and Bath Beach, a man broke into a car window and stole electronic items, a man attempted to rob a safe, a man stole $2,000 and a bottle of wine from a restaurant, an office was burglarized of 5 grand and debit cards, and a woman's purse was stolen,  no, wait, jostled that contained $1,400.
In Gerristen Beach, a water main broke flooding 12 houses.
Queens
In Sunnyside, an auto shop worker trying to ask the driver of a laundry van to stop blocking the driveway was confronted by a man coming from a hotel homeless shelter who called him a racial slur and punched him in the head twice. When the victim attempted to file a report to the nearest police precinct with the video and photo proof he had, the case was reclassified and closed stating that there were no witnesses and the suspect ran off somewhere else. The victim was previously hit by a car in October from another homeless hotel shelter resident. Another brick in the Blue Wall Of Insouciance.
In Richmond Hill, a woman was stabbed to death by her husband in their home and he was later found dead hanging on a tree by his own hand near Forest Park. Like last year, the first murder of the new year happens in Southeast Queens.
In Long Island City, the most expensive place to live in this borough, a commuter was robbed of his headphones on the E train by a man. As he went to get his property back by getting off the 36th st. station, he was attacked by the thief and then jumped by two other men that was with him who beat him down and then stole his backpack and cellphone.
Also in Long Island City on the 7 train at Queensboro Plaza, a man blasting a portable speaker was confronted by a commuter asking him to shut it off. When the obnoxious jerk refused he dared the man to do something about it and when he did and got into a tussle with him, he stabbed him in the hand.
In Queens Village, a man died of heart attack after he was attacked, had his head slammed into a car and beaten to the ground then robbed by two men. The victim and his wife came to the states from Guyana to feel safer.
In Ridgewood, a crime spree of vehicle break-ins of app livery cab drivers in a span of two weeks has resulted in 57 burglaries in the span of two weeks.
Also in Ridgewood, a man brought a garbage can into a White Castle and threw it at a customer.
Again in Ridgewood, a man robbed a bank of $1,000 at 1 p.m. after he handed the teller a note.
And again in Ridgewood, a storage unit warehouse was broken into and various lockers were robbed of merchandise.
And again in Ridgewood, a man stabbed his girlfriend twice and tried to strangle her during an argument in her apartment.
In Rockaway Beach, a fire broke out on the 11th floor of an apartment building, injuring 8 residents and 9 cops. The fire was ignited by a heating lamp that fell on something flammable although neighbors suspect it was from one of the many things the tenant was hoarding.
In Corona, a DOT street redesign on 111th street as led to doubled rise in vehicular accidents.
Also in Corona, two men broke into and robbed an apartment of $5,000 in jewelry after accessing a door on the roof.
In Elmhurst, a man tried to commit suicide by leaping off the top floor inside of the Queens Center Mall.
Also in Elmhurst, a crook sneaked up behind a person with a knife and robbed $900 and a watch.
In Jamaica at a high school named Young Women's Leadership School, a teenage girl slashed another teenage girl in the head with a kitchen knife during a fight outside.
Also in Jamaica, a man held up a deli at gunpoint and robbed $300 and the clerks cellphone during a struggle.
Again in Jamaica, a man went into a Capital One bank, slipped the teller a note and made a verbal demand for cash. It was a heist of $23.
And again in Jamaica, a man was shot at from behind while standing on a corner at 8:30 p.m.
And again in Jamaica at the Sutphin Blvd Station on the E train platform, a man suckerpunched a 70-year-old man on the train and ran away when it arrived at the stop.
And again in Jamaica, 3 men held up a grocery store at gunpoint and stole $1,200.
In Forest Hills, a 16-year-old girl was molested by a man who grabbed her groin as she was walking on the street at 4:30 p.m.
In Glendale, two brothers loaded on some bad shit barricaded themselves in their apartment and tried to set it ablaze, then fought with cops and the ESU who tried to get them out.
Also in Glendale, a man crashed his car after he ran a red light then ditched his vehicle as he tried to run away from cops.
In Edgemere, a 15-year-old boy was shot to death in a stairwell over an iphone.
In Ozone Park, an 87-year-old man crossing Rockaway Blvd got killed after getting hit by a car.
In South Ozone Park, a burglar broke into a makeshift Sikh temple in the back of a two family house and stole $5,000 in cash, an amplifier and microphone and the security camera.
Also in South Ozone Park, a fire broke out in a two family home with multiple building violations forcing out close to 20 people residing there.
In Woodside, a man accessed an three-family house and got into the third floor apartment and stole jewelry and a computer tablet.
In Little Neck, a burglar broke the door of a threading salon and stole 200 bucks.
At JFK airport, a man was caught trying to smuggle a gun through baggage check.
In Howard Beach, a man broke the front window of a fast food restaurant around midnight and robbed the register of a grand.
In Far Rockaway, in a nauseating uncivilized display of the obnoxious use of social media and police brutality, a man that turned without signalling was pulled over by cops who then threatened to break one of the officers jaws and warned he will get them where they live, which the narrator of the filming doesn't bother to mention as he's describing the altercation. As the cops got him out of the car to arrest him for not cooperating and showing his driver's license, a cop shot the suspect with a taser multiple times even though he was being held by four cops.
In Sunnyside, a man and woman robbed a woman's purse in a diner.
In Fresh Meadows, a couple robbed a wedding dress clad mannequin from a store window display.
In Astoria at the Ditmars Ave. Station, a man trying to enter the train was obstructed by a bag of dicks blocking the door, sparking an argument. As the commuter walked away to the next car, the bag of dicks followed him and slashed him in the head.
Also in Astoria, an 81-year-old man was killed crossing the street by a car making a turn.
In Flushing, a 77-year-old woman was struck and killed by a hit-and-run driver as she was in the crosswalk at 7 a.m.. The driver, a frickin' nurse, thought she hit a chunk of ice. That was wearing a winter coat.
Also in Flushing, a man disguised as Santa Claus held up a gas station at gunpoint with an accomplice and robbed the register of $900 and took off on his sled in a silver car.
Again in Flushing, three men pushed around a 19-year-old man and a 16-year-old girl at an intersection and stole their cellphones.
And again in Flushing, a man robbed a hotel of $580 with his hand poking through his jacket.
And again in Flushing, a woman was found dead inside a commercial building.
At two synagogues in Flushing and Bayside, a demented man left a disparaging message on answering machines touting the absurdity that Figurehead Trump brought back the greeting of Merry Christmas and extended that greeting in a menacing tone.
In Cambria Heights, a car crashed into another one at an intersection that has been missing a stop sign for months despite complaints from the community. 3 people including a child were injured.
Another noteworthy stat going unmentioned in this utopian fun city is that this borough is that while murders were down in 2017, there were more than three times as many fentanyl laced heroin overdose deaths.
Staten Island
In Eltingville, a car chase with police led to the arrest of a naked man wearing a hat who tried to flee on foot.
In Graniteville, a man and woman were arrested at their home for drug dealing and possession of heroin and scales in the presence of a 4-year-old child.
In Bulls Head, a NYPD sergeant committed suicide in a hotel room shooting himself in the head.
In West Brighton, a man threw a Christmas tree at his relative during an early morning domestic dispute.
Also in West Brighton, a man was shot in the knee after an argument with another man in front of his apartment building.
In Tottenville, an argument between two roommates escalated when one of them stabbed the other in the stomach with a knife.
In Charleston, a man got shot to death in front of a strip club when he approached a vehicle whose driver he got into fight over a girl with.
In Sunnyside, a woman with a suspended license injured two cops when she crashed into their patrol car.
In Arden Heights, a woman scarred herself by spraying her face with an acid fluid substance and tried to blame it on somebody else to get media, medical and police attention.
Happy Fucking New Year Boroughs Five. This is the longest New Bad Days yet covering the past 2 weeks. Brace yourselves and check yo selves before you wreck yo selves.