The Five Boroughs, New York
New York's highest court tossed out both congressional and state Senate district maps on Wednesday, ruling that they were both drawn in violation of the constitution.
In a majority 4-3 decision, the state Court of Appeals ruled that the maps must be redrawn by a neutral expert, acknowledging that "it will likely be necessary to move the congressional and senate primary elections to August," Chief Judge Janet DiFiore wrote, ordering the Supreme Court to oversee the process.
While the court ruled both maps were procedurally unconstitutional, the judges wrote that the congressional map was clearly gerrymandered "with impermissible partisan purpose."
The decision comes after the new, bipartisan Independent Redistricting Committee, established by voters in 2014, failed to come to an agreement on the electoral maps, putting the power in the hands of the Democrat-controlled state Legislature, which approved the newly redrawn maps in February. 
"The legislature responded by creating and enacting maps in a nontransparent manner controlled exclusively by the dominant political party – doing exactly what they would have done had the 2014 constitutional reforms never been passed," DiFiore wrote. 
The now-voided maps would have given Democrats advantages in 22 of the state's 26 congressional districts. The new state Senate map redistributed two more of the 63 districts to New York City, following population trends, and gave  Democrats a better position in three Republican-held districts. 
After Democrats released the maps, Republicans promptly filed a lawsuit arguing that the process for approving the maps was "constitutionally defective" and that the congressional map in particular was "unconstitutionally gerrymandered in favor of the majority party," according to the decision issued Wednesday. 
The fact that the NY Senate Democrats thought they could pull this obvious gerrymandering off to usurp elected offices from Republicans while acting collectively self-righteous trying to justify it is beyond hilarious. Still reeling from losing a seat after a low census count and a bit upset at Nicole Malliotakis's victory over incumbent Max Rose last year and opportunistically taking advantage of late filing by an appointed bipartisan commission to draw the maps, they decided to redesign district lines to screw her and other incumbent Republican candidates like they did it on an etch-a-sketch.
Their attempt to ratfuck Rep. Malliotakis was so brazen, by extending her district to upper class liberal Park Slope, Downtown Brooklyn and slowly gentrifying town Sunset Park that even Bill de Blasio was champing at the bit to run, but decided not to because of his own polls overwhelming negative responses to him fortunately. But it gave former Max Rose a better advantage to retake his seat back, although it's quite suspect that this was set up for the Blaz as a reward for pushing Big Pharma's vaccines the Biden administration inspired mandates in his last 6 months in office.
Apparently, the State Dems gerrymandering also revealed how nervous they were for establishment congressional hack Manhattan Rep. Jerry Nadler by redrawing his districts map that did a wicked NYC Ferry u-turn into the waterfront in Williamsburg where luxury public housing towers were recently built which (if mostly occupied) have produced a new liberal democrat base and slithers into predominantly Jewish neighborhoods who lean conservative neighborhoods that vote Republican.
This district map was drawn so cynically to favor Nadler to assure another term in Congress that it's actually designed like a gun.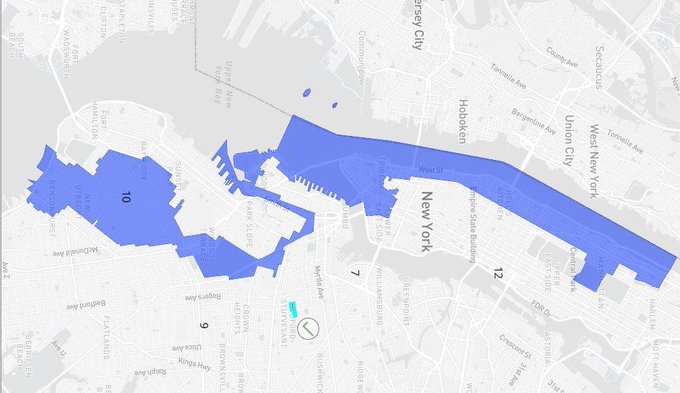 Governor Kathy "Clown" Hochul immediately voted to approve the redrawn maps to the chagrin of state Republicans and the people that voted to make brazen gerrymandering attempts illegal back in the 2014 election.  This decision and the new district lines led to a surge of "democrat socialists" looking to capture seats in assembly and state offices as well. State Senator and deputy majority leader Michael Gianaris defiantly proclaimed there was nothing wrong or illegal with the unethically illegal redrawn maps he and his fellow desperate Dems drew up. What makes his arrogant proclamation defense so ludicrous is that the congressional maps in the five boroughs was so amateurishly redrawn and obviously illegal it comes off actually worse than what Tom Delay did in Texas 20 years ago to assure one party GOP dominance in his state.
Now a judge has righteously destroyed the Dem's attempt to ratfuck democracy to establish their own one party dominance in New York and an immensely ineffective and incompetent one party rule to boot, effectively kiboshing the all the fauxgressive establishment incumbents and democrat socialist candidates (or shall I say fauxialist?) leading to all primary elections being moved to August from June. Can't think of a more deserving fate for a collective group of illiberal liberal politicians to try to rebrand and normalize gerrymandering in an effort to fight machine politics by acting like a machine political apparatus themselves. Truly the biggest and dumbest self-own in NY State political machinating ever.