With rents going up yet again despite the omnipresence of COVID, there are still not many alternatives for working poor and even middle class citizens of New York City. This concern is even more illuminated after I received  a tweet from long-time ally and arbiter on all shithole houses and buildings Queens Crapper about a certain house in Corona, one of the hotbeds and namesake of the virus that took over the world and still won't go away (mostly exacerbated by government incompetence and addiction to power and control, but that's another story).
Located on Van Doren St. abutting 108 St and Corona Ave., this multi-family house has been abandoned for over a decade. And according to Department of Buildings records, it hasn't been inspected for a decade as well. Apparently there was interior work being done on this home the last time the DOB was here in 2011 and after a bathroom collapsed through the ceiling and the ticket was resolved, the owner and the DOB just gave up on it.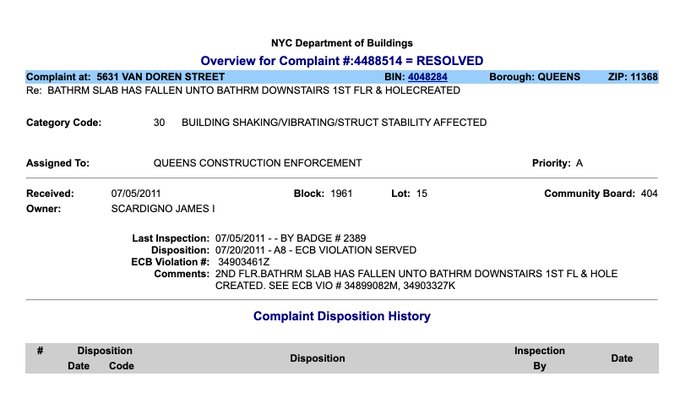 Following this tweet and request by Crappy, this horror house had to be seen in the flesh to believed.
So this is what a decade of owner and city  unaccountability has done to another home.
Notice the brick wall there, it's hard to tell if it belongs to the house in question to keep out intruders or was put up by the neighboring house for that reason, but a look on the abandoned house's side clearly shows it's not much of a deterrent.
Despite the big hole on the ceiling and the house's shaky foundation , obviously this home has been a dependable venue for squatting and for drug abuse, or maybe even for house parties judging by this appetizing tray of chicken found in the backyard.
Also found in the backyard, a clear indication of a massive fire that took place, displayed by the stain on paneling, the blown out windows and charred pile of wood and debris leaning up against what looks like the basement entrance.
Of course it's hard to tell when this blaze happened or how it was caused because the Department Of Buildings under Mayor's Mike Bloomberg and Bill de Blasio and in the district currently represented by Councilman Francisco Moya, Senator Catalina Cruz, and Rep. Grace Meng in the U.S. Capitol, has no official record of a fire at the house. Which is disturbingly weird since all fires are required to be taken into account in profile updates.
Of course when discussing the perpetual divine comedy that is the housing issue in New York City, this horror house cannot be complete without acknowledging real estate speculation/fabrication. Because despite the deliberate lack of monitor oversight of this shithole disaster area, there is serious listing on the value of this on the market.
Sure your eyes may be deceiving you, but yes this shithole is worth a million fucking dollars. Million and fifty to be nearly precise, a far cry to when the house was bought for mindboggling 35 grand only 30 years ago. And whoever listed this made sure to deceive your eyes by taking this picture on the sunniest time of the day on some undetermined date, but most obviously the pic has been filtered and contrasted to wash off the graffiti, although you can still see the bubble tag that is still above the front door that's there today. Also blatantly deceptive is the top part of the house with the blown out windows is not shown and those ugly ass shrubs aren't there anymore and it's a mystery about when they were removed. Or maybe they were photoshopped there.
It's really a wonder how the city never considered this spot for it's "affordable housing" program and buy with the way de Blasio has wantonly spent hundreds of millions of dollars for homeless mitigation efforts to rent hotel rooms and bail out cluster building slumlords. But here we are and here this horror house of Corona will continue to stand.
But it's not the only shithole in the Middle East of Queens, about 5 miles away in Rego Park stands another abandoned formerly modest two-family house. on Wetherhole St, just a hundred feet from bustling Woodhaven Blvd and a quick walk from the Queens Center Mall.
It's also marked with graffiti, but not with the urban street art kind. This property is marked like something akin to sights seen in Warsaw or Berlin in the 1930's. Some anti-Semites decided to label this neglected house as "The Jewish Home".
Evidently someone was not too fond of the residents here, not only of their faith but of their vices. But the author of these messages here didn't see the distinction between the two. There's also some weird numerology nonsense going on here but it's the address of the house, and it's actually wrong.
Clearly there's evidence of squatters once occupying this house as well. But it still must be better than de Blasio's rank shelters. Even the hotels, although I don't think there any around this particular town.
According to the habitually insouciant D.O.B., they actually have been to this dump as recently as October and from the violations and the tarp and the shitty cement patch job on the steps it seems the house is being renovated.  It's surprising The King of Queens, who lived a few blocks down from here with his hot wife and Frank Castanza, didn't notice this dump while making deliveries 
This property is worth nearly $940,000 (check out the filtering on the picture of this shithole, looks like it's company policy to embellish the shit out of houses) but at least the owner is trying to salvage it somewhat but is doing quite a shitty job of it while pissing off his neighbors maintaining it's current blighted state instead of selling it to the city. But this and the Corona Horror only serving as another travesty monument to the city's abominable record of unaccountability and adding to the already massive of lack of real affordable housing. Where they will certain to remain eyesores in their neighborhoods for evermore.