Milo Yiannopoulos. And what happened to the spare glasses Edward Snowden forgot.
I don't know much about this guy. But the shit-talkers and renegades that are now the establishment of conservative republicans sure do. Certainly Figurehead Trump's plutocabinet. Definitely chief strategist, former editor of Brietbart media and director of shock doctrine national bedlam and the war on Americans and those who want to be Americans, Steve Bannon does. Since he hired him for his tech expertise, which shows it was less IT and more comment trolling on the loo in his jammies and pearls.
Now they have no use for him anymore. But he was a very good token fag gay and useful idiot for their cause, and Milo was a staunch, loyal advocate for the Trump campaign. Bannon gave him an outlet generating outrageous headlines to choppy essays, rigidly staying to the format hybrid of racially volatile provocations masked as supposed conservative thought peppered with vulgarities in language and beliefs and alternative facts, and wound up finding good fortune and accolades that can only come in the culturally, intellectually and talent bereft zeitgeist influenced by the social media.
His fleeting and now cliche 15:00 of fame from print and TV got started by a lot of misplaced hatred and energy by weekly protests since Figurehead Trump's inauguration (concert shirts available now) had put Milo in the spotlight. Particularly when he was invited to address students at Berkeley College, only to have it cancelled when a peaceful protest got disrupted by rioters breaking windows, throwing shit (well I can condone that considering the target), and starting a massive fire. And because of that ill-advised reaction and liberal hypocrisy on anti-fascist concerns (even fascists have constitutional rights, sorry), it made him more popular and he wound up getting booked on shows and getting a book deal.
He got on Bill Maher's real time and was gifted a very long interview by the show's standards, and another 10 minutes online on the overtime segment, with the aid of phenomenal intrepid reporter Jeremy Scahill of The Intercept bailing out on the show because of Milo's presence.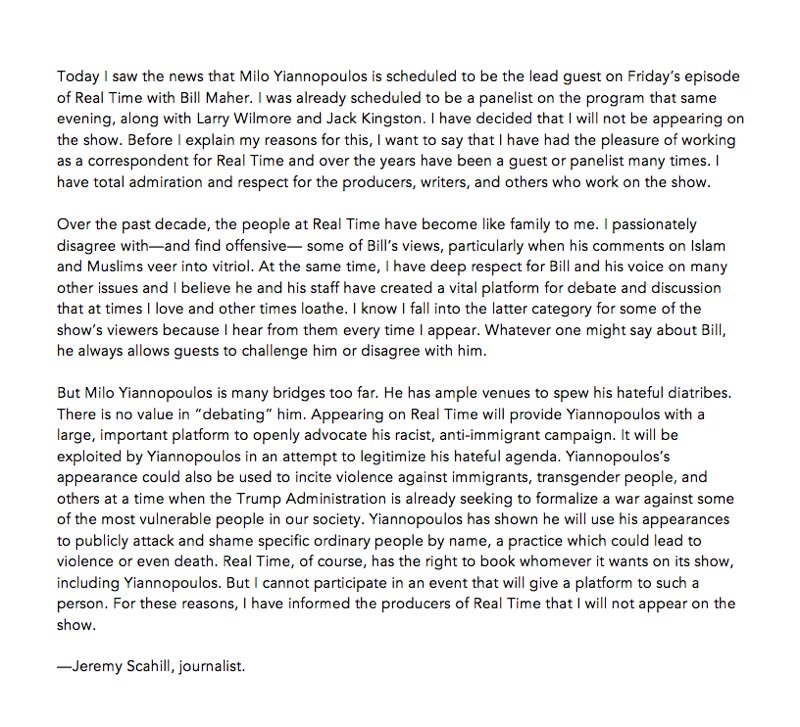 Maher got real pissed and practically called Scahill a coward, (or more likely a pussy or a whiny little bitch, the latter his failed attempt at a catchphrase to ruin the Trump campaign), for refusing to come on to engage with a debate. Which was very cheap for him to accuse him of. And also being similarly hypocritical about how boycotting the show was a blow for free speech. When Maher should himself damn well know that a boycott is free speech itself.
But accusing Scahill of cowardice is baseless and almost slanderous, because Jeremy has risked his life and been in the shit in middle east warzones, reporting and writing books on the taxpayer funded quagmires, the plundering of monetary and energy resources and the random bombings, and the reactions of innocent families and individuals and their disenfranchisement from their homelands from these operations over there that has diplomatically fucked this nation for a lifetime. At the time when Milo was writing critiques about cartoons and video games in his studio apt and encouraging harassment of female fans of the genre. Scahill would no doubt reduced Milo to a barely pulsating globule with the effect of slowly pouring salt on a slug for an hour. But in retrospect he's right about not giving a bigger platform than he has now. Because Milo's fans will just see it has a liberal media attack without merit.
Well, not so much anymore. Now that a recent podcast clip the whole nation has heard proclaiming his defense of consensual pedophilia. And unlike when candidate Trump told Billy 10 years ago that he can grab any woman by the pussy, this ain't going to go away or become part of the lexicon. For he is not the president, he is just a loudmouth faggot (that's your term Milo) with a laptop and is expendable. And he lost his book deal from Simon and Schuster and stupendously lost his job at Brietbart, which now suddenly has standards to live up to.
If there's a conspiratorial aspect to this, it's certain that all the parties that exploited him knew he was going to crash one day. Probably because he was getting too much attention with the protests and the riots that it wasn't prudent to let a flaming homosexual be the number one political activist voice for the people, and mostly the alt-right, which I still don't know what the fuck that is. In a way, his demise and expulsion resembles the way the Nation Of Islam rejected Malcolm X, who actually wound up more tolerant and wound up assassinated for it. Although with Milo, nobody gives a shit except for the people who are engaging in schandefreude at his self-immolation.
He became famous as a social assassin, and assassinated himself. You know you had it coming faggot.
See ya, don't wanna be ya.