Times Square, Manhattan, New York
The tourist capital of the world had another broad daylight horror show strike when gunfire went off by the legendary Tkts plaza between Broadway and 7th Avenue, which made it the second time in only 3 days that bullets flew at that spot and the fifth time since May. 
At least two twitter accounts were quick to report this latest travesty that has befallen the summer of NYC.
NYPD flooded the zone to catch the assassin but to no avail. An hour after the shooting, a reporter from NBC New York was at the crime scene and found a man surrounded and being questioned by patrol cops and high brass.
Then an hour later, the NYPD gave her the scoop and with emphasis, Ms. Hemphill was informed by cops that the shooting was in actuality a planter that fell during a scuffle between the victim and allegedly two other people he was battling on a street corner on the east side of 46th St.
Or was it a barricade that fell? But Ms. Hemphill doesn't question why would they cite two different objects that varied from the general assumption and reaction by the plaza crowd and decides to tweet report  that way despite the obvious massive discrepancy. Two men causing a barricade to fall during a street fight at least makes sense, but a planter? Unless these two men were the Hulk and Thor, no way are they going to knock down planters since they are 100 pounds of concrete and soil. Here's a fun fact, they act more as security cudgels against terrorists to obstruct them from weaponizing cars to kill people than as pretty smelling oxygen producers.
Another fun fact, when barricades and in this situation, planters hit the ground, they don't sound like gunshots. The only thing that sounds approximate to shots are fireworks, read every story of a shooting, and there a have been over 3,000 of them in the last 3 years and every other one has a  witness to a shooting incident presuming that someone was setting off fire crackers or mortars. Besides these obvious discrepancies, the NYPD apparently felt they had to collar somebody, so they busted a man on marijuana possession (even though 8 oz of pot is legal to carry, which makes starting to sound like a drug deal gone bad).
Reading this tweet report in real time and being an active twitter denizen, I responded to Ms. Hemphill very curtly tweeting my skepticism with a simple retort; I don't believe this. What happened 90 minutes later was the moment where my skepticism and also my cynicism about the NYPD's investigation suddenly became validated with one word.
It was astonishing that my tweet got acknowledged, that it seemed ambiguous. Then it suddenly got unambiguous.
Then when the story broke on the evening news on PIX11 after the weather,correspondent Michelle Ross's coverage of the Times Square incident interviewed a witness who heard the shots and ran off with everyone else as a crowd would do when shots get fired. But despite James The Nerd's eyewitness account on his twitter account, which was truncated to a 10 second blurb, the NYPD relayed the same investigation results to Ross and she repeated it more like a stenographer than a journalist. The incident also got upgraded by the NYPD that included a pedicab that hit the victim. How this all correlates utterly makes no sense.
Then it gets stranger. Turns out James the Nerd on twitter who was at Times Square during the shooting/planter falling and in the middle of the stampede fleeing for safety, is James Chesney who was interviewed about the incident on PIX News.
It's nothing short of amazing how conflicting PIX's post on this incident that put out wo different headlines for their post and video. But this is expected when it seems the NYPD is exerting influence on this story to make it sound less extreme than it was.  Despite James's eyewitness account of a man writing in pain on the ground from a bullet wound, who the cops wound up collaring on a pot charge and dragged him from the plaza in pain.
Mr. Chesney also describes how Michelle and her co-writer and producer of the story manipulated the interview and redacted practically all of what he witnessed; which apparently, or in this case allegedly a lot of nefarious activity was going on trying to cover up the shooting/planter collapse. What I and maybe James was witnessing was the operation of manufacturing consent in real time via the integration of government authority and the fourth estate.
And if you looked at the way it was covered on the PIX report, there are so many cops surrounding the victim, it's virtually impossible to get a closeup on him and where he was wounded. Just like that, what was pretty much a cut and dry social media documented and eyewitness shooting incident got intercepted by the NYPD and suddenly morphed into just a huge misunderstanding. Despite no footage of a fallen planter or any video footage of pedicab in the vicinity.
Looking for better investigative reporting about the Times Square Planter Incident, the Daily News actually did quote Mr. Chesney's account he gave to me on twitter, describing how the victim was yelling that he got shot which PIX extricated from their report and detailed the actual time of the shooting and the cops interrogation of the victim, but still wholly emphasized the NYPD's bizarre coverup. ABC Eyewitness News only showed a brief video of the incident on their website that promised more details and never updated it even after a week. The NYPD abrupt revision of their investigation also made international news as well.
Even though there was a witness who claimed he was interviewed by multiple local corporate news stations, it's a wonder why all of them joined in solidarity to report what is clearly a flawed investigation by the biggest police force in the world but it's not wondrous at all of the NYPD's desperate spin and memory holing of this incident, which was done with amazingly diligent execution; it all stems on current mayor Bill de Blasio's and the Economic Development Corporation's massively desperate and expensive effort to restore tourism in Times Square again after they spent 30 million dollars on national ads and who knows what on other city services to bring them back. An effort which has been marred by shootings and also rampant homelessness, random and targeted violence, open air drug dealing and petty crime hustling. And it's even worse from the NYPD's side after multiple orders to deploy more cops to the 7 block international mecca in order to protect tourists and local visitors.
The timing of the recent shooting that wasn't there couldn't have been more shitty for the city since it coincided with the arrival of a ferris wheel that got plopped down a block away from the incident and also an early morning shooting where a stray bullet pierced a window under the TKTS a few days earlier. Buffered by concrete bollards, barricades and two NYPD cruisers bookending the city's latest and lamest attempt to attract tourists and their money back.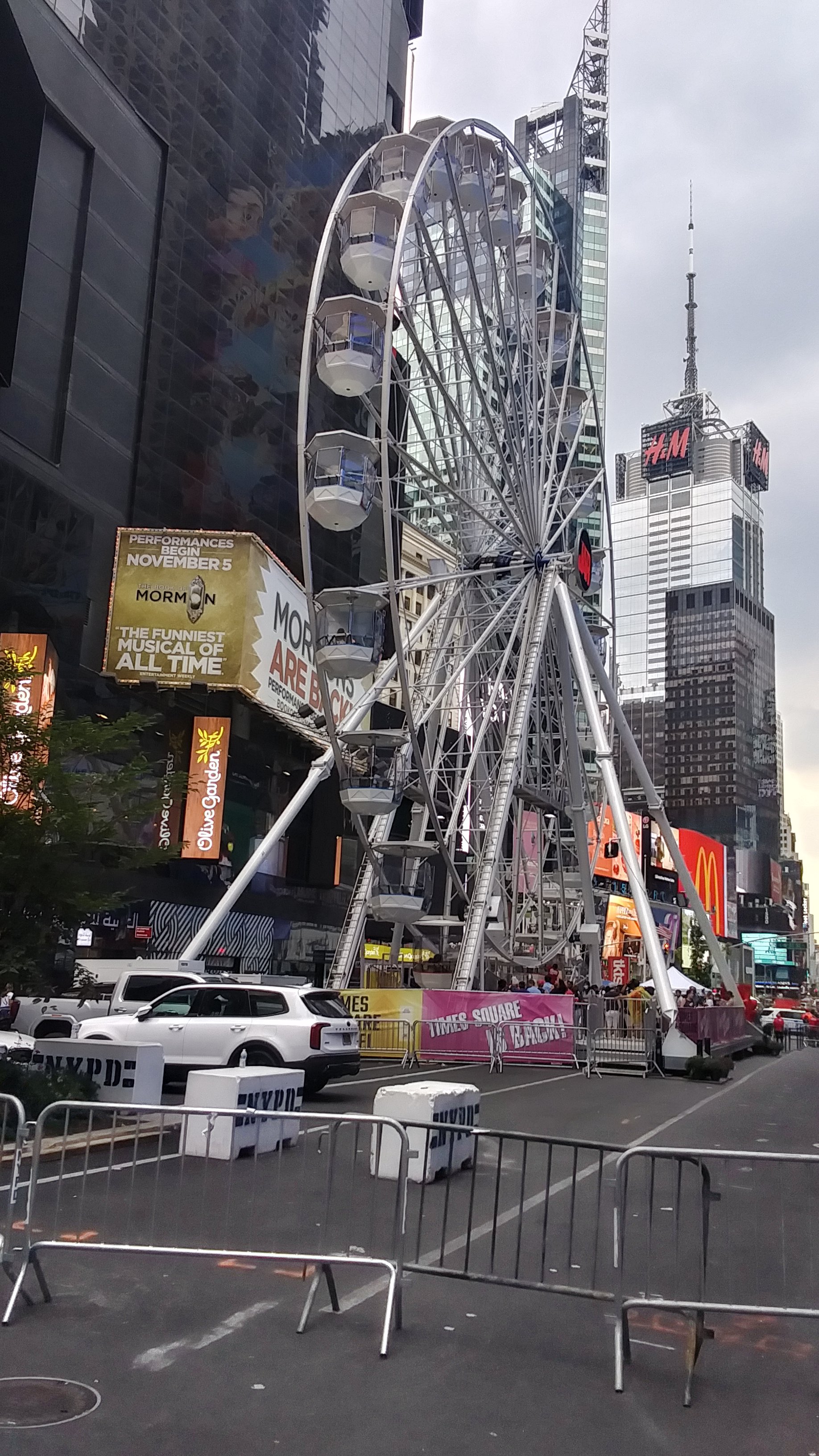 Ironically, what the city thought would be a new attraction to Times Square would actually wind up being useful to the NYPD to catch the shooter, because it's clear that the footage from the tweet above showing the scattering crowd was taken from a carriage on the ferris wheel while it was paused.
When the current mayor showed up to the ride a few days later with his son and district council crony Keith Powers, the same vantage point can be seen as The Blaz blissfully describes the experience while in motion on the ride. The distinction being a markedly scarce crowd on the street below.
Surely The Blaz was in a jovial mood to make this video, thanks to the NYPD's memory holing of the shooting, he didn't have to hold a presser explaining himself and promoting a stupid boondoggle gimmick like a carny ride in Times Square would have been utterly tone deaf. But what all the parties involved here-the news media, the NYPD and the fiddling monster running NYC above-don't and refuse to get is all their effort to revive the economy in the biggest tourist attraction in the world by redacting a crime immediately after it occurred and enabling it will not make Times Square and even the rest of the city any safer by hoodwinking and gaslighting the citizenry and tourists. And the real shooter is still out there running around on the streets and since it's been determined that a planter fell and the culprit was an errant pedicab driver for the victim's wound, there will be no report of this incident and possibly any surveillance footage from the dozens of cameras affixed to the lampposts and on commercial buildings in the area were memory holed as well. And lets not forget the NYC EDC's role as well in this, because the city's and notably Times Square's recovery is being supervised by a notorious rogue retired police chief getting paid a salary and pension at the same time.
This collective negligent insouciance will eventually lead to someone getting actually killed next time. And with the way shootings are trending, it's going to be sooner than we think. Then what alchemy de Blasio's NYPD is going to conjure to undermine a victim bleeding out to death in the Square as they juke the gun violence stats in real time?
As the gun shot victim of the Planter Incident shows, anyone will just be collateral damage to ensure the optics of vibrancy in Times Square doesn't get disrupted.