New York, America
Governor Andrew Cuomo sure knows how to throw a celebration. The most recent on being the lifting of most/some of the distancing and masking protocols of the pandemic. Inspired by the CDC and the vaccination stats hitting 70%, Mario's oldest son suddenly came out like a bolt right out of the blue with a spur of the moment state wide fireworks show to mark the quasi-official end of the old New Normal in New York.
Following a grand statesman address where he announced his state's and constituency's very abrupt post pandemic liberation, he found time to declare this little tone-deaf nugget to goad the rest of the citizenry that's still hesitant and mostly distrustful of the three vaccines still available:
"You want to honor #EssentialWorkers, I'll tell you how: you get vaccinated so you don't need essential workers again."

Leave it to Andy Cuomo to malign and alienate two sects of the working class and think it's a compliment (just like Micheal Scott from the office but sinister), people who can't afford health insurance worried about withdrawal symptoms that might hospitalized them and the people who worked in hospitals who risked their lives taking care of the infected and dying in the last year especially after Cuomo still attempted to shut down hospitals when cases started to go down as if this will be the last outbreak on this planet.
As for the fireworks some found it great, like all the people who got front row on the park grass, a spot on a riverside promenade rail, on their luxury condo balcony and rooftop amenity seats; and most obviously by some of Cuomo's loyalist subjects…
But others, especially some very renowned from being victimized by the Governor's obscene and flagrant abuse of his executive powers, found the utter idea of the Governor's fireworks festivities beyond off-putting.
You would think the Manhattan BP candidate would be a little biased, reasonably so, because of her past experience in Andy's employ, but some of the sky explosion decorations did come out quite eerie and in a way, properly fit the theme of Cuomo's pandemic victory party.
Some of these explosions looked exactly like the COVID-19 cell.
Not a joke.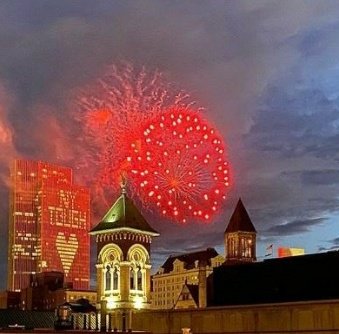 Sure it's a bit of a coinkydink, but observations like these are hard to pass up considering the proclivities of the micromanaging megalomaniac governor. But what can't be dismissed is that these festivities were not spur of the moment but obviously took month of planning, as does every other fireworks event. Plus Cuomo has already established himself as a self-promoting event organizer with his prior ostentatious grand openings of the Second Avenue subway and the Kusciusko Bridge.  As with those events, they meant less for the people that used them every day and more for Cuomo's behemoth ego-driven legacy he's trying to leave for himself.
But as with the Kusciusko Bridge and (also his Dad's bridge) Cuomo's and New York's victory over coronavirus might have been greatly exaggerated and premature, even with the CDC guidelines. With a little creatively shady accounting of the 70% vaccination rate for liberty, the Luv Guv's health dept with an assist from Mayor de Blasio's sniveling pandemic advisor HHS Director Dr. Mitchell Katz, combined the adult vaccination stats with the vaccination stats of kids and teenagers and decided to use them anyway despite it's glaring inaccuracies. Plus the 70% indicator is not even accurate because the stats have been amateurishly juked to include the masses who only got the first vaccination while waiting for the second one, which they have to wait three weeks for, which actually makes the real amount of people fully vaxed at about 35%. There's also the issue of a rash of fake vac cards that have become easily accessible.
Then there is also the issue of the B.1617 Delta Variant of COVID-19, previously known as the India Variant  because it wound up killing tens of thousands of citizens in India following a humongous festival thrown by Prime Minister Modi to celebrate that nation's way premature victory over coronavirus. While this has been determined to be a "virus of concern" by the CDC, the WHO has treated this variant with more severity. The Delta Variant was also found in Canada to be invulnerable to vaccines as well. Which will give us more agita if cases rise again in New York City and upstate. It should also be noted that the city and state have no data for re-infections after vaccines too.
And as is want of Cuomo, there are underlying insidious motives for his public grandiosities and it again comes in the form of more personal and government scandals and in this case both. Right after Cuomo lit up the sky with COVIDsplosion rockets red ball glare, an expose came out about his kid sister raising funds for his long time friend, symbolic adopted brother and  convicted partner in crime and government ally Joseph Percoco who was arranging ziti bribes with companies looking to do business with Andrew and Albany. Not for nothing, but it looks like Andy sent his sister as a proxy to shut Percoco up in case he wants to sing to the feds if the nursing home scandal starts really getting hot. And it might just happen, after NYC's bar association put out their own study proving without a doubt that Cuomo's edict is what led to the unnecessary preventable deaths of over 15,000 elderly people when he permitted hospitals to send COVID-19 positive patients to be cared for in nursing homes for the six deadliest  weeks in the state of New York.
The sad, terrible thing about all this is that it's still possible that Cuomo is going to skate on by and still be able to run again in 2021, and still get endorsed by the establishment Democrat Party and he still is the chairman of the National Governors Association too. Even though his craven decisions led to the deaths of over 54,000 New Yorkers and if the Delta Variant continues it's insidious march we might be looking at thousands more to fuck up this speculative greatest summer in New York City history.
This is why Cuomo is acting like he's the COVID conquering King Of New York. Too bad there is no vaccine for hubris.