During the last two months of the lockdown of the five boroughs and with a sizeable amount of cops stricken by COVID-19, home and commercial property burglaries and vehicle theft shot up in massive numbers in May as murders and robberies show higher incremental ticks. Crime in the subway made significant gains even though service is cut and commuting went down nearly 90%. Shootings went up by a lot (especially in Brooklyn) which shouldn't be surprising considering you can be more than six feet to hit your target. Drag racing also went up in the last 3 months as the city was mostly barren from mass isolation.
As May began Governor Cuomo gave the order to kick the homeless off the trains including banning every other commuter from the subway at 1 am until the clock struck 5 so the trains can get thoroughly cleaned. Which had no effect with the homeless who prefer to sleep during the morning and noon hours as the lower paid contractors deftly cleaned around them. 
And that's only a sample of NYC's Spring of chaos and disorder…
Manhattan
In the East Village, a man and a woman got confronted by a group of cops and were tackled to the sidewalk and handcuffed for not following city pandemic protocols well enough for them. A man witnessing the senseless and arbitrary detainment walked over to the corner and was immediately faced with one of the cops who cursed him out and challenged him to fight while pointing his taser at him. The cop then punched the man in the face and took him down to the pavement, placed his knee on his neck as his partner cuffed him while both of them were not wearing their masks properly.
This excessive use of force went on at precisely the exact time when hundreds of rich young people were sitting on the grass at a pier in the West Village were violating those same protocols but not wearing masks and sitting close to each other.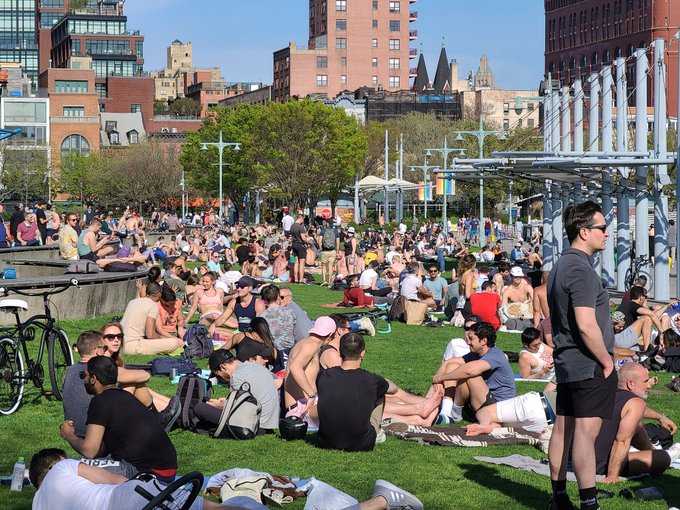 The cop who sat on the bystander's head is responsible for over $200,000 in lawsuit settlements for seven prior infractions of excessive force, falsifying arrests and picking and getting into fights with citizens while on duty.
Also in the East Village, a man walked into a deli and threatened a worker with a serrated hunting knife even as two cops were making an order at the counter. The worker snatched the knife out of the man's hand and then the cop shot him with a taser as he walking out of the store which had no effect on him and pushes her to the ground then challenges cops even as he's surrounded. He gets shot down after he charged at one of them.
Again in the East Village, a man who held sex baccanal airbnb parties in his townhouse last year beat up and strangled his girlfriend in his apartment.
And again in the East Village, a man died after a gun he was carrying while walking outside went off and shot himself in the leg.
In the Upper East Side, a man got grabbed by the cops on pandemic protocol patrol at a restaurant where most of the people were not wearing masks or social distancing. Then one of the cops body slammed him and caused his head to hit the pavement. The crowd of rich young white people witnessing the excessive force meted by the cops only gawked and made snarky comments. Nobody got a summons, not even the restaurant that was violating the crowding regulations.
Also in the Upper East Side, a man got killed crossing the street by an 18-year-old man driving a Beemer.
Again in the Upper East Side, two men impersonating cops held and robbed a jewelry store at gunpoint after they lied to the owner they were there to inspect the area for looters.
And again in the Upper East Side, a man stole a flashy sports car and got caught by the cops. After being released for that theft, cops caught him with a stolen ninja motorcycle on the subway.
In the Upper West Side, over 200 migrating birds died when they collided into a luxury apartment building that acts like a mirror to the sky they fly in.
Also in the Upper West Side, a humongous branch broke off a tree and landed on a group of people having a birthday party in Riverside park.
Again in the Upper West Side, two men were brutally stabbed to death inside a public housing building. The killer is still on the loose.
And again in the Upper West Side, a man shot and killed his wife and himself in a murder/ suicide in their apartment.
And again in the Upper West Side at the 72nd St. Station, a man grabbed a woman as she was about to board the 3 train and dragged her to the end of the platform and tried to rape her but the woman escaped. He then took the train to the Prospect Park Station and knocked a woman down with a punch and tried to rape her too.
Also in Harlem, a man brutally eviscerated his boyfriend to death inside his apartment then set in on fire. When the cops and the FDNY came, the man obstructed them from entering the building while standing buck naked at the front door.
Again in Harlem, a towering fire destroyed a children's clothing store.
And again in Harlem, a woman got into a tirade with workers with her mask down at a supermarket because they refused to let her return a loaf of bread.
And again in Harlem, a woman was shot at twice and another woman was stabbed in the back during a domestic dispute inside an apartment. No word on who did the attacks.
And again in Harlem, a man threw a large firecracker at a homeless man sleeping on the sidewalk as he runs away while his friends film the explosion and watch the flames catch on to him.
Clockwork Orange 20 fucking 20
And again in Harlem, a man got stabbed in the head with a knife and walked it off while bystanders swarmed on him like seagulls on halibut with their cellphones.
In Soho, a man took some bricks and smashed the windows of three high end boutiques then robbed cash from the registers.
Also in Soho, crooks ripped off plywood covered with art from a store that an artist designed who was making them for a charity group.
In Midtown at the 59th St/Lexington Ave. Station, a xenophobic man assaulted a man and tried to kick him off the 4 train because he thought he had COVID-19 because of his nationality. The victim is a professional nurse.
Also in Midtown, a man challenged three cops to a fight then pulled out a gravity knife and menaced them with it. Then one of the cops shot his taser to take his ass down.
Again in Midtown, a woman got into an argument with another woman and called her vile racist tropes.
In Penn Station, an argument between two homeless men on the subway platform led to one of them getting stabbed multiple times in the chest. The station has become a shelter-in-place for the city's thousands of homeless people who are too scared to stay in shelters in fear of catching COVID-19 and getting either robbed, assaulted or even killed.
In Times Square, a MTA worker lost control of his truck and crashed into a soda pop delivery truck.
In Downtown Manhattan at the Wall St. Station, a woman attacked an conductor after she kicked the door of his cab to make him come out and then jumped him as she slashed him with a knife and punched him repeatedly as he was still driving the 2 train. The conductor stopped the train while in the East river tunnel and managed to dodge her and was able to get back in his cab and bolt it and get to the next stop in Brooklyn, where she got off at Montague St and ran away.
In East Harlem, a gangbanger got shot to death on the street.
Also in East Harlem, a man got shot to death in front of a Burger King.
Again in East Harlem, an off-duty city bus driver and auxiliary cop shot his sister-in-law to death inside a superintendents apartment where his wife was hiding from him after he chased her on the street. Then he stabbed her husband when they got into a struggle for the gun. Cops arrived and shot the city worker down and killed him after he disobeyed orders to drop the knife.
And again in East Harlem, a man was shot to death while waiting for the bus because he got off his job when the subway was shut down at 1 a.m.
And again in East Harlem, a man attacked a 64-year-old woman from behind, put her in chokehold and threw her to the concrete and strangled and raped her. He then whipped out his dick and rode away on a Citibike and left her for dead with her shirt off and face down on the ground. The victim fell into a coma and died weeks later from her injuries.
And again in East Harlem, a man got shot in the hand during an argument.
The man was released twice this year after he randomly sexually molested a woman on the street and assaulted a bunch of people on an L train and also spit on a woman's face. New York State's bail reform program is a policy failure.
In Washington Heights at the 163rd St. Station, a sick freak stalked a woman and licked her butt as she was walking up the stairs.
Also in Washington Heights at the 168th St. Station, a man was found dead lying on the floor of the C train. The city's homeless services claim they tried to get this man into a shelter before he took the train to his demise. It's a wonder if they couldn't tell he needed to go to a hospital.
Again in Washington Heights, a pizza delivery man was jumped by three men as he was locking up his bike. While struggling to defend himself rolling on the ground with one of the thugs he pulled out a knife and tried to slash him as his cohorts stole rode away with his ride.
And again in Washington Heights, a man cursed out and spat on a cop during a traffic stop then got knocked on his ass trying to ride away.
And again in Washington Heights, a man grabbed a woman walking in a park and sexually molested her then snatched her necklace and ran away.
And again in Washington Heights, two men stalked a 74-year-old man as he was walking home and jumped him when he got inside his apartment building and held him at gunpoint and robbed $300 and his cellphone.
And again in Washington Heights, a man ambushed a woman walking on the sidewalk and dragged her into a park and forced him to give him oral and then robbed her jewelry in broad daylight.
In Hamilton Heights, a scumbag stalked a woman into her apartment building then jumped her and punched her in the face. He then tried to rip her pants off, but the woman kicked his ass yet he still was able to steal her cellphone. The woman works as a nurse and she came down from upstate New York to assist in helping patients recovering from coronavirus in the city. Making her a double hero.
Also in Hamilton Heights, a man found a dead body in a freezer at his mother's apartment while he was cleaning the place up.
In Kips Bay, hundreds of homeless people that got kicked out of the subway because of Governor Cuomo's shutdown of the trains between 1 and 5 a.m. got picked up by the city in buses and driven to the worst homeless shelter in the city by Bellevue Hospital and wound up sleeping on a stairwell and on the floor by an exit door.
Also in Kips Bay, two homeless men brawled over a place to sleep on the street, culminating with one of them beating the shit out of the other with a metal rod.
In Chelsea, a homeless man got killed when he got hit by a train walking in the PATH Tunnel between stations.
Also in Chelsea, a construction worker got killed when a fire extinguisher exploded in front of him and two other workers got injured from the sharpnel inside a building being worked on despite the city shutdown. Cops responding to the accident rammed their car into another vehicle while driving the wrong way heading for the building, causing injuries to themselves and breaking the arm of the woman they hit.
In Greenwich Village, a xenophobic man threatened to hit a woman with a bottle while blaming her for spreading coronavirus.
In the West Village, a man randomly punched a woman in the face then he was chivalrously beaten down by a group of men and left lying unconscious on the pavement.
Also in the West Village, an idiot nearly drowned in the Hudson River when he tried to retrieve a frisbee that his friends threw over his head.
In Midtown, five looters effortlessly broke down the facade of a drone store and stole everything inside.
Also in Midtown, a woman riding her bike got crushed to death after she ran the red light and accelerated to ride past a bus and got clipped the rear wheels and fell under the wheels as it kept going.
In Hell's Kitchen, a man drove all the way from Queens just to set a police car on fire.
In Manhattanville, a man stabbed two men with a machete on a city bus as he was walking out.
In Tribeca, a man failed to break into a small business got caught by cops with a crowbar in his hand while trying to break into a nail salon. The burglar was released without a bail for a prior break-in and was due to appear in court for it.
In Hell's Kitchen, a man got held up and robbed at gunpoint in a hotel room by a man he arranged a hook up with on an app.
In Fort George, five men wanted for robbing app-food delivery men of their ebikes, cash and cellphones mugged two more delivery men as they were making deliveries.
In Greenwich Village, a man got run over by a postal truck driver as he was backing his vehicle up to make room for the city bus.
In the Financial District, a woman punched her boyfriend in the face and then she shot him the leg, then she got in her car and took another shot at him as she drove off.
In Gramercy Park, a drunk driver smashed an SUV in an intersection and sped off the wrong way three blocks and crashed into a NYPD patrol SUV.
Also in Gramercy Park, a man randomly punched a 92-year-old woman in the head as she walking on the sidewalk passed him, causing her to fall onto a fire hydrant. The lowlife takes a look behind to see his victim lying there and strolls along, which should be expected by a thing that has a century of priors. The woman is now afraid to go in the street by herself, even though the NYPD is biggest police force in the world. Maybe Shea can send one of his CTU cops in full body armor and AR-15 to walk her to the doctor's office.
In the Lower East Side, owners of a bar decided to violate pandemic protocols and opened up their non-essential business, turning it into a speakeasy exclusive for rich covidiots suffering from pandemic fatigue. Bitches.
Also in the Lower East Side, a man stabbed his daughter inside a homeless shelter in the Upper West Side and tried to blame it on two muggers who robbed him.
Again in the Lower East Side at the Delancey St. Station, a xenophobic woman profanely admonished and slurred a woman by accusing her of not wearing her mask right and then smacked the cellphone from her hand.
And again in the Lower East Side, a man was stabbed during a fight with another man and left on the concrete in a pool of blood.
And again in the Lower East Side, two men broke into a Vietnamese restaurant and robbed an Ipad.
And again in the Lower East Side, a man took a brick and smashed a window of a bar and a Japanese restaurant and robbed them of $300 and over 2 grand worth of booze. The thief has already hit 14 other similar joints and has amassed a total of $30,000 worth of booty.
And again in the Lower East Side, wealthy young White people were drinking booze in public and not wearing masks or standing six feet apart in front of bars and a "bakery"
One man is responsible for 18 burglaries of restaurants and bars and the theft of over $30,000 in cash, booze and computer pads. A sum of the break-in's were accessed by cutting vinyl doors. And we're supposed to bail some of these joints out when they are basically making it easy for crooks to rob them?
In Central Park, a woman got pissed off and panicked when a man asked her to put her dog on a leash and then she made a bogus 911 phone call to police and told the operator that she was menacing her and her dog, which she was exploiting by making the dog agitated to sound like she was being attacked.
Also in Central Park, a man grabbed a 9-year-old girl's behind then attempted to kidnap her.
Again in Central Park, a man riding a bike crashed into a woman while she was jogging, hitting her hard enough to put her in the hospital and in critical condition. The man was not charged and the cops reported the incident as if the woman was at fault for appearing "without warning" to the biker.
In Inwood, a man committed suicide by hanging himself on a tree in a park.
In Downtown Manhattan at the Fulton St. Station, 3 cops having dinner (or lunch) got sick from drinking shakes even though they tasted funny and wound up going to the hospital. The NYPD then sent their CSI unit there on the suspicion that the food poisoning was intentional but the case was dismissed because the workers mistakenly put the shake mix in too soon after they cleaned it.
It still didn't stop some shithead lieutenant and panic tweeting from the NYPD unions from spreading a bullshit lie about the "incident" and trying to use cancel culture to target a business and discredit a social justice movement. But embarrassingly worse is treated this with such severity that Shea's NYPD had two cops guard the weaponized frosty beverage.
Brooklyn
In East New York, three cops enforcing social distancing guidelines (which is not a law) roughed up and detained a man who was smoking a joint with his friends while not wearing their masks. A man intervening in the arrest got knocked out by a cop who punched him in the face and then banged his head on the ground and put his knee on his back to restrain him.
Also in East New York, as three cops took down a  man and punched him as he was face down on the concrete during an arrest, one of the cops threatened to arrest a group of men for not wearing a mask as they filming the collar as they were standing on a stoop where they live. The cop had his mask on but it wasn't covering his nose.
Again in East New York, a man getting arrested by cops for violating social distancing guidelines got the attention of passerby who assembled on the sidewalk which included a man filming the collar with his cellphone. The crowd got agitated when they saw almost all of the cops not wearing masks to prevent spreading COVID-19.  The man filming the brazen hypocrisy and violating by the NYPD immediately noticed that the deputy inspector was there supervising the over deployment of police for one guy.
Then one of the maskless plainclothes cops (whose ID badge number was covered by a blue and black strip) attacked and assaulted a man and threw him to asphalt as his fellow officers held him. The man who kept filming got pushed back by a uniformed cop who menaced him with his club. Then another plain clothes cop attacked the man after he got a clear shot of the man of the man that was arrested for yelling at the cops for their pandemic protocol infractions.
And again in East New York at the Euclid Ave. Station, a homeless man got irate when a conductor told him to get off the C train because it needed to be clean and then he ran up to his face and spit on him.
And again in East New York at the Van Siclen Ave. Station, a MTA worker was being sexually harassed by a man through her cab door window. Then the man broke into her cab and sexually molested her but the woman kicked his ass and locked him in the car as the train arrived at the next station.
And again in East New York, a man was shot to death on the street from a fusillade of bullets in a drive-by.
And again in East New York, a man was stabbed to death in front of a grocery store.
And again in East New York, a man got shot to death by a clerk after he tried to hold up his store with a knife. Moments earlier, the slained man told his father he left his keys there.
And again in East New York, a man got shot in the leg by a stray bullet as gunfire went off during a street memorial for a rapper.
And again in East New York, two men were shot at in an apartment. The gunman left one man dead from a blow to the head and the other wounded with blasts to his stomach.
And again in East New York, a man got killed and another man got shot in the leg while they were sitting in a van during a drive by shooting.
And again in East New York, a man got shot to death in broad daylight while washing his car.
And again in East New York, a man stabbed his boyfriend to death with an ice pick.
And again in East New York, a DJ got shot to death at a house party in a revenge killing for a rapper that was murdered weeks before.
In  Crown Heights, two men ganged up on one man during a fight on the street as one of them shot him in the ass and his accomplice stabbed him twice.
Also in Crown Heights, a man got stabbed to death in front of an apartment building.
Again in Crown Heights, cops sent to enforce social distancing guidelines at a park took down an arrested a man for some reason. Then as his friends start yelling at the cops as they walk him out, the cops return and violently take down one of them and swarmed at a bunch of other men filming that arrest on their cellphones. This commotion was followed by cops in three patrol SUV's driving on the parks grounds notably one that stopped short on a basketball court. A majority of the cops weren't wearing masks.
This is a far cry to how de Blasio's NYPD respond to the recidivist pandemic protocol violators in Domino Park in Williamsburg every fucking day.
And again in Crown Heights, a man got scalded and wounded when plainclothes cops were sent to disrupt a BBQ party for breaking pandemic protocols. Since residents weren't moving fast enough to disperse the cops pounced on the man and violently arrested him while they threw the grill and the food to the dirty ground as the coals flew all over him; scalding and leaving imprinted coal marked and burned scars on his body and on his face.
And again in Crown Heights, a 16-year-old boy who was involved in the daylight lynching beat down of a 15-year-old girl with 20 other boys was shot to death in retaliation for it in front of an apartment building.
And again in Crown Heights, a man got shot to death after he was jumped by two men on the street near his house.
And again in Crown Heights, three men broke into an apartment building and robbed a bunch of packages from the lobby.
And again in Crown Heights, a man shot at another man on the grounds of the Kingsboro Houses and then hid from the cops as they arrived to the scene. After multiple warnings to drop his gun, 10 cops shot 19 rounds and killed him.
And again in Crown Heights, a man was shot to death in front of an apartment building at the Albany Houses.
And again in Crown Heights, firemen set off a fountain of fireworks in front of their station house. Guess they stopped teaching irony at the FDNY training academy.
In Downtown Brooklyn at the Atlantic Avenue/Barclays Center Station, a woman was badgered, roughed up and taken down to concrete and arrested for not wearing her mask by cops who didn't think she was wearing it properly as her 3 year-old daughter watched in shock.
In Brownsville, a man got shot to death trying to protect his daughter from getting into a fight with another woman. The woman fled the crime scene with the shooter.
Also in Brownsville, cops on patrol enforcing social distancing guidelines spotted a man smoking weed and drinking beer with his friends and ordered him to get rid of the open container (??!!). Then swarmed him when he refused to comply and continued to resist by fighting off three cops as one of his friends intervened in the arrest by jumping in and spitting on them.
Again in Brownsville, two men attacked a 16-year-old boy and punched his face multiple times by an ATM machine at a bodega. Then they held him at knifepoint and stole his card and the 500 bucks he withdrew.
And again in Brownsville, a man shot a 62-year-old man to death as lied on his bed in his apartment.
And again in Brownsville, a man stabbed another man to death following an argument by a street corner.
And again in Brownsville, a man was shot to death by a rehab clinic.
And again in Brownsville, a man was shot to death in the middle of the block.
And again in Brownsville, three men and a woman were shot and hit by a fusillade of gunfire aimed at them on the street.
And again in Brownsville, a man involved in a looting of smoke shop got caught by cops but escape by clocking one over the head with a bong. Then the goon tried to hide out by climbing a fire escape and breaking into an apartment but was thwarted by a 74-year-old woman residing there and she pushed his ass out and locked the window.
And again in Brownsville, a man was shot to death over a drug deal gone bad in a courtyard at the Howard Houses.
And again in Brownsville, another man was shot to death at the Howard Houses less than a week later.
And again in Brownsville, two men and a woman were shot at on the street.
In Fort Greene, a man slashed another man with a knife after he asked for his pills and was refused.
Also in Fort Greene, a man broke into a restaurant and robbed the cash register.
Again in Fort Greene, a man broke into a deli through the roof and cracked a safe open, robbing the money inside and also stole packs of cigarettes
And again in Fort Greene, a man had his laptops and backpack robbed from his car with its window broken.
And again in Fort Greene, a man's apartment was burglarized when he came home and found out that his laptop and $6,500 his boss gave him to pay his rent was missing.
And again in Fort Greene, a man was shot to death and another man was wounded inside an apartment building after their shooter chased them in there.
And again in Fort Greene, a man was shot to death on the grounds of the Ingersoll Houses.
And again in Fort Greene, a group of men or boys engaged in Roman Candle shootouts as cops in an SUV roll by.
And again in Fort Greene, a man was shot in the leg following an argument by the Walt Whitman Houses.
In Prospect/Lefferts Gardens, a man was shot to death in the middle of the street.
In Flatbush at the Utica Ave. Station, a man was found dead lying on the seats on the 4 train.
Also in Flatbush, a man shoplifted a basket full of meat from a meat market and slashed a worker on her hand when she caught him on the street.
Again in Flatbush, a man walked up a cop on patrol and stabbed him in the neck with a steak knife. Then the nut grabbed the gun from the cop he stabbed during a struggle and fired at cops that arrived to stop him leading them to shoot him over 20 times to take him down. Two cops got hit during the melee, including the one that got stabbed.
And again in Flatbush, a man was shot at on a street corner.
And again in Flatbush, a man and a woman stole a Yorkie puppy worth 3 grand from a pet store.
In Sunset Park, a man showed up drunk off his ass at a food pantry and attacked and assaulted two crossing guards while on the queue.
Also in Sunset Park at the Metropolitan Detention Center, a man broke a window inside his cell and C.O.'s drowned him in pepper spray to subdue him, causing his death.
Again in Sunset Park at the Metropolitan Detention Center, a prisoner slashed a C.O. in the lip with a shiv but then got his ass piled on and had the shit beat out of him by other inmates who chivalrously defended her
In Boerum Hill, a woman beat up a man after arguing about standing six feet apart while waiting on line at a food pantry.
In Bed-Stuy, a man sexually molested 7 women on the streets in the span of ninety minutes.
Also in Bed-Stuy, a yeshiva school full of sixty students was in session in spite of the city shutdown of every other school in the state. No summons for pandemic protocols were issued to the school despite de Blasio's loudmouth decree that he was going to fine anyone violating them.
Again in Bed-Stuy, a nurse from Texas volunteering her essential service to help treat patients infected with coronavirus was robbed of a family heirloom worth $10,000 by a woman who broke into her hotel room. Oh wait, the thief was a fucking man.
And again in Bed-Stuy, a gang of men filming a video of themselves decided to jump up and down on a car. When the owner and his brother came by to tell them to get off of his vehicle, one of the men took out a gun and shot his brother twice. The man died later from his wounds.
And again in Bed-Stuy, two men both got shot in the leg on the street.
And again in Bed-Stuy, a man got shot in the chest and another man got stabbed in the chest on a street corner.
And again in Bed-Stuy, a man engaged in a 12 minute argument with a barista over a sign he didn't like when the woman refused to serve him without a mask and kept on annoying her and other patrons about their political convictions about the George Floyd protests.
In Cypress Hills, a man shot down another man on the street then fired his gun at a man driving by in his car who witnessed the shooting.
In Williamsburg, a man and a woman got pissed at a group of people not abiding by social distancing guidelines so they confronted all of them and wound arrested for assault.
Also in Williamsburg, three men broke into a cellphone store with a sledge hammer and robbed boxes of merchandise then came back for seconds an hour later and robbed more items.
Again in Williamsburg, a man set an unmarked police car on fire and the NYPD wrongly blamed it on a homeless man.
In Mill Basin, a man jacked a watch and chain off a man sitting in his car waiting for the light to change by impersonating a cop.
Also in Mill Basin at the Kings Plaza Mall, a gang of robbers smashed the glass door at the entrance and broke a window display of a jewelry store and stole a bunch of fancy watches.
Again in Mill Basin, two men ambushed a man as he was about to go to his house and shot him in the neck.
In Clinton Hill, two men broke into a deli from the roof and plundered $8,200 from a safe and a cash register and swiped a bunch of cartons of smokes.
Also in Clinton Hill, a man robbed boxes from an apartment building but was disappointed that they contained superglue so he threw them in the garbage.
Again in Clinton Hill, a man was robbed of his wallet by two men who were feigning to be lost.
In Bushwick at the Flushing Ave Station, a man and woman were fucking their brains out while doing it doggy style on the platform.
Also in Bushwick, a man stabbed another man in the stomach after he walked down the steps of an apartment building.
Again in Bushwick, a street fight between a bunch of men got more hectic as three men got stabbed and two men got hit by a car.
In Coney Island, two men broke into a man's apartment, held him at gunpoint and robbed 15 grand off him. Then he slashed him with a knife on the way out.
Also in Coney Island, a man got brutally beat up inside an elevator by a man he bumped into.
Again in Coney Island, a man lit a hallway on fire in an apartment building by an apartment where he accused the tenant of being a child molester.
In East Williamsburg, two men were found dead in their apartment. One of them O.D'd and the other had visible head trauma.
In East Flatbush, a man and a woman were found naked and dead in a pickup truck inside a garage after banging each other with the motor left running.
Also in East Flatbush, a man was shot to death on the street after an argument ensued with a gang of other men who all fled and left him lying bleeding.
Again in East Flatbush, two men got shot as they were sitting in a car during a drive by. One man died instantly and the other man died 1o days later.
And again in East Flatbush, a man got shot to death on the street and another man got shot and wounded following a fight at a house party.
And again in East Flatbush, two men walked into a pharmacy and held it up by gunpoint but left with nothing after the manager fought them off while a little dog was barking at them.
In Flatbush, a man lit up and threw firecracker at a unmarked police car as it was passing him.
In Canarsie, a man died after getting hit by a car while he was jaywalking on the street.
Also in Canarsie, a man jumped out into the street and threw a concrete block at city bus as it was moving, shattering the front window.
In Gowanus, a man shot another man to death inside his ex-girlfriends apartment after he got into argument with him while dropping his son off to his mother.
In Clinton Hill, a man robbed boxes from an apartment building but was disappointed that they contained superglue so he threw them in the garbage.
Also in Clinton Hill, a man was robbed of his wallet by two men who were feigning to be lost.
In Bensonhurst, a man walked up to an 8-year-old girl playing in her yard and flashed his nub dick at her and manipulated her into touching it twice.
In Seagate, a man napping on a bench on the boardwalk had his camera robbed by a man biking past him.
In Brighton Beach, a man got stabbed to death inside his apartment by a man was renting a room with him there and who tormented him every day which culminated with breaking his ribs over his cleanliness a few days before he murdered him
Also in Brighton Beach, a man pickpocketed an envelope containing $2000 from a woman as she was shopping at a market.
In Manhattan Beach, a man broke into a house and stole laptops and a bike.
In Red Hook, a woman got beaten down by another woman following an argument they were having with each other.
In Bath Beach, a man ripped off four wheels off a parked car.
In Sheepshead Bay, a man shoplifted bottles from a liquor store then shoved a worker down who tried to stop him.
In Marine Park, a bunch of "hooligans" invaded a golf course closed during the pandemic lockdown and took a bunch of golf carts for a joyride and vandalized the entire course and cratered a fence.
We got hooligans in the five boroughs now. Secure your dustbins.
In Midwood, a man and his fellow community members broke into a playground that was locked up and welded shut by the city to prevent the spread of coronavirus by sawing off the chain off the gate. Like a bunch of hooligans would do. Looks like the Blaz's confounding, disingenuous arbitrary and selective pandemic protocol enforcement has wrought anarchy in New York City…
…your city.
Bronx
In Allerton, two men jumped out an SUV and shot a man to death in broad daylight in a parking lot while he was talking to someone. The guns were equipped with silencers.
In Foxhurst, a man got jumped by a gang of six men who beat him down to the ground, stabbed him and hit with a glass bottle, then a woman planted her foot on his head and ran away with them.
Also in Foxhurst, a gang of four men jumped a man and beat him down to the pavement after he made remarks to a woman they were with so they stole his cellphone and chain.
In Throggs Neck, two men broke into a deli and cracked open two safes and robbed $7,200. Which was made when the small business was open for a few days after being closed for months because of COVID-19.
Also in Throggs Neck, an off duty cop committed suicide by shooting herself in the head in her apartment.
In Mount Eden, a fight between two men on the street escalated when one of them pulled out a gun and shot the other man in the leg when he was getting his ass kicked. Then the shooter got his ass kicked even worse when every bystander watching the fight beat him down for his cheap shot.
In Mount Eden, three boys jumped a pizza delivery guy, held him at knifepoint and beat him down then robbed his bike and the crappy pizza order.
In Unionport, a man got shot to death at point blank range in a hallway while a party was going on in a room at a hotel.
Also in Unionport, a woman slashed a man multiple times after getting into an argument while their vehicles were standing in traffic.
In Jerome Park, a man jumped out of a car and ran up to a woman on the sidewalk and snatched her cellphone out of her hand. The woman then grabbed the man as he was trying to get back into the vehicle but the man pushed her to the ground and got away with the driver.
In Bedford Park, a man held up two people at gunpoint and robbed of their jewerly, a gold grill and 2 large.
Also in Bedford Park, a gang of thieves broke into a vehicle storage building and managed to effortlessly steal 22 cars.
In Longwood, a man was shot to death at the entrance of an apartment building.
In Wakefield, a man died and his wife got critically injured from a fire in their unit inside a nursing home.
In Mott Haven, a bike rider got killed when he got hit by a box truck driver coming out of a commercial garage building.
Also in Mott Haven, a bike rider got killed when he mistakenly tried to maneuver between a double parked freight truck and another freight truck that was turning around it and he got crushed under the wheels. The man chose to commute by bike so he wouldn't catch coronavirus on the subway.
Again in Mott Haven, a man died from a punch to his head and landing on the pavement while trying to break up a fight between two gangs.
In Norwood, a man chucked a bottle of bleach at a worker in a laundromat when he thought he got shortchanged.
In Belmont, a man got shot to death inside his apartment as two men he was hanging out with tried to flee the killing scene in a taxi cab.
Also in Belmont, a man was shot to death by rival gangbangers.
In Parkchester, a man stabbed another man multiple times shortly after his victim put up his dukes and then rode away on his bike.
In Fordham Manor, a man spit on a bus driver through her window as she was dropping passengers off at a stop.
Also in Fordham Manor, a man got stabbed to death on a street corner.
Again in Fordham Manor, a man in his birthday suit ran across the street and challenge a man to a street fight. The naked man's opponent easily leveled him with a flurry of punches while his dick is flapping in the breeze and then two other men joined in and threw him against a shutter gate and wailed on him.
The naked man shakes it off and gets backed up and challenges his opponent again and gets walloped a few more times but it doesn't phase him the slightest so he gets thrown into the street and runs into a car as it's speeding off. The nude pugilist settles down and is seen walking off as the twitter time cap runs out on the video. The guy was clearly on angel dust or crystal meth, but that was the closest thing to funniest scene in that Borat movie.
And again in Fordham Manor, a man panhandling a 80-year-old man for a buck decides to steal his backpack instead and drags him across the sidewalk to get it off.
In Fordham Heights, a drug deal gone awry led to a woman falling 3 stories from a fire escape as she battled and tried to stab a man while trying to get inside an apartment. Then the man in the apartment ran downstairs and stabbed a man to death before he fled.
Also in Fordham Heights, two men broke into a pet store and stole $6000 plus 5 different breeds of puppies, 50 canaries and doggie carrier bags and bird cages.
Again in Fordham Heights, two people got hit and a parked car and a store got plowed after a reckless driver made a sharp turn while speeding.
In Classon Point, a man trying to hop on a city bus as it was turning attacked the driver's window with a stick and spit on her.
In University Heights, two men on a motorcycle rode rolled up on the sidewalk by a 15-year-old boy and the passenger shot him in the leg in a drive-by.
In Soundview, a boa constrictor was hugging a light fixture in front of a house which was then removed by cops. Another boa constrictor is still on the loose.
Also in Soundview, a man attempted to drive his motorcycle through a barricade on a road by the Bruckner Highway as cops were setting it up wiped out on the pavement.
In Concourse Village, a man slashed the Bronx Borough President's brother in his face during an dispute on the street.
In Highbridge at the 170th St. Station, a man got killed by a moving 4 train as he was walking on the tracks.
Also in Highbridge, an argument between a group of men on a street corner got disrupted quick by a gunman who shot up three men, hitting them each in the back, hip and butt.
Again in Highbridge, cops raided and busted a fentanyl/heroin/pills/crystal meth drug dealing and cockfighting operation inside a commercial building.
In Claremont Park, a dog running loose and barking loud caught the attention of a man who waved over cops on patrol to help out. The dog then led to a man found lying on the grass with a gunshot to his head. He was brought to a hospital and died there.
In Claremont Village, a man got murdered from getting slashed in the gut inside a crowded gambling den and was left for dead by his killer and dozens of people getting the fuck out of dodge. The speakeasy is frequented by cops, city workers, city folk and other menaces to society.
In Hunts Point, a 10-year-old girl was hit by a police car that was responding to an emergency call while she was crossing the street.
Also in Hunts Point, a man killed himself while driving as he ran a red light and a box truck collided into his car in an intersection.
In South Bronx, a woman forced her way into a man's apartment and put him in a headlock and punched him multiple times and ran away with his cellphone.
Also in South Bronx, a woman stabbed a man to death inside an apartment building.
Again in South Bronx, a man was stabbed to death and lying on the sidewalk.
And again in South Bronx, a passenger ripped down a plastic sheet set up by a livery driver and stuck him up with a shiv and snatched $100 from him and ran out.
In Pelham Parkway, a man was bludgeoned to death and found lying on a street corner with a bag of $3000 in cash and cellphones inside.
In Pelham Bay, a man broke into a hardware store by throwing a brick through the window and robbed some cookware.
In Williamsbridge, a man speeding in his sportscar lost control and jumped a curve hitting a killing a man, then killed himself when he crashed into a wall causing his car to explode.
Also in Wakefield, two men jumped out of a car and shot at a crowd of people in the park during a graduation party hosted by a woman who got struck and killed by stray bullets. Two boys and a man also got hit from the fusillade as everyone ran for cover.
In Eastchester, a dead man with his legs bound was set on fire on the grass by a highway.
In Morrisania, a man was shot to death and his friend was shot and wounded around the corner from his house.
Also in Morrisania, a man mouthed off to a gang of thugs and one of them sliced his stomach opened and spilled his guts.
In Longwood at the Simpson St. Station, a man got shot at twice and hit on the arm on the platform.
In Crotona Park at the 174th St. Station, a man punched a 73-year-old woman in the face on the platform as she was waiting for the train.
Also in Crotona Park, a man got stabbed to death in his apartment.
Again in Crotona Park, two men beat down a man inside a liquor store following a confrontation on the sidewalk.
And again in Crotona Park, an off-duty cop got into a shootout with a man after he walked by his gang on the sidewalk.
A million dollar drug ring run by six men was busted by the feds inside an apartment. The product was a mix of heroin and fentanyl sold in single dose packets named after coronavirus and Kobe Bryant.
On the  Pelham Bridge, a man killed himself when he lost control while riding in his e-bike and fell off the sidewalk and went right under a vehicle in motion.
Queens
In Rockaway Beach, a man drowned in the water while swimming with his friends a day after Mayor de Blasio banned his constituents from swimming because he didn't bother to have lifeguards trained and ready to save lives before the beaches officially opened and also banned playing sports on the sands as well (like say frisbee) while citing coronavirus to justify these restrictions.But surfing was exempted from the Blaz's regulations even though it involves swimming when you have to paddle out to the waves and wipe out and it is also a sport. Which leaves the Rockaways clear for #SurferPrivilege domination.
Guardian Angel leader Curtis Sliwa saw this double standard and took the piss out of it by going for a swim in Coney Island. (Although he should have done it on Beach 90 st in Rockaway, that would have got an interesting reaction by both authorities and the surfers)
Also in Rockaway Beach, a woman committed suicide by drowning herself in the ocean.
Again in Rockaway Beach, a man shot a man death at point blank range as he was in the drivers seat of his car following shooting a man standing in front of a bodega.
In Edgemere, a man was shot to death by a park.
In Averne, a man was shot to death in front of an apartment building.
Also in Averne, a man took a gun he stashed on the wheel of a parked vehicle and then shot up a NYPD patrol SUV as cops were sitting inside of it.
In Far Rockaway, a man was shot to death on the street in broad daylight.
Also in Far Rockaway, a man was shot to death by a church courtyard by a rival gangbanger.
Again in Far Rockaway, cops rolled up to a shooting in progress as a man was firing at other people on the street and their patrol SUV got hit by a stray bullet. The cops caught up to the skel after he tried to ditch the weapon.
For some odd but mostly stupid reason, two NYPD Abrams style humvees rolled up on the street with militarized officers brandishing automatic rifles.
And again in Far Rockaway, a man mouthed off to cops and threw a bottle at them. Then 4 cops took him down and one of them placed a chokehold on him during the arrest, making the perp pass out. A cop had to pat his back to make him release the hold even thought the cuffs were already on him. It took four cops to collar one man and they still needed to put a submission hold on him. A hold that is now illegal.
In Long Island City, three men were arrested for breaking social distancing guidelines during a vigil for a slain rapper at the Queensbridge Houses. Yet again, there was a massive deployment of cops that weren't utilized the same at constant blatant pandemic protocol violating by residents in parks in higher income areas.
Also in Long Island City, a building superintendent caught a private detective trespassing and demand I.D. from him. Then the man attacked him and choked him.
Again in Long Island City, two men held up a pharmacy by threatening a 74-year-old worker with a gun and then robbed some bottles of pills from over the counter.
In Jamaica, a man beat up his girlfriend then bashed a nailed wooden plank on her face a dozen times, leaving her permanently scarred and half-blind.
Also in Jamaica, two men got shot on a street corner while they were having a conversation with another man. One of them died later at the hospital.
Again in Jamaica, a doctor conspired with a man to write bogus prescriptions to get oxycondone to sell on the streets by using the names of his partner and two men serving time in prison.
And again in Jamaica, a man broke into a dentist office and stole a laptop and $400.
And again in Jamaica, two men got shot in front of a house at 4 in the morning and their shooter is still on the streets because they didn't snitch.
And again in Jamaica, a man sneaked up behind a 61-year-old woman, snatched her purse and then threw her on the street when she resisted giving it up.
And again in Jamaica, two 19-year-old men got shot and killed from blasts to the head and stomach and another man got hit on the hip on the street during a drive by.
And again in Jamaica, a man sneaked into a house and snatched a wallet from a a homeless man who was crashing on the couch who woke up and caught him in the act. The man got into a tussle with the thief and extracted a knife in his hand and then admonished him by telling him the money in his wallet was all that he had left to his name. This made the thief remorseful and emotional as he revealed that this was his first robbery attempt which made the poor man sympathetic enough of his plight that he decided not to press charges even though the cops arrested him anyway. If this isn't a sign of a new depression than nothing is.
And again in Jamaica, a pyromaniac who got caught setting off brush fires in four areas was found to have caused the death of a person and injuries to 9 other people from an arson of an apartment building he committed 14 years ago.
And again in Jamaica, a man and a woman committed suicide by jumping seven stories off a roof of an apartment building.
In Rosedale, an 18-year-old man was shot twice in the chest on a desolate street.
In Glendale and Ridgewood, a man broke into a pizzeria and stole a laptop and $200 then hit a Chinese restaurant and stole 33 bucks.
In South Richmond Hill, a man held up a bank by grabbing the manager and sticking a knife to his neck and demanding the teller to put the cash in an envelope he gave her. He then threatened to stab the manager again when the teller gave him a wisecrack, but he still made off with $2,300.
In Richmond Hill, a man was found dead with a broken neck inside a house.
Also in Richmond Hill, four men brutally beat down a man on a street corner just to rob him of his cellphone, debit card and 4 bucks causing him to fall in a coma and die two weeks later.
The shithead who robbed his victim's property left his phone in a deli because he couldn't access it and threw out his debit card because he didn't have the pin. Leaving him with not enough money to buy a frappacino at Dunkin Donuts. Dick.
In Ozone Park, a man crashed his vehicle while driving under the influence of heroin, then died in a cell at the police station.
In South Ozone Park, a man got killed when he run down by a hit-and-run driver while he was walking in the street.
In Woodhaven, a man held up a bank with a note and made off with over $1,800.
Also in Woodhaven, a man got hit by a car while he was jaywalking and the driver kept going.
In Queens Village, a man stabbed his half-brother to death inside a burned up house they were squatting in.
Also in Queens Village, an off-duty cop threatened his wife with his gun during a domestic dispute.
Again in Queens Village, a man was found dead by firefighters while putting out a dumpster fire by a bank.
And again in Queens Village, a construction worker got killed at a developmet site when he got crushed by the forklift he was operating when it tipped over from the excess weight of the steel beams that were on it.
In Hollis, two men robbed $30,000 in cash and merchandise in a one month crime spree burglarizing businesses while they've been locked down since the pandemic hit NYC.
In Laurelton, a woman and her boyfriend abandoned her 6-year-old daughter on the street with only a plastic bag with her clothes. The child was saved by a woman who caught her running into the intersection. The monsters who dumped the girl on the street like garbage later told her father to pick up the "crying little bitch"
In South Jamaica, a man stabbed a worker for Popeye's in the stomach when he wouldn't give up his backpack.
In North Corona, a homeless man was killed by a man who bludgeoned his head with a concrete block on the porch of an abandoned house.
In Corona, a man slaughtered his wife and two sons to death with a knife inside their apartment.
Also in Corona, a man on a ebike collided with a 60 year-old man while he was crossing the street. The ebike rider wound up with a concussion.
In Woodside, a man picked open locks on a front door of an apartment building and stole a bike that was inside.
Also in Woodside, a man was found dead in a crawl space inside an apartment.
Again in Woodside, a man who crashed his car into an SUV ditched his ride and ran away as the driver of the vehicle he hit started chasing him. The man then jumped on the BQE and attempted to cross the other side but got hit and killed by an SUV.
In Jackson Heights, a man stabbed another man to death after he withdrew cash from an ATM machine.
In Astoria, a man and his girlfriend both got stabbed in the neck by a man they had an argument with inside a store. The man died later from his wound.
Also in Astoria, two men were shot at in a courtyard of the Astoria Houses.
In Flushing, a woman got killed in a crash on the Grand Central Parkway when her boyfriend lost control of his car while speeding and smashed into a guardrail.
Also in Flushing, a man was found dead in the back seat of an SUV that was covered in writing of graduation salutations.
In Kew Gardens Hills, cops responding to a lunatic waving a knife at someone on the street got into a collision with another vehicle causing them to crash into a entrance of a college. Both cops and the other driver were injured from the wreck.
In Kew Gardens, a man got killed by a box truck as he was crossing the street.
In St. Albans, a man killed himself when he crashed into a car in front of him while speeding on his motorcycle.
Also in St. Albans, an off-duty cop with prior DUI charges on her record went drinking and driving again as she crashed into a parked car.
Again in St. Albans, a man stabbed a man to death inside a house and stabbed another man profusely as he was fighting him off and trying to get away.
And again in St. Albans, two men were killed in a drive by shooting in their car while they were about to pick up their mother.
In Cambria Heights, a man speeding on the Cross Island Parkway lost control of his car then crashed into a tree and died.
In Howard Beach, six men were busted by cops during a warranted search for guns and other weaponry.
In Pomonok, a man shot at two men while driving in his SUV that he suspected of trying to rob homes in the neighborhood.
In Bayside, an impatient man muttered xenophobic slurs at a man in front of him while accusing him of spreading COVID-19, then attacked him while he was filming the altercation on his phone inside of a 7-11.
In College Point, a man was found dead face down on the floor of an apartment building lobby.
In Whitestone, cops responding to a 911 call led them to a house where a man was in the basement wielding a samurai sword. After the man relinquished his weapon, a commotion ensued and cops were having difficulty detaining him. So they shot him with their tasers causing him to go into cardiac arrest and then he died.
On Rikers Island, 100 inmates released from the prison to prevent infecting each other and employees and C.O.'s of coronavirus couldn't keep their noses clean and returned there after still committing crimes.
Also on Rikers Island, two men tried to escape from prison as one got caught on the roof and the other trying to swim away in the water. The aquatic convict tried to escape again a few days later and was found on the roof of the prison. Still want to put neighborhood tower jails in the four boroughs Speaker Cojo?
Although it turns out that this convicts escape attempts are a protest against the still horrid conditions and environment at the prison regarding COVID-19 and the utter lack of prevention to stop the contagion plus the still prevalent inhumane maltreatment of the prisoners.
One man broke and robbed 21 small businesses in a 2 month crime spree.
Staten Island
In a woman shopping without a mask on in a supermarket was surrounded by a mob of workers forcing her out of the store while relentlessly heckling her.
In Mariners Harbor, a man shot another man and his pregnant girlfriend to death and wounded another woman inside their house while attempting to rob drugs.
Also in Mariners Harbor, two men held up a man at knifepoint on a street corner and robbed his cellphone and still slashed him on his hand.
Again in Mariners Harbor, a livery driver was attacked by four passengers as one of them slashed his hands. Then they kicked him out and stole his car.
In Stapleton, a woman was stabbed to death in her bedroom inside her house.
In Bloomfield, a man working at the Amazon fulfillment center got infected of coronavirus and died.
In Prince's Bay, a man driving drunk and sans pants crashed his car into his mother's house after speeding on the streets.
Also in Prince's Bay, a man went nuts and vandalized a gratitude sign to doctors and nurses on a fence outside the hospital.
Again in Prince's Bay, An unlicensed driver speeding on the street the wrong way crashed his car into an SUV, causing a pregnant woman in the front passengers seat to lose her baby in a miscarriage from the impact.
In Great Kills, a sanitation worker got arrested by cops after a warrant to search his home led to a discovery of a cache of guns and ammo plus fireworks, a flamethrower and other weapons.
In Meiers Corners, a man broke into a gas station and stole the cash register.
In New Brighton, two men broke into an apartment and robbed the resident at knifepoint.
In Bulls Head, a 79-year-old man got killed by an unlicensed driver in an intersection while riding his grandson's bike going to get lemons at a store.
In New Dorp, two men jumped a man in the lobby of an apartment building and whacked him on his head and body with a metal cane then robbed his cellphone.
In South Shore, cops in pursuit of a car doing an illegal lane change got blitzed as the driver sped away as they were trying to pull him over. The driver then crashed into a city bus after running a red light and then he and his buddy got pinched trying to abandon the vehicle.
In Grasmere and Dongham Hills, three men burglarized three garages robbing a motorcycle, lawn furniture and an ATV.
In Port Richmond, a man was assaulted on the street with a crowbar.
In West Brighton, a driver lost control of his/her car and crashed into a fence while nearly hitting a woman on the street.
Also in West Brighton, a man got busted by a cop selling smokes laced with angel dust.
Again in West Brighton, a 13-year-old got shot on the street.
In New Brighton, a man slashed two women and one man with a knife inside an apartment building.
Also in New Brigthon, a man was shot at multiple times on the street.
In Castleton Corners, a man beat up another man inside a tea shop and then set the place on fire with his victim lying inside. The arson attempt injured 2 firefighters.
In Silver Lake, a man threatened to beat down a man with a bat during a bad drug deal, then he drove away in an SUV with the cops in pursuit and got nabbed trying to run away.
In South Beach, a man speeding on the street crashed into three other cars in an intersection and then into a utility pole causing it to fall down.
In Clifton, a man shot randomly into a crowd behind an apartment and hit a man in the face.
Also in Clifton, two men beat down and stabbed a man at his residence following a dispute.
In New Dorp, a man got caught shoplifting lady body wash at a chain pharmacy less than a week after he got caught shoplifting liquid detergent from another one.
In Eltingville, a man was busted by cops at his home possessing two automatic rifles and 3 guns without having a permit to hold them.
In Concord, a man drove up to a vehicle and shot the driver after they yelled at each other.
Auto thefts rose immensely in the first month of the city shutdown with most of the thieves coming from Queens and Brooklyn.
At the Staten Island University Hospital, a nurse stole a credit card from a man who died from coronavirus and used it for personal purchases.
The George Floyd Protests
Cops clashed with the protesters immediately at the start of the demonstration at Union Square as 200 people tried to march forward and cops randomly arrested attacked anyone after people in the crowd threw bottles, bricks, a garbage can and one attempted to steal a taser.The protest moved downtown and the clashes resumed. Over 70 protesters were arrested.
At Barclays Center in Brooklyn, the demonstrations against systemic police brutality reached critical mass as thousands of people assembled by the arena right in the face of the NYPD standing in battle formation, there to supervise and maintain law and order. Which they violated immediately with their robotic misinformed warnings accusing people of illegal assembly and followed with charging the crowds with naked aggression.
When the NYPD tried to move all who were detained to the precinct stations, a bus driver refused to assist them in solidarity with the movement stemming from an order from his transit union.
With the marchers heading towards Flatbush, a cop accompanied by a lieutenant badgered a young woman in front of him to move and smacked the phone out of her hand. When she walked past him again, the cop viciously pushed her to the ground close to the curb where she could have cracked her skull.
More clashes continued in Manhattan and Brooklyn as the demonstration arrived at Foley Square. Protesters amassed in thousands taking over the road on West Side Highway in Manhattan and marched in Staten Island where Eric Garner was tortured and killed by a cop on the street 6 years earlier in July. NYPD mass mobilization and aggression against the protesters by Barclays Center fueled the continuing chaos on the streets as cops sprayed chemicals on protesters which included two State Assembly Officials marching in solidarity with them. Protesters volleyed back projectiles at the NYPD miltia, hitting a cop in the face with a brick. Over in Brooklyn, demonstrations split up into divisions in different towns as tensions continued to get heated between the NYPD and the protesters as cops administered pepper spray throughout the crowd while a cop walked up to a man, pulled down his mask and sprayed mace in his mouth.
As the people continued to protest peacefully on the streets, the NYPD continued to disrupt their demonstration with naked aggression by shoving people and hitting them with clubs and even resorting to weaponizing their patrol cars to disperse the crowd, remarkably deploying two SUV's down a street as people were marching, culminating in a standoff as people threw traffic cones and garbage at one while the backup SUV patrol car barreled through a group of people in on the road and then first one hit the gas and pushed a group down holding a barricade up as they tried to protect other protesters.
Although saboteurs continued to mingle among the masses of demonstrators. At one point, protesters amassed in front of a Target department store to prevent people from looting it and one of the demonstrators noted that they were undercover cops involved in inciting the chaos. A woman from upstate New York got caught trying to ignite a van with a molotov cocktail with four cops inside but failed.
As darkness fell on the evening following the protests and the NYPD battalions went home, the first night of looting of upscale brand stores spread out across lower Manhattan while rioting and destruction commenced in Brooklyn as patrol cars were vandalized and burned including a police van that was set ablaze by a molitov cocktail thrown from a van by a woman as her boyfriend drove, both of them lawyers currently unemployed. The man holds a chair on a community board in East New York. 33 cops got injured as well as hundreds of protesters who got arrested during the melees. At the end of the day, Mayor de Blasio praised the NYPD for "acting appropriately"
After that statement the following day de Blasio's and Shea's NYPD did some positive optics and afterwards got more hyper-assertive and reckless as they obstructed streets in Flatbush to cluster protesters and sent patrol helicopters to fly low to produce wind to throw them off balance and wailed on protesters around the Barclays arena later in the evening, even a reporter. A march in Harlem went awry when some people protesting threw blunt objects at a patrol van that was still occupied by a cop. He got help from other protesters who protected him from the people looking to foment unrest.
A clash in Union Square nearly got fatal as cops smacked protesters with batons and a man hit a lieutenant officer from behind with a brick, compelling a cop to draw his gun on the crowds which clear the street instantly. The saboteur looters continued to follow up the peaceful protests in Manhattan as they tore into the Macy's flagship store and broke into and robbed more high end brand stores and chain pharmacies as they trailed marches down Broadway from Midtown to Soho, the latter area where the most organized plundering and destruction took place. In Greenwich Village, a cop got hit by an SUV full of crooks as they were making a getaway from a store they robbed. Although there were arrests, there were no sights of a mass formation of cops lined up on the streets like they were deployed against the protesters.
A few days after de Blasio praised his police force for their "appropriate" response to the protests and his mind blowing defense of his police departments weaponization of SUVs to use as cowcatchers to move protesters off the streets, news spread that his daughter Chiara got arrested while she was participating in the protests that involved throwing debris at his NYPD. Then the SBA police union released Chiara's mugshot, and the Blaz kicked off his morning COVID19 update "media availability" by demanding his constituents to stay home and not exercise their rights to speak out and assemble in public so they don't contract the novel virus. Even though de Blasio's NYPD didn't even enforce the pandemic protocols when rich young White people were congregating in parks in high area median income areas.
Concerned about the clashes and violence on the streets from the cops and protesters and the wanton looting from thieves exploiting the movement for materialistic reason and following a planned riot at the Queens Center Mall in Rego Park that got thwarted by the NYPD, Governor Cuomo and Mayor de Blasio announced an 11 p.m curfew and doubled the amount of cops deployed for the demonstrations and opportunity crimes to 8000. Hours later, President Trump mentioned in his talks with state governors that their police forces have to show dominance over the protesters.
Despite Trump's vile comment, thousands still came out in droves and marched in peace and despite the curfew announcement it wrought the worst destruction and chaos of the citywide unrest so far as the looting and violence spread out in three boroughs even after the clock struck 11 as cops received the brunt of the beatings even with more of them on the street.
In Manhattan, looters tailing protesters down Broadway from Midtown on down the Flatiron District to Union Square tore up the wood panels, bashed windows and pillaged high end stores and chain pharmacies with ease, stealing upscale brand merchandise, jewelry, lux skateboard culture wear and even cough syrup and laxatives.  Small businesses like craft beer stores and smoke shops were not spared by the opportunistic thieves.
Protesters witnessing the bedlam behind them tried to stop them to no avail as they noticed how organized the criminals methods were, which was glaringly apparent at the second night of the pillaging of uber upper class Soho. As luxury SUV's rolled up on the cobblestone streets followed by street urchins on foot and riding on app-share Citibikes and Revel scooters as they all made off with millions of dollars of merchandise without a single cop in sight. Most of the smash and grab heists went smooth except when one person got shot during the festival like plundering mayhem. Ubers and Lyfts were also utilized by the thieves which led de Blasio to order their app services shut down as well.
Riots also spilled over into the Fordham section in the Bronx. One cop got jumped by three men and barely got up as they fled. As a cop stepped out of his patrol car for only a second when a hit and run driver plowed into him with enough force to knock him 20 feet ahead into a street intersection.
Stunningly, people were rapidly wrecking shops, robbing merchandise from small businesses forced to closed because they weren't essential to be open during the pandemic and setting fires all over the streets as cops deployed to stop the mayhem stood fast and let the rioting continue and let the Bronx burn again. This horror show was a total contrast to battalion of cops made to supervise and intimidate the protests calling for the end of systemic abuse of authority and race based brutality enabled by police precincts in the United States. Because said battalion remained squarely on the protesters.
The last 5 days saw over 1700 people arrested. As for the looters, 100 of them got arraigned and were instantaneously released because of the failed bail reform policy. While the protesters languished for 24 hours inside dirty cells without water or PPE's as cops were guarding and monitoring them without wearing masks.
The next day Mayor de Blasio decided to ground the city for a week and advanced the curfew to 8 p.m. ending on Sunday which happened to be the day before the five boroughs were deemed safe to reopen in the "New Normal" under the existential threat of the pandemic as he lectured his constituents exercising their first amendment rights as if they were his daughter. Which did not deter the masses one bit. Thousands of protesters organized to use the first night of the early curfew to march to Gracie Mansion as they amassed on East End ave with chanting and silent vigils (in congruence with the last minutes and seconds of George Floyd's life) as de Blasio's NYPD surrounded his house and eight other blocks of the Upper East Side, blanketing it like a fort for the thin-skinned mayor.
With protesters still on the streets hours after curfew heading downtown, a NYPD battalion guarded the Manhattan Bridge as a critical mass of protesters were walking on it and got kettled by cops coming from both sides, leaving them clustered and trapped stories above the East River.
While uptown in Manhattan hundreds of cops were chasing demonstrators on the streets. Although the cops locked down Soho after the organized looting of the area, other thievery went on in some other areas of the city with less police presence. de Blasio tried to use this progress as an opportunity to push his narrative of denial but was cockblocked by a video of a bunch of looters dancing over the damages they left behind and then gave effusive (or is it elusive?) praise of the cops restraint again on the bridge while another police militia was beating up protesters on the west side downtown the minute the clock struck 8.
The NYPD was chasing and beating the shit out of anyone who was outside and that included the press. A reporter from Huffington Post was so livid about the violence and oppression dispensed by the cops of which he was a recipient of that he dropped all impartiality and wrote a scathing diatribe of his experience which landed him in jail. Riot cops surrounded and blatantly oppressed two reporters from the Associated Press from covering the dispersing and the physical abuse of the demonstrators, yelling at them to go home while making it difficult for one of them to get back in his car.
Taking inspiration from Donald Trump to enforce domination on the people they serve and protect, cops ambushed a bunch of protesters riding their bikes and assaulted them with billy clubs, ripped off their bikes from their hands and ganged up on professional nurses trying to help the people they brutalized on 3rd Ave. in Midtown; a block away from a NYPD precinct on 51st as they were obviously trying to "go home".
The NYPD militia in Brooklyn blocked the Manhattan Bridge from protestors looking to go back home to the city and then charged at them as they retreated down Candam Plaza by swinging their clubs and yelling exhortations to go home as if they were sentinels. The cops then trapped them on the street using their patrol cars and unmarked cars and proceeded to violently arrest as many protesters that they could grab.
As protesters were leaving after another day of demonstrating at the Mayor's house, the NYPD sentinels stalked them and attacked, chasing them on the street and arresting over 60 people on orders from Chief Monihan.
In Whitestone, a group of protesters hanging signs honoring Black Lives Matter and George Floyd on a street overpass were confronted by two men who were offended by their solidarity against police brutality. After one man tore down one of their signs the day before, they were badgered then attacked by a psychopath who tried to run them over with his car then ran out and chased them with a large four blade contraption attached to his arm and chase them with it while accusing them of throwing stuff at his car.
Governor Cuomo and Mayor de Blasio continued their obtuse insouciance with tone deaf statements/endorsements of the NYPD's barbarity enforcing the stupid curfew. Even though they could easily find out about the violence by going on social media or asking a reporter.
New York City's police states war with the people started off with a bang with a protest in Brooklyn as Mayor de Blasio finally got to address and face his constituency after avoiding them since the protests started a week ago. (And arriving 20 minutes late with his wife as is wont of Mayor Big Slow)
Naturally, the crowd booed and cursed him out and turned their backs to him as he spoke for about five minutes as he skulked away with his wife that he's trying to promote for the Brooklyn Borough President role. The pissant Mayor got all huffy after that during his media availability he got paternal and gave a stern warning (whining) to his aggrieved constituents to stop protesting on the streets as if they were his daughter, but mostly because he can't defend the hyper-repressive actions of the blue wall of ultraviolence.
After an entire afternoon of peaceful marches populated by thousands, the clashes resumed in the town of Mott Haven in the Bronx as riot cops and silly looking body armored cops on bicycles preemptively kettled protesters assembled on the street many minutes before the clock struck eight and then proceeded to strike at them when the curfew was on. A Gothamist reporter unequivocally described the police escalation as a deliberate trap.
Under the command of Chief Monihan, the guy who feigned solidarity at a park by kneeling with other activists, the police continued to cluster the crowd as if there wasn't still a novel virus pandemic around then actually had a massive horn go off when the clock struck 8 which instantly triggered the NYPD militia into attack mode. While every cop illegally covered their badge numbers with black tape to avoid identification during their organized brutalizing (basing it on their exploitation of fellow cops who died of COVID19 as a memorial), they clubbed and dragged to the ground anyone in their sights, saving most of their brutality for organizers and legal observers and collaring indiscriminately anyone they were able to grab including photographers, medics helping the injured, bystanders not moving fast enough to "go home" and people not even protesting and actually trying to get home from work.
According to Commissioner Shea, this premeditated and coordinated attack on free assembly was based on a gun possession arrest and two people detained carrying weapons of disruption in backpacks that weren't even close to were the demonstration took place without incident in the afternoon.
A total of 250 citizens were arrested and locked up and cramped in cells together without PPE's and were forbidden to be visited by their lawyers. While Governor Cuomo finally overcame his obliviousness after seeing a 75-year-old man get pushed to ground by cops in Buffalo, de Blasio maintained his insouciance by blowing off Offenhartz's account of the rioting cops by saying he had eyes over there who saw a different "reality". Although it turned out that some of those eyes were city hall aides that also got kettled by the police and somehow de Blasio's own lying eyes didn't acknowledge their accounts.
In the Upper West Side in Manhattan, deBlasio's NYPD's random and obligatory violence and arrests of protesters violating curfew continued even though it was still light out as if they were making a collective statement themselves, as they dragged a man out of his building and stopped and detained a livid and confused app-food delivery guy, accusing him of not working (he was).
The NYPD's new and unconstitutional tactics to dominating the public extended to Crown Heights as a bunch of residents were having an bbq party outside their building when dozens of cops in riot gear rolled up and ordered them to get inside their homes because they were technically breaking curfew. Despite everyone complying or trying to comply, the cops unleashed extreme aggression and pushed them back into their building and started rumbling with them inside the vestibule and the hallways. Taking the curfew enforcement to purely paternalistic, fascistic and even idiotic new levels.
While this idiot was trying to break into people's apartments and close their door while he was still inside, the other cops commenced swinging their billy clubs and cuffing people as backup riot cops stood in a hallway exhibiting a dystopian presence but mostly to prevent other residents to witness how the cops are conducting their arrests of their neighbors.
On Friday, the NYPD continued their attempts to dominate the streets throughout the day during various demonstrations but were held back by elected officials showing up to witness the confrontations and keep the peace. But later in Crown Heights, cops stalked, chased and assaulted demonstrators as they were going home.
The people still came out in droves to protest again on Saturday and de Blasio's NYPD stood pat and yielded the streets to them. Naturally, no violence occurred except when one psychopath weaponized his car and jumped the curb nearly hitting a bunch of people but clipping a person on a bicycle.
de Blasio then decided to end the curfew that night. Over 2000 people were arrested, nearly hundreds of cops injured and dozens of vehicles destroyed, tens of millions of dollars of merchandise stolen and property damaged in the week of that policy failure. While cops were busy oppressing the public from demonstrating in solidarity and the free press from reporting their arbitrary enforcement of the curfew during the biggest week of unrest in NYC in this century as murders, auto thefts, shootings and burglaries went up and has continued their rapid upward trajectories in the aftermath.
And now you can add illegal fireworks to this list, as explosions in the sky and on the ground have been going off from sundown to sunset for two weeks as thousands and thousands of 311 and 911 calls were made by citizens demanding action from the police and receiving bupkis while patrol cars roll by as mats of firecrackers, m80s and mortars get ignited by anarchic revelers.
And this summer has only just begun. Plus we are still under siege of COVID19 as the streets are still amply deserted and stores are still boarded up. Although the existential threat of a novel virus that's still infecting dozens of people daily in America did not the deter rich predominantly white hipsters and millenials from returning to their favorite bars a week after the curfew ended, as they opportunistically imbibed their open containers of booze and obstructed sidewalks with impunity in high median income areas like in the East Village with careless blissful oblivion.
When it was only a month ago that de Blasio's NYPD was exposed for segregating their pandemic protocols by only excessively enforcing it in predominantly Black and Brown lower median income earning areas mostly in the North Bronx and South and East Brooklyn.
When questioned about the rash of viral video footage of the cops violent enforcing of the guidelines and the focused targeting of few districts, de Blasio obstinately responded that the NYPD used proper restraint. A statement he would make only three weeks later after seeing the NYPD's heinous decision to deploy two marked SUV's to run over protesters in an deadly attempt to disperse them.
While the protests continue peacefully, the citizenry and the cops still remain on edge and at loggerheads. While laws are being enacted to finally clampdown on systematic police abuse (though incrementally), there's still people on the streets  still yelling "fuck the police" and for their extinction.
Truly historic but dystopian times happening now in New York City…
…your city