Commissioner Dermot Shea announced that over 400 guns were taken off the street in January in a month where shootings went up 20% compared to last year. While not mentioning bail reform by name, Shea claimed 90% of people arrested for gun possession wound up back on the streets as they await weeks for court hearings for their offenses. Unfortunately, six shootings that occurred during a two day blizzard nearly finds his theory credible.
The NYC Transit President Sarah Feinberg announced that heroin junkies are discarding their syringes and rubber ties on the track beds and platforms uptown to downtown and condemned the continuing malaise of mentally ill people attacking commuters and killing themselves on the subway and the urgent need for a bigger NYPD presence on the platforms and by the metrocard machines and token booths. Don't know if that letter ever made it to the Blaz, but the Transit Police Chief dismissed Ms. Feinberg's concern and claimed that subway crime was suitably low considering the amount of commuters being victimized by random acts of senseless violence every day.
Commissioner Shea also soberly acknowledged the frequent random attacks that's been happening all over the transit system and lamented about a recent assault by a mentally ill man he was already familiar with.  But when Marcia Kramer asked The Blaz during his "media availability" about the crisis going on in the subway he brazenly lied to her and contradicted everything Shea has been saying as he was sitting on the dais with him. Then the Blaz brazenly accused Ms. Kramer of lying and fear mongering. So if you are a commuter, the only thing separating you from having a safe commute is de Blasio's toxic hubris.
But if Transit President Feinberg is still waiting for a response, if she wants to know where the cops are being deployed as our subways devolve into a subterranean jungle, de Blasio's and Shea's NYPD has been policing more urgent matters like adding 200 cops to the battalion guarding the U.S. Capitol and the White House at President Biden's inauguration; sending hundreds of cops to wall off protesters walking by City Hall and sending a militia of cops to a workers strike at Hunts Point and having two cops dressed as Cobra Commandos guarding the Charging Bull by Wall St. after a wiseguy put tape with Gamestop stock agitprop on the bulls' head, taint and balls.
So NYC citizens, the only thing separating you from having a safe commute everyday is de Blasio's toxic hubris.
Manhattan
In Tribeca at the Canal St. Station, a man with a thick branch that came off a discarded Christmas tree used it to attack two men and a woman, whacking each of them on their heads while screaming racial slurs, leaving one man knocked out after he relentlessly beat him down when he was coming down the stairs, then bloodying the woman on the platform and injuring and bloodying the other man as he tried to notify the token booth clerk. The maniac exited the station and on randomly hit an MTA worker on her head on the street and then walloped a man standing by his car by the Holland Tunnel entrance, stole his car and crashed it into two parked cars. He ditched that vehicle and then broke windows of two cars he tried to jack from two women while they were stuck in traffic. He then randomly attacked a couple walking with their kids by a posh hotel and broke the woman's arm and her husband's leg. Then the loon carjacked another vehicle after he bashed the window with the branch and hit the driver and then he drove it 20 blocks north to Chelsea and he crashed into a patrol car and got arrested after cops broke through the vehicle's window to drag him out, putting an end to his one hour assault spree injuring 10 people.
In the Lower East Side at the Bowery Station, a man got hit by the arriving J train while he was standing on the tracks.
Also in in the Lower East Side, an argument between a man and a worker in a hotel lobby escalated when the man exited the building and shot at the entrance.
Again in the Lower East Side, a man smacked another man on the head with a bluetooth speaker, then he got chased by cops and tried to escape by jumping into the East River.
And again in the Lower East Side, a woman shot at a window at an apartment building window at the LaGuardia Houses and her relatives attempted to hide the evidence.
In East Harlem, a man shot his mother to death in their apartment after she argued with him about his refusal to get a job, then the man ran outside and randomly shot another man on a street corner before he got tazed and collared by the cops. The woman was so terrified of her son after prior domestic violence incidents, she had an order of protection against him and the NYPD gave her a panic alert button to notify them after she got assaulted by him at her home and broke her phone and it still wasn't enough to stop him from killing her. He was scheduled to be in court for those charges on the day of the murder.
Also in East Harlem, an argument between two cops escalated when one of them jumped the other from behind and wailed on her while she was on the ground on the precinct's driveway and continued to beat her up inside the station. She got suspended following the blue lives catfight.
Also in East Harlem, a man got shot to death after he got hit twice during a shootout with another man on the street. The deceased managed to wound his foe twice.
Again in East Harlem at the 103rd St. Station, a homeless man got run over by the 6 train at 1:30 a.m.. A half-hour after the subway is closed to commuters.
And again in East Harlem at the 110 St. Station, a dog broke free from his owner and ran onto the tracks and got killed when a train ran over him in the tunnel.
In Harlem, vandals broke into the parking lot of a Salvation Army building and also broken into and took a propane tank out of a mobile canteen vehicle and ignited it with a butane torch to destroy a car that was parked next to it.
The flames from the targeted car spread to the mobile canteen and torched another car that was parked next to it. The relief wagon was most recently used to feed hundreds of people a day during this pandemic and will cost over $250,000 to replace it.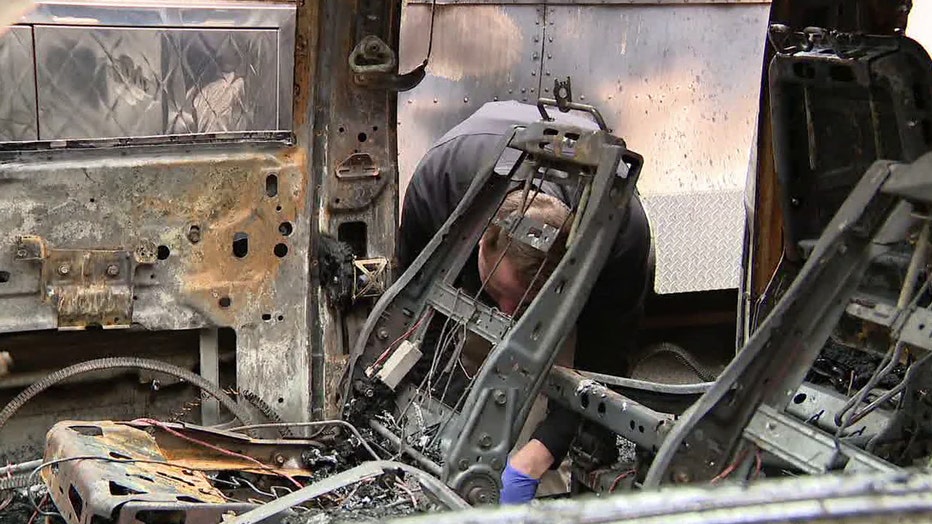 Also in Harlem, a man ran away from a hotel homeless shelter while naked and off his meds and went down to the 110th St. Station and started causing a commotion on the platform singing and and dancing near people, then he focused on a man and suddenly attacked him and pushed him onto the tracks.
The naked man jumped onto to tracks and continued to challenge the other man to a fight as the 1 train stopped short when it arrived at the station. The other man defensively pushed him, causing the naked man to fall on the third rail, instantly killing him from the shock.
Again in Harlem, a man grabbed a woman's ass and then shot her to death and wounded her fiance on the street when the couple went to confront him about his perverted act.
And again in Harlem, a woman got accosted by three men inside a liquor store, one of whom offered to buy her a bottle of wine. After the woman refused him, the gang followed her outside and continued to harass her and then they swarmed and slammed her onto a parked SUV and beat her down. The Lothario who offered to buy her wine bit her on the face and tried to ripped her eye out of her socket. He stole her cellphone and ran away with his crew.
The following day, a group people organized a demonstration march in solidarity for the victim and in condemnation of the ultraviolent crime in protection for their fellow citizens and their community. One of the bastards got arrested for beating and strangling a woman at her apartment in East Flatbush.
In Midtown, a woman committed suicide by hanging herself inside her apartment.
Also in Midtown, a few people tagged the St. Patricks Cathedral with anti-cop graffiti while they participated in an impromptu protest with over a hundred other demonstrators. A group of protesters in the street banged on a patrol car.
Again in Midtown, a protest in response to the MAGA horde invasion of the U.S. Capitol assembled by Trump Tower was met with aggression by the NYPD, leading to 2 people getting arrested.
And again in Midtown at the Rockefeller Center Station, a man attempted suicide by jumping in front of the arriving B train.
And again in Midtown, a woman yelled at Senate Majority Leader Chuck Schumer for 5 minutes as he was holding a photo op and media circus in front of an office building.
And again in Midtown, at the 59th St./Lexington Ave. Station, a woman attacked another woman on the platform and shoved her into the 6 train while it was still in motion.
And again in Midtown, a gang of eight men broke into a high end designer clothing store that sells $700 sneakers by bashing the front window and looted everything that was on display.
And again in Midtown at the West 49th St. Station, a man randomly punched a man and then a 66-year-old man on the platform. After he knocked the older man down to the floor, he tried to kick his body onto the tracks.
And again in Midtown, two teenagers got mugged by three men who they expected to buy weed from as they made off with the boy's cellphone after they had difficulty stealing the girls handbag after they shoved and kicked her.
In Times Square, a man pushed another man onto the tracks. The victim got back up to the platform shortly before the N train arrived.
Also in Times Square, a woman working as Minnie Mouse took her mask off while taking a break and then a homeless man ran up to her and sucker punched her in the face. The man was back on the streets in 24 hours because he didn't used a weapon in the assault.
Again in Times Square, a man slashed another man in the back on the Q/N/R/W train platform.
And again in Times Square, a man stopped his car in the middle of the avenue and got out and danced on the street which attracted the attention of cops patrolling the area. Then the dancing fool took brandished a gun and got arrested.
In Hell's Kitchen, a woman killed herself and her child as she committed suicide by jumping from the balcony from her apartment on the 13th floor.
Also in Hell's Kitchen, a mother beat her 2 month-old baby to death in their room at a homeless shelter hotel.
In Inwood, two men were found dead in a parked car in broad daylight.
In the Upper East Side, a man who found out he had terminal cancer took out a gun inside an urgent care room and locked the door and shot at cops who were trying to talk him out of killing himself.
Also in the Upper East Side, a man drunk on hooch randomly attacked a 7-year-old boy and pinned him to the sidewalk and strangled him.
Again in the Upper East Side, the 89-year-old inventor and chief executive owner of an artificial sweetener company committed suicide by jumping out the window of his apartment.
And again in the Upper East Side, a man got swarmed by cops and got caught in possession of a shotgun, knives and over a 1,000 rounds of bullets after his involvement in the invasion of the U.S. Capitol inspired by former President Trump.
And again in the Upper East Side, a 71-year-old man strangled his 67-year-old wife to death inside their luxury apartment following years of domestic violence towards her and an order of protection against him.
And again in the Upper East Side, four man grabbed a 68-year-old man while he was entering his apartment building then grabbed the doorman when he buzzed them and held them up at gunpoint and then tied them both up in the man's condo and robbed $10,000 plus his coin collection and his and the doorman's cellphone.
In the Upper West Side at the 103rd St. Station, an unmasked man got into an argument with a woman on the 1 train and then spit on her before he got off.
In Washington Heights at the 175th Station, a man announced he was going to fuck someone up and did that when attacked another man on the platform from behind and hit him on the head with a hammer.
Also in Washington Heights, two men shot at each other in the middle of the street in broad daylight.
Again in Washington Heights, a man died from falling down the steps in an apartment building at the Polo Grounds Houses.
And again in Washington Heights, a 93-year-old woman was found dead in her bathtub bruised and strangled inside her apartment
In Kips Bay, a man suspected and arrested for raping a woman after forcing himself into her apartment after feigning to be a delivery person was found to be living in a nearby homeless shelter that houses other sex offenders.
Also in Kips Bay, a man selling loosies on street corner died after a man yelled at  him and then punched him in the face, causing him to hit his head on the curb.
In Herald Square, two homeless men sleeping in a subway vestibule woke up all cranky when cops arrived and told them to move and then got into a brawl with them.
In Union Square, a man jumped a woman from behind and stole her cellphone after he dragged her on the floor while she was resisting him from taking it.
In the East Village, an app-food delivery man got hit by a car while he was riding his e-bike and then got attacked by a gang of men and woman and savagely beat him down on the pavement after he tried to take a picture of the car's license plate.
Also in the East Village, a man got shot to death on the street by a man riding a bicycle.
Again in the East Village, a man bashed an upscale ice cream parlor cashier on her head with a rock after demanding money from her and then robbed the store and got away on a city bus. The lunatic thief robbed another swanky ice cream parlor in NoMad two days before.
And again in the East Village at the 14th St., a man slashed a 61-year-old man in the face with a box cutter following an argument on the platform.
In Grand Central Station, a man argued with another man on the 6 train about playing music on his cellphone too loud and then got slashed in the face with a straight razor.
In Soho, two men barged into a loft and robbed eight people of their possessions at gunpoint.
Also in Soho, a man shoplifted two parkas from a sneaker brand store and got away after he brandished a spray bottle with bleach at a guard and yelled about being racially profiled.
Again in Soho, four men entered a luxury designer store, one of them who flash a gun at a security guard, and easily snatched all the handbags and wallets in broad daylight, making off with over $160,000 worth of merchandise.
This plunder is the latest incident of several lootings of high end stores in the area going back to June, when a  critical mass of thieves broke into stores one evening during a city curfew sparked by the Black Lives Matter protests that was decreed by Governor Cuomo and Mayor de Blasio. And like that crime spree, the recent looting at Chanel involved rental cars being used for getaways and an underwhelming response by the NYPD compared to the amount of cops being sent to protests;  especially by the Strategic Response Unit, which probably would be more useful against organized crime than organized protests.
In Greenwich Village, three women jumped another woman from behind and one of them hit on her on the head with a glass bottle and stole her cellphone.
Also in Greenwich Village, a man invaded a woman's apartment while she was sleeping in her bed. When the tenant gave him cash, the man attempted to rape her but she kicked his ass, causing him to flee with the money even though they got torn in half during the tussle.
In Chelsea, residents are freaking out at the amount of homeless people that are hanging around, occupying sidewalk space and openly shooting dope in Council Speaker Corey Johnson's district. But his mind has been focused on bike lanes for quite some time.
In Downtown Manhattan, people publicly assembling in a protest march on the Brooklyn Bridge in honor of Martin Luther King Jr. Day got immediately confronted by de Blasio's NYPD by City Hall and hundreds of cops in riot gear charged the demonstrators trying to force them onto the sidewalk. Even though the protesters were following the NYPD's instructions, a riot ensued and led to 29 people arrested and 10 cops injured when a bunch of protesters fought back.
Even though the NYPD were suddenly the focus of NY State AG James with her recent lawsuit against the city for their violently illegal, dubiously arbitrary and unconstitutional response and brutality against participants in BLM protests last June, because of the insurrection of the U.S. Capitol on January 6 2021, a federal order was instituted that all government buildings in America were under blanket authoritative protection, which Mayor de Blasio eagerly cited to justify the militaristic deployment and oppression. (Which I fucking called)
Also in Downtown Manhattan at the Fulton St. Station, a gang of four men and two women jumped and beat down a man who was ordering food at the Dunking Donuts in the station's 2 billion dollar hub.
Again in Downtown Manhattan and again at the Fulton St. Station, a man randomly pushed another man onto the tracks and got nabbed by the cops when he fled to the streets. The mentally disturbed man attacked another man with a pipe in the subway a month earlier.
In Hudson Yards, a man committed suicide by jumping off the top of the Vessel. The man was a fugitive wanted for stabbing his mother to death in Texas. The real estate developer that manages the property decided to close the Suicide Shawarama indefinitely.
In  Chinatown, a man assaulted a deli worker with a wet floor sign because the lotto machine was closed.
Also in Chinatown, a man got off a charter bus and was met by and attacked by a gang of 13 people as they chased him down the street and caught him on a corner and proceeded to beat the living shit out of him, beating him down to the pavement, taking turns kicking him and slashed him multiple times all over his body. Then they stripped his pants and britches off him and left him in a bloody pulp with his genitals exposed. They also stole his cellphone.
The gang dispersed as fast as they arrived; for they all showed up to the charter bus top via text by a relative of theirs who was beaten and robbed by their victim, who was revealed to be a gang member, when they both got on the bus that departed from Atlanta en route to NYC. The gangbanger stuck him up inside the bus and along with an accomplice (who did not accompany him the rest of the trip) and robbed the man's watch, sneakers and jacket he happened to be wearing until the high-tech lynching on Canal St.  his victim surreptitiously arranged with his relatives on a cellphone he borrowed from another passenger. The man and three of his relatives turned themselves in to the authorities and claimed self-defense for the retribution in this incredible story of gang violence and tech weaponizing.
Brooklyn
In Brownsville, the superintendent of a NYCHA building strangled an 78-year-old woman to death with a telephone cord after he visited her demanding to get paid for a favor he did for her and got caught by the cops after he used her debit card to buy a sandwich at a bodega nearby the Woodson Houses.
The 66-year-old man was also found to committing two other murders of elderly women that lived in the building he worked in at the Woodson Houses who he also hassled for money for favors. He stabbed an 82-year-old woman in the neck with a steak knife inside her apartment back in 2015 that was initially filed as a death by natural causes by authorities until the wound was found by a coroner at the funeral home that was handling her corpse. Four years later, he savagely beat an 83-year-old woman to death in her apartment by stomping on her neck. He was suspected for her murder but was let go because the DNA tracings he left behind were inconclusive because of how frequently visited her.
While the lethal handyman never got caught for murder, he was a recidivist criminal that was still allowed to live in a public housing building despite strict regulations against tenants piling up a criminal record. Notably when he faked a car crash with two other people to rip off an insurance company for $150,000. Now the family of his recent murder victim is suing NYCHA for $25,000,000 for not having a sufficient amount of security cameras in the building, which stems from complaints of other tenants for almost a decade and summarized by the rise of killings and shootings on NYCHA properties in the last two years.
Also in Brownsville, a man got shot in the head inside a deli following an argument with his assailant and while struggling to take his gun.
Again in Brownsville, a woman critically injured herself and her passenger when crashed her car into a city bus after running a red light while speeding.
And again in Brownsville, a man got shot in the leg on a street corner
In East Williamsburg at the Morgan Ave. Station, man serially assaulted four women in a one month span by sucker punching and beating down each one as they were exiting the train walking up the steps or exiting through the turnstiles. A day after his release from NYPD custody, he went back to the Morgan Ave. Station and grabbed another woman on the platform and threw her against the wall and bashed her face with his fist, even though the precinct claimed that they have cops patrolling the area and the station. The kook was finally sentenced with $100,000 bail. The half-measured monitoring by the NYPD led a Samaritan to organize a group to accompany women commuting to their homes.
The man got arrested again following an outburst inside a smoke shop where he attacked a cashier and knocked her down with one punch then placed a headlock on her. It was discovered that he attacked two other woman at the Morgan Ave. Station during the summer before he resumed his serial attacks on young women.
In East Flatbush, an off-duty C.O got shot on the street by his house.
Also in East Flatbush, a man got shot by the cops when he attacked them with a knife on the street.
Again in East Flatbush, a man followed a couple as they walked into an apartment building and stashed the man in the back and the woman in her arm.
And again in East Flatbush, a man was found with an unregistered and loaded 9mm when cops search his car during a traffic stop after he was driving recklessly on the streets.
And again in East Flatbush, a man brutally beat up and strangled a woman inside her apartment.
In East New York, a woman got shot in the leg in her bedroom when a stray bullet from a rooftop party across the street went through her window as she was laying down after watching the ball drop on New Years Day.
Also In East New York, cops caught two men trying to steal a van and then one of thieves grabbed the wheel and tried to run them over, provoking  the cops to shoot at the vehicle and hitting the perp in the leg.
Again in East New York, a 17-year-old boy got shot to death in a hallway in an apartment building at the Lincoln Houses.
And again in East New York, a man got shot to death at an apartment during a party that was set up on AirBNB.
And again in East New York, a man went bezerk when he got refused service at a chicken/burger joint for not wearing a mask and then he bashed down the plastic shield on the counter and pushed the cash register to the floor.
And again in East New York, two men walked up to a parked car and shot at a man sitting inside then continued firing as they were running away on the street in broad daylight.
And again in East New York, a 75-year-old flower salesman was loading his van and then a man jumped in the drivers seat and hit the gas, dragging the salesman down the street and causing him to fall off. The thief abandoned the vehicle and is still on the loose.
And again in East New York and also East Flatbush, a man held up eight livery cab drivers by knifepoint and gunpoint going back to November.
In Bed-Stuy, a man pulled out a machete during a domestic dispute with his family and slashed his 4-year-old sister, stabbed his grandfather to death and slashed his brother-in-law as he tried to get the weapon from him in their apartment.
Also in  Bed-Stuy, a metal bolt pierced a window of an ambulance while in motion, presumably intentionally thrown at the EMT's.
Again in Bed-Stuy at the Franklin Ave. Station, a woman kicked a cop and hit another cop on the back while brawling with another person on the platform as they tried to break up the fight.
And again in Bed-Stuy, a blaze engulfed two floors of a brownstone apartment building in a 3 alarm fire.
And again in Bed-Stuy, a woman stole a postal truck that was left idling and proceeded to speed down the streets and wreck 10 parked cars. The judge hearing her case for stealing a government vehicle and resisting arrest decided to dismiss it.
And again in Bed-Stuy, a man groped a woman on her thigh and ass on a city bus, then he threw a bottle at her as she was exiting after she yelled at him about his perverted deed.
And again in Sunset Park, a man got shot to death following an argument with his killer in a hallway of an apartment building at the Farragut Houses.
In Bensonhurst,  a man injured a 6 year-old-boy and killed a 4 year-old-boy when he ran over them with his van after he dropped them off at their Yeshiva school. He kept driving and parked it a mile away and walked backed to the scene of the hit-and-run where the cops were waiting for him. The man was not charged for the killing nor for leaving the scene of an accident.
Also in Bensonhurst, an EMT looted a dead landlord's apartment of over $30,000 of cash and property after he treated him and drove him to the hospital.
Again in Bensonhurst, a fireman got hit by an air conditioner that fell off a house that was on fire.
In Bushwick, an unlicensed driver speeding down the avenue in an SUV lost control and flipped it over the sidewalk and smacked it into two buildings.
Also in Bushwick, a man broke into an ice cream parlor by breaking the window with a brick and easily robbed $200 and a pair of speakers worth about 500 bucks.
Again in Bushwick, two men broke into a renovated apartment building through the second floor window and left with a refrigerator and toaster ovens. The latter haul sounds like it was inspired by True West.
And again in Bushwick, a five alarm fire engulfed an apartment building where a bunch of app-food delivery men live.
And again in Bushwick, a woman was found dead with head trauma in a hallway in an apartment building
In Crown Heights, cops responding to a domestic disturbance were met by a man possessing a knife who then charged after them, provoking the cops to shoot at him but they missed. Then the man managed to stab one of the cops in the chest, but the impact was thwarted by his bullet proof vest.
Also in Crown Heights at the Franklin Ave. Station, a man charged at a woman and her son on the platform and savagely beat them down.
Again in Crown Heights, a man and a woman hog-tied and murdered a mentally disabled man during a robbery inside his apartment in a building with low security.
And again in Crown Heights, a man got shot to death during a fight with his killer inside his apartment.
In Flatbush, two men barged into an apartment and tied up the tenant and another man with him and robbed $2,200 off them after they were let in the building by a woman delivering food there who was in cahoots with them.
Also in Flatbush, a man broke into a synogogue and robbed crowns worth over 8 grand.
In Sunset Park, a cop got stabbed in the neck by a mentally ill woman after he and his partner tried to detain her following an emergency disturbance call at her apartment building.
Also in Sunset Park, a man and a woman having a domestic dispute inside their apartment escalated when the man fired his gun and shot her in the neck and also on his own finger.
And again in Sunset Park, a man got shot to death following an argument with his killer inside his apartment at the Farragut Houses.
In Downtown Brooklyn, a cop pulled his gun out at a group of protesters by Barclays Center.
Another protest march to the precinct where the itchy trigger fingered cop was stationed led to nine demonstrators getting arrested, including a photographer.
"How many officers does it take?"
Also in Downtown Brooklyn, a man who was imprisoned for a week following an arrest in Williamsburg showed up to his arraignment at the Brooklyn Criminal Court with his gat still on him.
In Prospect-Lefferts Gardens, a 4-year-old boy standing on a median with his father got hit by a car when he dashed into the intersection.
In Fort Greene, a man got shot to death from 5 blasts to his back  on the courtyard of the Whitman Houses
In Canarsie, a fisherman reeled in a live one that turned out to be a dead man's corpse by the pier.
Also in Canarsie, two men walking pit bulls let them loose to chase a stray cat. When the cat went up the tree the two men knocked him down with a stick and then their dogs mauled the cat to death. A woman from the Brueklen Houses who took care of the feline and witnessed the savage killing tried to call the police on the sadistic couple but was told to call 311 instead. A petition demanding justice for the cat and a more thorough investigation by the NYPD has garnered international attention.
Again in Canarsie, a man that just finished parole got shot to death on the street.
In Coney Island, a man was found alive inside a burning luxury car that spread flames to another parked car behind it.
In Brooklyn Heights, an 87-year-old man was found dead in a burning boat by a marina.
In Midwood, a woman working as a nanny hospitalized a three-month-old baby boy by shaking him.
Also in Midwood, a woman broke into a yeshiva and stole keys belonging to the school's janitor.
In Brighton Beach, a man got slashed in the face by another man he was arguing with at the train station
In Gowanus, a barge full of municipal waste fell back into the canal after it was just dredged out during the long-overdue Superfund cleanup.
In Clinton Hill, a man tossed a brick into a window of a mac and cheese takeout restaurant and robbed a box containing $245
In Borough Park, thousands of people clustered without masks inside a lot next to a synagogue for a wedding that violates state and national pandemic guidelines for gatherings.
In Marine Park, a man killed himself when he crashed his car after coming off the Belt Parkway while speeding.
In Park Slope, a cop got her leg crushed by a rolling gate when it collapsed on her while she was entering the precinct's garage.
A woman killed her boyfriend when she crashed her car on the BQE while driving drunk.
Queens
In Jamaica, a cop placed his knee on a man's head as two other cops were assisting him in an arrest of a man who was riding an ATV vehicle in a critical mass caravan. Mayor de Blasio browbeated about demanding answers like he was in charge of things in this city.
In Jamaica, a man fired his gun towards the street while standing on a balcony with two other men and engaged in a standoff with cops when they arrived.
Also in Jamaica, two men seized a sedan that was left idling by it's owner while he was picking up food at a restaurant in Richmond Hill and drove it another 30 blocks until they got stopped the cops who traced it with the owner's cellphone that was left inside. The thief then tried to run over them, provoking one of the cops to shoot him in the chest, leading to his and his accomplice's arrest.
In East Elmhurst, a woman got shot to death on the street in broad daylight by a man who was waiting for her as she was walking home. NYPD deployed a militia of cops to blockade the street where the suspect lived but he was nowhere to be found.
Also in East Elmhurst, a refrigerator set up against a building by a state senators district office was ripped from the wall and broken into and robbed of all the food left inside that was meant for people struggling to buy food during this pandemic and depression.
In Elmhurst, a man abandoned a stolen electric car with Nevada plates at the Queens Center Mall parking garage and rigged it with batteries, a propane tank, chargers along with hot dogs and a Black  Lives Matter sign on the roof to make it look like a bomb set up by the civil rights organization. A husky dog was also left behind inside the vehicle. The man had ties to social media right wing kooks and made videos setting BLM signs on fire that were hanging in a park gate by Gracie Mansion.
Also in Elmhurst, a woman was found dead in the hallway at an apartment building where a woman was murdered in cold blood by her apartment a month earlier. Both killers are still on the loose.
In Glendale, a man walked up to a parked car and shot at it, aiming for a man that was sitting inside but missed.
Also in Glendale, a homeless man has been sleeping under the elevated train tracks for weeks and willfully is refusing to be helped into a shelter. Because that's how dangerous de Blasio's shelters are.
In South Richmond Hill, a man held up a restaurant at gunpoint and ripped off the necklaces of the cashier while she was trying to open the register. A Samaratin tried to stop him from fleeing but gave up when the thief pointed his gun at him.
In Queens Village, a man got shot in the shoulder in front of his house when he stepped outside his door after he heard a suspicious noise.
Also in Queens Village, a man stabbed his father to death with a pair of scissors and also brutally stabbed his mother, his brother and her wife while they were still sleeping in their apartment, leaving them all in critical condition. The mentally disturbed man thought that they were possessed by the devil.
Again in Queens Village, a man crashed into a chicken restaurant drive-thru and injured himself and two passengers
In Dutch Kills, two men got shot and hit in a drive-by shooting while they were sitting in a car parked by the Queensborough Bridge.
Also in Dutch Kills, a 19-year-old man got shot in the leg in front of hotel during a shootout between two men firing from a car and a man who was accompanying him.
In Astoria, a man burned down his own hookah lounge in an attempt to get an insurance claim for the loss.
Also in Astoria, a man robbed 600 bucks from a bank by a handing the teller a note.
Again in Astoria,  a murdered man's body wrapped in blanket and duct tape was found floating under the RFK bridge near a NYC Ferry marina.
And again in Astoria, a man got shot in the stomach on the street when his assailant walked up and shot him in front of group of people hanging out with him.
And again in Astoria, a man accessed an apartment building by pulling the locked cheap door, causing glass to shatter all over the floor and then he robbed three delivery packages that were left in the lobby.
And again in Astoria, a man got arrested and indicted for setting his hookah lounge on fire back in August.
In Long Island City, a hotel worker demanded a man to stop loitering in the lobby and then got attacked and stabbed by him after he gave him a bottle of water when he asked for it.
Also in Long Island City at the Court Sq. Station, a man jagged off sitting across from a woman on the E train.
Again in Long Island City, a man bolted out of his car and got into an argument with a man sitting in a jeep and then he got shot four times in the middle of the street.
And again in Long Island City, a water main broke and flooded the streets and parked vehicles and also shut down water service at the Queensbridge Houses apartment buildings. A woman got stuck in her car during the deluge.
In Forest Hills, a man stepped out his SUV and jumped an 83-year-old woman while she was walking on the sidewalk and robbed her purse after he broke her arm when he pushed her to the concrete. The fiend then tried to buy something at a bodega in the Bronx with one of her bank cards.
Also in Forest Hills at the 71st Ave/Continental Ave Station, a man on the tracks got hit by the arriving E train. But it's not known how he wound up there.
In Woodhaven, two men broke into a house through the basement in the early morning and held up a family of six at gunpoint then ran out leaving a bag of money behind when the cops showed up. This followed another home invasion robbery of the same house 2 days earlier when three men made off with expensive handbags.
In Kew Gardens, a man got shot to death and two other men got shot after getting caught up in a brawl inside a hotel that spilled out into the street. The assailant and three other men fled from the murder scene and have are still on the loose.  A shooting in front of that same hotel occurred last summer and remained open for business taking in the city's homeless while also allowing illegal parties to be held. A week after shutting down, cops arrested the front desk clerk. The four suspects are still on the loose.
Also in Kew Gardens at the Union Turnpike Station, a man punched a woman in the face after she refused to give him money.
In Maspeth, a man tripping balls on crystal meth attacked cops with a knife and got tazed and shot twice in his basement studio after he refused to comply with their requests to get hospitalized.
Also in Maspeth, a church deacon arranged a hookup with a 14-year-old boy on a kinky social networking app and was greeted and arrested by an undercover cop.
In Middle Village, a man broke into a restaurant and robbed the register containing 3 large.
Also in Middle Village, FBI agents rolled up in a tank and arrested a man who was trolling on social media about invading the U.S. Capitol and making threats toward recently elected officials and was found possessing a cache of over a thousand rounds of ammo and 75 knives. The man was previously arrested for beating up his girlfriend and getting caught possessing 13 guns and rifles.
In Ridgewood, cops and federal agents swarmed on a man in his apartment who was trolling and making threats to elected officials on social media regarding Biden's election victory.
Also in Ridgewood, a man walked into a smoothie and sandwich shop and demanded money from the cashier after he threatened he had a gun. When the cashier went to get cash, the man left and then came back and this time presented the gun to another worker and made off with 500 bucks. When planning to hold up a store, put a ribbon on your finger.
In Woodhaven, a man loitering by a train station staircase decided to stalk a woman that walked past him on the sidewalk and then he grabbed her from behind and held her at knifepoint and threw her on the ground and robbed 5 bucks off her and then bit on her on the thigh. The fiend was about to rape her until a man on a scooter rolled up startled him and then he ran away.
In Far Rockaway, a man and a woman got killed in a hit and run car crash when a pickup truck driver rammed into them and then ditched his vehicle with two other passengers inside.
In Edgemere, an argument between a young man and a couple inside a gas station convenience store escalated when the young man ran after the couple as they were driving away and fired 12 shots from his 9mm at them.
Also in Edgemere, a man held up a 64-year-old man at gunpoint when he exited his car and robbed his wallet, then the victim got back in his car and followed the criminal, who shot at him multiple times to get him to stop the pursuit.
In Averne, a man got shot in the back during a squabble with his assailant inside an apartment building lobby.
In Ozone Park, three men got busted for running a drug ring as DEA agents procured $4,000,000 worth of coke, smack and fentanyl inside their apartment.
In Howard Beach, a woman got hit by a car while crossing the boulevard.
In Corona, an off-duty cop bit his girlfriend during a domestic dispute over a cellphone at their apartment.
In Sunnyside, graffiti was found splayed on the entire wall of a liquor store that referenced the devil and an incorrectly drawn pentagram.
In Flushing, a seven alarm fire destroyed three mixed-used buildings, causing injuries to 7 smoke eaters.
Also in Flushing at the Main Street Station, a man grabbed a woman's ass on the 7 train and ran away.
Again in Flushing, a gang of three boys mugged and beat up three people at Kissena Park in a one month span, robbing them of their cellphones and wallets and punching two of their victims in the face and they also teamed up to beat down a boy and rob his bike in Jamaica.
In Woodside, a man running a speakeasy event in his basement nite club got raided by the NYC sheriffs and then he tried to fight them off. High levels of carbon monoxide was detected after the evacuation. Where are all those patriots that were fighting for that bar in Staten Island?
Also in Woodside, after a man got into a shouting match with another man inside a convenience store at a gas station, he ran outside and shot at his car when he was driving away, hitting one of his passengers in the back. Then the gunman shot at an SUV, shattering the windshield causing cuts to the drivers head.
In Glen Oaks, a 16-year-old boy killed himself after losing control and crashing his car into a tree while speeding on the streets.
In Bayside, a woman was found dead with a bag over her head in Crocheron Park.
In Little Neck, a man bought 11 luxury cars worth over $360,000 from the same car dealership using forged  I.D's and identity theft.
In Springfield Gardens, a man got killed by a hit-and-run driver while he was helping another man whose minivan stalled on the side of the road when the driver crashed his van into them and abandoned it.
Bronx
In Olinville, it was a nice day out, so a man walked out of his apartment building and strolled on the sidewalk with an AK47 in his hand.
Also in Olinville, two drunk ass men beat down a man with one leg on a city bus after one of them bumped into him when he was walking on crutches trying to get a seat.
In Morrisania, a 66-year-old woman is in a coma after she fell down the stairs at the Webster Houses when the elevators were out of order. The woman had previously registered multiple complaints to NYCHA to get them fixed.
In Wakefield, a man chased a woman on the street with a knife. Two cops were in the vicinity and intervened, telling the man to drop his knife but the man proceeded to charge them and both cops fired six shots and killed him.
Also in Wakefield,  a man responded to a knock on the door of his home and three men barged in and held up him and his wife and stepson at gunpoint and robbed a video game console, a gold chain and watch and also 20 bucks.
In Fordham Heights, two men broke into a store by entering and repelling themselves from the roof and then broke into a safe and robbed $35,000. The cat burglars hit the same place months earlier and stole $2,800.
Also in Fordham Heights, a man ran onto the street and stood in front of a bus demanding to get on even though there wasn't a bus stop there. Then the man got pissed and relentlessly banged on the driver's door and then repeatedly punched her head and broke her side window. Then a passenger got off the bus and grabbed the lunatic and held him until the cops arrived. The perp was subsequently released on his own recognizance after being charged with misdemeanors for the vicious assault and damage to a city government vehicle.
In Mott Haven, a man got killed by a hit and run driver while crossing a service road by the highway.
Also in Mott Haven, two men got shot in inside of a public housing building lobby during an argument and a tussle with another group of men. One died from three blasts to the torso.
Again in Mott Haven, a man killed himself when he crashed his ebike into the back of a parked SUV when he lost control of it while speeding. The man did not have his cellphone or his I.D. when the cops showed up.
And again in Mott Haven, a man approached a couple on the 6 train and spat on the woman and then punched her husband when he tried to defend her and ran out at the next stop.
And again in Mott Haven, an 18-year-old man got shot to death in front of a public housing building.
And again in Mott Haven, a man was shot at multiple times while being chased by his assailant on the street in broad daylight.
And again in Mott Haven, a man and a woman were digging into a USPS cart and robbing packages inside of it while the postman was making deliveries inside an apartment building. When the postman caught them, the couple attacked him and threatened him with a knife and ran away with their plunder.
And again in Mott Haven, a man got shot to death in an apartment building at the Mill Brook Houses after he walked past a group of people filming a video in the lobby and then got blasted in the back from behind as he got to the elevator.
In Soundview, a man screaming on a street corner was confronted by another man who tried to calm him down, so the mentally ill man went into a deli, stole a knife and used it to stab the sympathetic and helpful man to death.
Also in Soundview, an e-scooter battery ignited and set a few apartments on fire at the Sotomayer Houses, leaving 11 people with burn injuries.
Again in Soundview, a man rolled up in front of a bus with his scooter then he used it to smash the windshield.
And again in Soundview, four undercover cops on patrol caught a man walking on the street with a gun who started running when he saw them. The the man shot at them four times while in pursuit, hitting one cop on his lower back. The perp tried to ditch the gun during the pursuit but it was easily recovered after his arrest.
And again in Soundview, a  woman was found dead with visible head trauma in her bathtub in her apartment at the Mitchel Houses.
In Hunts Point, workers publicly assembling in front of the Hunts Point Market in a strike against their employers for a higher hourly wage raise were suddenly confronted by a militia of cops who charged after them like Pinkertons for protesting on the street and arrested 4 employees for obstructing traffic even though there was no cars in sight.
In Belmont at the Kingsbridge Road Station, a man randomly punched a 74-year-old man as he was going through the turnstile because he felt like doing that.
Also in Belmont, a woman got shot in the arm inside her apartment from a stray bullet that came from a shootout between two teenage males on the street.
Again in Belmont, a man was found dead inside a car he was living in and used as a driver for an app-hail company.
In Norwood, a man shot at four people, hitting two men, in a hallway who walked out of an apartment that was having a house party and then shot and killed a 16-year-old boy  he bumped into on the stairwell when he was running away.
Also in Norwood, a man strolled on the sidewalk with an AK-47 like he was heading for the store to buy milk.
In Allerton, a gang of four men jumped a man and beat him down on the sidewalk and robbed his cellphone and wallet.
In Mount Eden, seven men ganged up on a pizza delivery man when one of them got pissed off that he had to come out and pick up his order. While having difficulty fighting the delivery guy one on one, six of friends of his piled on and beat him down to a pulp  and then trashed his car and robbed $1,000 and his cellphone
In Highbridge, a man got ambushed by two men in a hotel room and shot in the leg when he went back to get his watch that he forgot when he left a party. And he was robbed of his watch.
In Williamsbridge, a man stole a car and crashed it into another car minutes later.
Also in Williamsbridge, a person threw a molitov cocktail through a house window and left an unused one behind on the lawn.
Again in Williamsbridge, a man walked up to a parked car and shot a man in the chest who was sitting in the front seat, then he ran into an apartment building trying to hide from the cops.
In Foxhurst at the Hunts Point Station, an MTA worker caught a man smoking and pissing on the platform and told him to stop his hedonistic behavior, then the man slapped her face and the worker smacked him around as he was walking away.
In Longwood, a transgender woman stabbed her step-grandfather to death following an argument over locks that were installed on the door to keep her from going back in the apartment.
Along in Longwood, three men and a woman stole an unmarked police car and drove it to a supermarket parking lot where they ripped off the wheels and stripped all the seats out and everything off the front console.
And again in Longwood, a man having a mental breakdown stabbed his son with a screwdriver in full view of cops who entered his apartment.
In Fordham, a man stalked a woman to her apartment building, then grabbed her on the stairs and tried to rape her until the woman bit him while he was taking off his pants. The deviant had three prior arrests assaulting and robbing three different women in the last 4 months.
In Throggs Neck, two men jumped into a cab and one of them pistol whipped the livery driver and held him up at gunpoint. When the gunman's accomplice tried to put him a chokehold, the driver fought back and grabbed the gun, causing the two thugs to run away.
In Marble Hill, a man trying to shoplift two kitchen cooking appliances from a department store got caught by the security guard but got away after he pushed the guard down and dislocated his knee.
In Pelham Bay, two men broke into a house by holding a resident at gunpoint to allow them in and then they forced a 75-year-old woman to the floor and also two neighbors who tried to intervene. The criminals robbed $2,000 and got away in a car with another man acting as a lookout.
A serial mugger who targeted and robbed six senior citizens in Concourse and East Harlem for two months last summer is still on the loose.
In University Heights, an 8-year-old boy found an unlicensed gun and shot himself in the head inside an apartment.
Also in University Heights at the Fordham Road Station, a man smacked around his sons on a bench on the platform.
Again in University Heights, a man shot at cops from inside his apartment, then he barricaded himself in and set it on fire. He surrendered on the fire escape.
In Crotona Park, a man got shot to death from a blast to his neck on the street.
On Wards Island, a drunk driver smashed into a state trooper's patrol car with two officers still inside.
In Edenwald, a man got killed by a hit-and-run driver as he was crossing the street.
In Concourse, a man sneaked up behind a Brinks truck guard unloading money to send to a bank and gave him a shove and grabbed a bag containing $200,000 and ran for the hills.
In Clairemont, two men accompanied by a teenage girl walked into a smoke shop then went behind the counter and shook down and punched the cashier and stole $100 worth of vape products.
In  Mount Hope, a man walking abreast on the sidewalk with three other man suckerpunched a man who was passing by them on a street corner.
In Unionport, a man brutally stabbed his pregnant girlfriend to death following a domestic dispute inside her apartment.
In Parkchester, NYC sheriffs raided a building where a speakeasy rager was being held and attended by over 400 people inside, including children.
In Morris Heights, a bus driver lost control of his accordian bus when he made a left turn too fast on an overpass and landed on the expressway road below while dangling over the fencing,splitting the bus in half. Eight passengers aboard got injured and the driver was found not to be drunk or high when he did this.
Staten Island
In Grimes Hill, a man got murdered at a recording studio he owns when he answered a knock on the door and two men rushed in with automatic rifles and guns and shot him down in a hail of bullets.
In Silver Lake, a woman was found dead stuck in a garbage chute inside an apartment building. Pictures of the chute's door shows that it's almost physically impossible to fall through, at least by yourself.
In Tompkinsville, a garbageman got hit by a hit-and-run SUV driver while he was doing his job. Then the driver ditched the vehicle and ran away.
In Oakwood and New Dorp, a bigoted organization pasted flyers containing anti-Semitic and racist tropes and dubious political and financial ties.
In Stapleton, a man broke into a store and robbed purses, jewelry and clothes and ran away with an accomplice.
Also in Stapleton, an 86-year-old man died from injuries from getting hit by a car while crossing the street.
In Graniteville, a man broke into two vehicles and stole tools that were left inside.
In West Brighton, two men jumped an app-food delivery man and robbed him at gunpoint.
Also in West Brighton, a man got held up at gunpoint by another man inside the elevator at an apartment building and got off on a floor where the gunman's accomplice was waiting and then they stole his wallet.
In Grasmere, a man and a woman held up a deli at knifepoint and robbed it of $1,800 after the woman slashed the worker in the neck.
Also in Grasmere, cops pulled over a car during a traffic stop and when they demanded the driver step out, he hit the pedal and sped away and then crashed into a row of cars during the getaway. 24 hours later, they found the driver at a house in Stapleton along with the 3 passengers that accompanied him and found a gun and two rifles, one of which was loaded.
In Travis, two men broke into a supermarket and cracked a safe and robbed $85,000.
Also in Travis, a man broke into a house through the basement and got caught by the owner.
In New Dorp, a man easily robbed a car from it's owner who left it idling with the keys in the ignition.
Also in New Dorp, a deli that's been only open for two weeks got broken into by two men who robbed 100 bucks from the register and broke into and robbed cash from an ATM machine inside the store.
In Donghan Hills, a man broke into a house through an open window on the first floor and robbed a video game system and other items worth over $1,000.
Also in Donghan Hills, a man robbed from two 7/11's in one day, stealing lottery tickets, packs of cigarettes and $1,000. Following his arrest and sudden release from the station and given just a desk appearance ticket, he went to an auto dealership and robbed $4,000 worth of key fobs and then got chased by the cops on foot and tried to ditch them by running through residential backyards.
In St. George, a man ripped off headphones off a woman's head while she was waiting for the bus.
Also in St. George, a man stole an unmarked police car which still had the key inside and took it for a ride, temporarily fulfilling his dream to be an officer.
In Midland Beach, a man took a shit inside a porta potty then lit it on fire and the blaze from it engulfed another one next to it. After he got arrested, he damaged a camera at the station from the cell he was in.
In Clifton, a man threatened another man's life by drawing a gun on him on the street just weeks after he made parole. Three weeks later he shot at three men who were inside a car.
Also in Clifton, two men got stopped by cops on patrol and were arrested for illegal gun possession. Even though there was only one gun.
In Richmond Terrace, a man found skeletal remains while hiking on a trail in a park.
Commercial truck and van thefts have seen a rise in the South Shore.
In Holbrook, a cop got arrested for having perverted online chats with and distributing sexually explicit photos to 46 children on social media.
In Arrochar, a man murdered his wife then committed suicide by hanging himself inside their house.