Exhibit A, Public Housing.                                                                      Exhibit B, a bureaucratic shitshow.
As the warm embrace of spring arrives in just a few weeks, it is apropos that the chaotic gross incompetent management and scurrilous mischief, criminal indifference and abject perjury committed by the executives, inspectors and maintenance staff at the New York City Housing Authority enabled by the equally gross incompetent and indifferent mayor and council members that resulted in the fucked up environment of hundreds of thousands of struggling people and kids living in public housing. THE REAL AFFORDABLE HOUSING PROGRAM.
The biggest scumlord of the city has wrought an audit by recently re-elected Comptroller Scott Stringer:
The New York City Housing Authority, the country's largest public housing agency, has fallen far short of its pledge to make fixes to residents' apartments in a timely manner and eliminate a massive repair backlog, an audit by New York City Comptroller Scott Stringer has found.
In fact, the housing authority was reporting repairs in such a way that "obscures the actual amount of time it takes NYCHA to fully complete repairs," the audit found.
The thing about this audit, the one above, it's from July 2015 from a Propublica article and it's unavailable. But Scottie compiled a new one for this winter of total discontent from the amazing circumstantial breakdowns and perpetual same old shit regarding the grotesque elements of mold, bugs and vermin, masonry dilapidation, broken lights, out of service elevators, busted doorbells and locks, leaky ceilings and pipes, persistent crime and vagrancy and the habitual absenteeism of lazy and shiftless inspectors. And of course all that lead that was lied about to HUD when it was run by a democrat wonderboy Julian Castro under the supervision of President Barack Hussein Obama. It turns out NYCHA did have a 5 year plan to upgrade and repair boilers but officials bungled the reports
The week after it was revealed that Commissioner Shoya Olatoye deceived the federal housing authorities about the lead contained in apartments and the unlicensed contractors hired to remove it (or didn't) and a few days after Bill de Faustio got re-elected with a paltry turn-out of registered voters, over 1,400 residents received form letters from projects from all five boroughs demanding their eviction without any basis and without a signatory from an official. Leading to ensuing unnecessary horror amongst the unfortunate people that received them. According to some flacks at the department it was just a computer glitch, which should give any official pause to rely on algorhythms to do research and vetting. A month later, NYCHA saw fit to send warning letters to vacate to tenants in the Red Hook Houses after doing a surprise inspection in their apartments and bodaciously blaming them for the lead inside that their boss lied to the feds about.
And more cases are starting to surface regarding their officially confirmed lead oversight, as new tenants that moved into units in the 5 boroughs in the past 5 years were not cognizant of the toxicity and babies and children growing up during that time gained developmental problems wind up enrolled in special education classes. Giving them the comparably gradual effect on their young minds as football players dealing with CTE they weren't aware they had. All attributed to the criminal avoidance and deceit from the Housing Authority brass.
Then, winter had come.
It took the bomb cyclone to wallop the city with 3 weeks of sub-10 degree weather exacerbated by brutal winds to expose more NYCHA oblivious neglect of basic services, as the majority of boilers at projects in all five boroughs malfunctioned, leaving over 320,000 residents in hundreds of buildings over 50 projects without heat at the absolute worse time in the longest coldest snap the city has seen in over 50 years. As NYCHA minions diligently tried to cover up the thousands of complaints of freezing residents by hastily closing tickets for heating repairs. Keeping up what can only be the Shoya Olatoye doctrine of perjuring offenses of willful neglect, ironically when the proverbial heat is on them.  It turns out NYCHA did have a 5 year plan to upgrade and repair boilers but officials bungled the reports
(Their whiny defensive responses about the heat they denied have absolutely no merit, maybe except for a case when a baby got scalded by a ruptured pipe leaving third degree burns all over his little body and still predictably refused to be accountable for it then too.)
All it took was media exposure to get the cretins at NYCHA to react, as PIX correspondent and sweetheart Monica Morales showed. Like a 93-year-old woman immolated under her blankets. Monie's wholesome reports managed to get heat back at the Sotomoyer and Douglass housing buildings after the bitter 2 1/2 week freeze. Which may have initiated and motivated de Faustio to take his slow ass to a project to see for himself and to miraculously find 13 million dollars to make these quick fixes and get heat working again for the people that pay for it.
Proper protocol and belated reactive actions inside NYCHA as 3 aides got sacked except for you know who and by city council people and borough presidents collectively demanded a state of emergency to make the neglected and overdue repairs and got the mayor to find 200 million dollars to get the boilers fixed, which apparently should have been funded back in April of last year. The bad news is that the repairs won't start until July. Of next year. And they won't be fully functional or replaced with new ones until 2022. The massively belated delay is actually reasonable being that over a hundred boiler technicians quit the agency during Olatoye's tenure as NYCHA's spin doctor and REBNY puppet. That loss of professionals is in stark contrast with the amount of lawyers working at NYCHA trying to evict tenants from their real affordable apartments, leading to a heinous rise in city court hearings in the past 3 years to 2016. A 74-year-old woman being needled by NYCHA's counsellers to get out of her apartment in the Bronx because the lease holder is in her late mother's name despite continuing to pay the rent should attest that this statistic has rose as well.
But those feel good stories (and the disappointing one) will have no staying power or nary an effect on the fact that the boilers are all old, broken down and outdated as well as the pipes which easily froze during the torturing first weeks of January. It also turns out NYCHA did have a 5 year plan to upgrade and repair boilers but officials bungled the reports. And the massive lack of technicians to fix these cruddy boilers played a factor too, which may NYCHA didn't duly prepare to have these fixed during the summer or even during the exceedingly warm months last October and November, as a majority of tenants still didn't have hot water to cook or bathe with.
Despite all these hearings and the sudden media scrutiny of NYCHA's revolting indifference, the buildings dilapidation is the only thing progressing as mold, roach, rat and bedbug infestations continue to grow.
And de Faustio while he defends the odious technocrat Olatoye, the Cruella De Ville of NYCHA, keeps deferring and deflecting blame everywhere he can find it. Like how historic the recent cold weather was or the obvious recent sordid history of conditions of public housing and a culture of willful ineptitude and obfuscation and which goes overlooked just like the shitlist of problems plaguing the buildings to this second and remains and grows worse. He doubled down on his ignorance on the plight of his poor constituents by getting the average amount wrong by half of the allotted time tenants went without heat and hot water during the 3 week arctic blast. By underestimating the inhumane habitability of the glacial conditions, the Blaz undermines the neglect and suffering of people in public housing. Although to the mayor's credit, actually his luck which he has a massive amount of, that nothing disastrous or tragic happened or even someone dying during that time; like from fires considering tenants had to use alternatives for heat like leaving the ovens on and space heaters. Or like a lethal flu outbreak considering the lengths people went through to get the elusive warmth denied by NYCHA's systemic disarray.
During this chaos, all the usual suspects, meaning spokespersons for NYCHA and Hizzoner and his spokesminions just repeat the same refrains of "we must do better" and "we will work harder".
Exhibit C held by Defendant 1 and being looked on deviously and approvingly by Defendant 2
Yet the Blaz again defers blame, but his defense doesn't hold muster when his flawed affordable housing program to build and preserve 200,000 units, now up to 300,000 to make it more impressionable to desperate people and self-satisfied liberal phonies for material at democrat fundraisers, is that it didn't include NYCHA housing in the first place, as the funding for repairs is currently dependent on the NEXTGEN program relying on commercial real estate developers (you know, his fucking donors) to build new mixed income towers on space on public housing grounds like parking lots and playgrounds. Despite recent contracts doled out by the mayor to build over a playground in Yorkville (make that squeeze into) and two parking lots in Brookyn housing projects to his favored developer pals (the ones that didn't get indicted) for city property building tax-abated leases and to a LLC consortium that are already seeing refurbishments on a NYCHA building before they were even leased out to them, somehow the millions of city largess has not come to the housing projects in dire need. Comporting the continuing duress on the buildings and it's tenants is, in actuality, the mayor himself, with his selfish frivolous spending of tax payer dollars on his personal lawyers and his staff of solicitous sycophants during court hearings from his immoral yet legal bribes he accepted through his Campaign For One New York 501 (c) (4) fund. And whatever it cost to make those lame ass pamphlets for his bored audience to glance at during his TED TV-like state of the city address that neglected to address the internecine problems with and come up with concrete solutions to efficiently fix and fund NYCHA. the usual suspects all acknowledge finally with claims and pathetic mollifications that "we must do better" and "we have more work to do"
And now de Faustio and Mario's Son Governer Cuomo are now at loggerheads just like with the MTA over NYCHA. These two idiots who used to work at HUD together in the 90's under Bill Clinton, where they clearly also ignored the dysfunction at NYCHA and every national city public housing projects, are again using their petty political bickering as a distraction for their own stupendous incompetence as elected officials. Mario's son for one earmarked $100 million and hoarded it from the city because he actually had the audacity to say or suddenly utilized governmental prudence that he wanted to make sure the money was spent appropiately. Although it did get to NYCHA, it went instead to security cameras instead of the leaky roofs of buildings that needed it.
Maybe Andy might have had a point for his targeted allocation as it turns out that NYCHA hoarded 3 billion dollars sent by FEMA for repairs and upgrades to 33 coastal project buildings that got clobbered and damaged by Hurricane Sandy as only one building has got done in the 6 years since. Which has left over 2 billion dollars unaccounted for that could have went for boiler, roof and lock repairs, new boilers, lead and mold remediation to state the fucking obvious.
This has opened up a class action suit by  tenant association Citywide Council of Presidents  from the NYCHA's slowly dying buildings to demand not money but reform and genuine responsible leadership to public housing. It is going to be interesting to see de Faustio and Olatoye respond to this simple on its face and indisputable request and injunction against this shitshow city government agency considering the precedence the plaintiffs have regarding a recent awarding of 57 million dollars to a mother and a child affected by the lead contamination in their apartment and a way under-speculated $100 million dollar suit against the city for Ms. Olatoye's defiant perjury against the feds. Surely the CCOP will gain traction and not be the least bit discouraged after de Faustio and his unelected yet office holding and policy approving wife walked up the steps of city hall defiantly ignoring their protest out front.
Exhibit D, coil spring 'do, worn by Defendant 2
As for the perjuring Commissioner, the girl still can't help herself from perjuring herself. Even during two city council hearings, the first one where she again lied about the inspections that weren't made and the unlicensed workers tasked with the assignments to inspect and abate the lead removal. And the second one where she showed up with a new terrible hairstyle and where she had the city's top lawyer Zack Taylor along with other city aides and hack NYCHA officials giving rank testimonies, obfuscations and non-responses in what were basically meaningless hearings which were supervised by the former public housing committee chairman and Bronx councilman Ritchie Torres, who didn't say a fucking word last year as Shoya was preparing her perjury statements to HUD last year and Speaker Corey Johnson who still supports her as commissioner, just like the stupid willfully blind and lying de Blasio.
The lying corrupt mayor recently and crassly said that the people in the projects should not expect a rose garden regarding the tardiness of refurbishments to the boilers and everything else in NYCHA housing. This from the guy who confidently told these same people that the tale of two cities will end on his watch and there will be one city for all and then said, for lack of profundity that this was your city. Well the city the people of the projects have received from this disappointing mayor is a shithole that he helped exacerbate with his stupid misspending, lousy policy-making and governing, unscrupulous bribe accepting and doling of civic services resulting from them and his obstinate support of a wretched worthless louse like Shoya Olatoye.
If there is a literal update to the tale of two cities Mayor de Faustio failed to end, this tale of two NYCHA tenants could be illuminating proof.
In the middle of the bomb cyclone freeze in mid-January, a bedroom ceiling collapsed in an apartment in the Weeksville Gardens Houses from in Crown Heights leading to the two people getting injured resulting from the atypical NYCHA non-response from the tenants complaints and a decayed leaking pipe. The suddenly traumatized and briefly homeless family where met by agency assigned movers who refused to lift anything big like their TV and were left hanging by the city and waiting on the cold street after they were promised a new apartment by the mayor and his trusty fixer deputy mayor of housing and development Alicia Glen. When they were finally transferred to an apartment far from their town, they arrived to a smaller unfurnished apartment with a leaking toilet, they were pestered by a mayoral lackey on the phone days later about taking a place in another borough, leading the mother to show up personally to NYCHA's office only to be shunned because she did not make an appointment with them.
Then there is the recently revealed and overlooked story of a family in the Lincoln Houses who also had a leak in their ceiling. Instead of getting the standard runaround and unanswered phone calls from the dysfunctional agency, they just happened to have the good fortune of having their blighted issue happen during the 2013 mayoral election. As then public advocate de Blasio showed up there with his hipster daughter beside him during the campaign trail, along with other candidates and an NYPD escort, and saw the above damage along with the mold that covered their furniture and miraculously NYCHA made repairs. Since that day/photo opp, the family got their broken stove replaced and had an exterminator arrive promptly to remedy a mice problem they had. To top off the quid poor quo, when the mother had a problem receiving her disability payments, de Blasio made some calls for her to receive them post-haste. Somehow, everyone else in the same housing building were going through the same daily rigamarole resulting from NYCHA's shitty standards of building maintenance and management.
As with these two tales and how de Faustio governs, the East Harlem family got a tiny taste of the favoritism that has lucratively regaled all that paid to play to get the mayor's divine attention.
After all this disarray, Olatoye remains in her undeserved position and seems to be more powerful and like her confidant and number one advocate de Faustio, practically untouchable. And defiantly oblivious. For after 5 months since she got caught lying to the feds and consistently lying to her tenants, she has finally apologize somewhat with a form letter from her social media platform: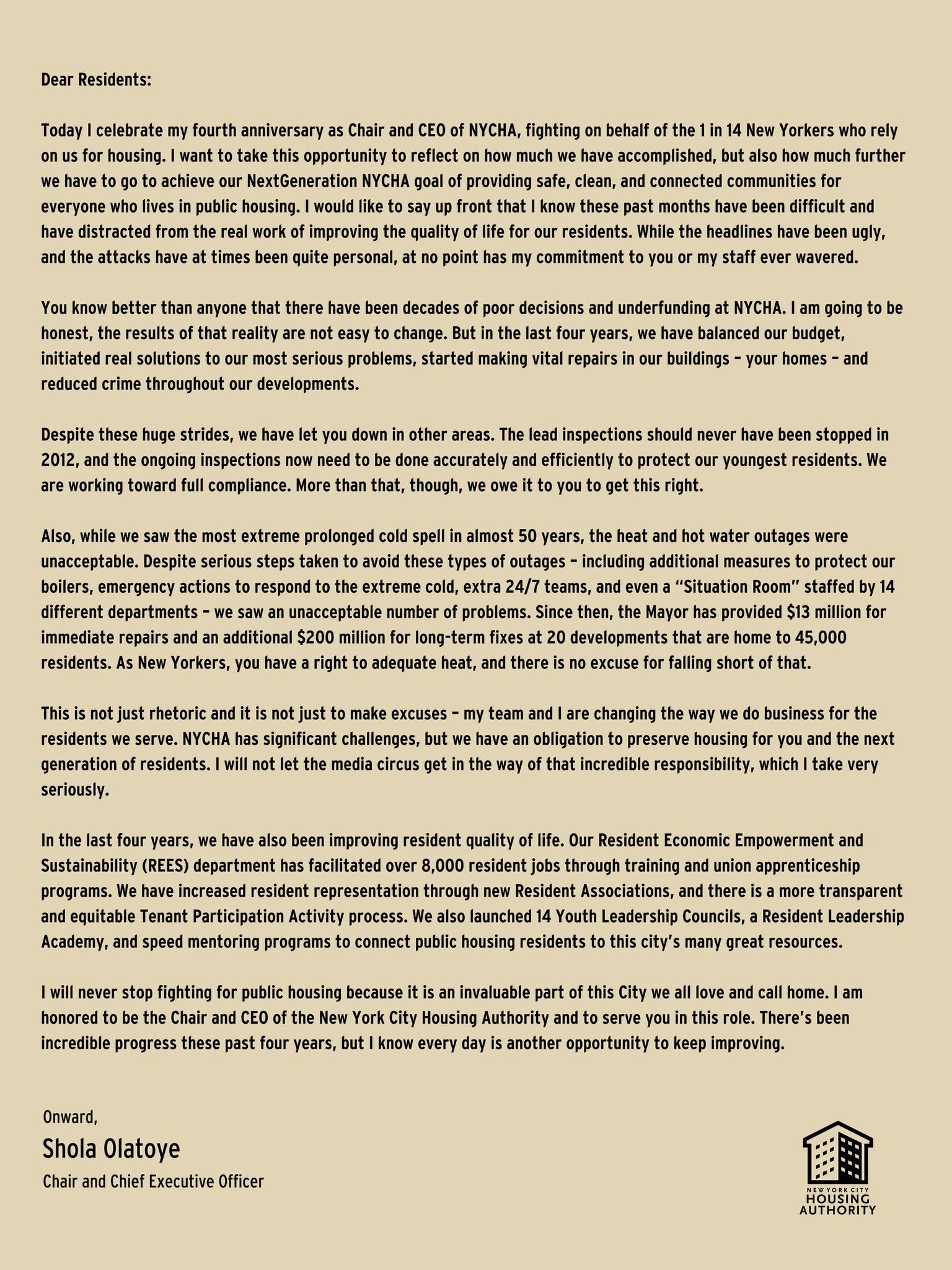 Actually, this form letter is more humblebrag and talking points than an apology. And of course it's full of so much shit that it's not worth wiping your ass with or even wiping the excess feces that comes out of Shoya's mouth every time she opens it. She also found space to vilify journalists who exposed her and the agency's illicit offenses. Got to hand it to Ms. Olatoye, for she is more like a public relations flack than a commissioner, which being a pathological liar makes her a natural. Like she can make up for 4 years of wanton neglect and blatant deceit with a warm and fuzzy letter that congratulated herself more than the achievements she and the dysfunctional agency under her supervision alleges to have made.
The summation to this amateur audit is that the way this mess was handled by all the human failures involved, it is to be reminded of the Aesop fable "The Ant and The Grasshopper". As everyone in charge were busy fucking around than preparing for the worse. And were busy having fun with rich assholes at parties getting sweet deals for the flawed and sure to spur more forced gentrification with the heinous NEXTGEN program. And it's not just the winter that passed and the winters that will come in the next 3 or 4 years that will see more severe weather from the extreme effects of climate change (hell there could be another or a few hurricanes that will come around again in the autumn),  it's in the form of the massive tax cuts to public housing put forth by Figurehead Trump to finance the tax cut Oligarch Welfare Law, the wall in Mexico and so he can have his beautiful military parade.
Which will provide more convenient excuses for the usual suspects, Shoya and Bill, to do nothing for the people languishing in the squalor their rancid policies and governing has produced and induced. And the endless cycle of government waste from unqualified hacks continues unabated.
For these two terrible people will continue their atrocities for they are hoisted by a well-heeled lawyer on the NYCHA board that somehow eluded the personnel house-cleaning as noted by the thorough muck raking news blog Progress Queens:
As the New York City Housing Authority has faced one crisis after another, Derrick Cephas has served as the highest-ranking external member of NYCHA's Board of Directors. As such, Mr. Cephas has, since his 2014 appointment as vice chair, been in a unique position to serve as a check on an institutional culture that resists accountability and reform. The controversies engulfing the Municipal housing authority include the giving of false testimony by Chief Executive Officer Shola Olatoye about tenants' exposure, and the risks of exposure, to lead ; a Federal investigation into physical condition standards ; a class-action lawsuit over the exposure to lead ; another class-action lawsuit over mold abatement ; faulty heating and hot water systems during recent frigid Winter snaps ; revelation made by Progress Queens that NYCHA has, in recent years, been engaged in 25,000 Court cases against its tenants annually ; the Authority's pattern and practise of evicting or breaking up tenants' families, sometimes without legal basis but usually alongst racial lines ; and new privatisation deals with real estate developers, who have donated money to the various political committees of Mayor Bill de Blasio (D-New York City).
Generally, organisations seek outside directors, such as Mr. Cephas, for specific qualities, such as having no conflicts of interest and offering fresh managerial worldviews. Yet, Mr. Cephas has, during his service, undertaken no public challenge to the growing signs of failed leadership at NYCHA. It is impossible to know what he has done internally, shielded from public view. Mr. Cephas did not answer requests for an interview or for a response from the law firm, Weil Gotshal & Manges LLP, where he is a partner and head of its Financial Institutions Regulatory practise group. Prior to joining Weil Gotshal, Mr. Cephas served, for five years, as CEO of Amalgamated Bank, but resigned after he could not execute on a financial plan to double the bank's profits, according to a report published by Crain's New York Business. Amalgamated Bank is the largest union-owned bank ; the worldview that Mr. Cephas should be offering NYCHA is one of social responsibility, but that ethos has not been on display.
It is not known whether Federal prosecutors have established whether the senior NYCHA executives, who were aware of the filing of the false certification, included the Board of Directors, and, with them, Mr. Cephas. A preliminary review made by Progress Queens has shown that Mr. Cephas is not so independent as an outside director. Ernie Patron, a former real estate associate of Weil Gotshal, the law firm at which Mr. Cephas is a partner, is now an executive at BFC Partners, a real estate development firm with close political ties to Mayor de Blasio. BFC Partners was one investor selected in secret by NYCHA in 2014 to purchase a stake in a portfolio of project-based, Section 8 housing. A report by Progress Queens showed that it appeared that some of the buildings sold in that portfolio had been renovated in the time leading up to their sale, and that City regulators, including the Office of the Comptroller and the Department of Investigation, were refusing to comment about the terms of the sale. At that time then, NYCHA claimed it could no longer afford the upkeep on the portfolio, but NYCHA officials have not explained why photographs of at least one building showed work scaffolding hanging from the side of one building included in the portfolio. News reports continue to show that politically-connected developers benefit from officials acts by the de Blasio administration that involve the sale, lease, or development of strategic public housing assets. Separately, Progress Queens reported that BFC Partners was chosen to develop 145 new rental units on greenspace in the Ingersoll Houes in Fort Greene, Brooklyn.
For the tenants of NYCHA, another winter of their discontent and their justified disgust. And for the idiots in charge and responsible for their security and safety as they wait for the alleged funding to come from the looming luxury towers purported to bail them out, karma and justice cannot come fast and devastating enough for the misery and trauma they have caused with their cognitive dissonance, willful ignorance and defiant arrogance as they live with the toxic elements and fragile environment around them.