Aloha. From the safest big city in America, as proclaimed on this robust bold face lettered sign on a dais table in a room at 1 Police Plaza, four major crimes have gone up in the borough of Queens last year. Rapes went up by 40% with 389 from 302, felony assaults went up by 1.2% with 3,848 from 3,820, grand larceny went up by 4% with 8,070 from 7,842, and murders are up by 20% with 62 from 50 from last year. Buglaries and robberies went down in some significant margins in the hundreds yet stagnant enough to remain in the 2,500 totals, and grand theft auto incidents remained the same at around 1,550.
So let's begin this first reality check with the borough of the world.
Queens
In Jackson Heights, a 82-year-old woman got killed while walking in the crosswalk by an unlicensed driver who hit her with her car and then backed up over her body trying to get away. The NYPD charged the driver with driving without a license, failure to yield and to "use due care". The latter meaning, not killing anyone while driving a 2000 pound vehicle. This really looks like voluntary manslaughter being that the driver showed intent to flee the scene.
Also in Jackson Heights, two men broke into an apartment by breaking the window after ringing the doorbell for thirty minutes in a robbery attempt then ran away with nothing.
Again in Jackson Heights at the Roosevelt/74th Avenue Station, a man committed suicide by jumping on the tracks as the F train arrived.
And again in Jackson Heights, an off-duty cop punched his mom in the face during a domestic dispute.
In Long Island City at the Court Square Station, a woman hit a motorman in the head with her bag when he tried to break up a fight she was having with another commuter on the G train.
Again in Long Island City at the Queensbridge Houses, a man escaped from police during a lineup search from a call of drug dealing on the first floor of one of the buildings.
And again in LIC at the Queensbridge Houses, a man shot his gun inside an apartment and fled the building.
In South Ozone Park, a motivational tattooed man held up a woman with a fake pistol and forced her to a dark secluded area and raped her for hours. The dirty rapist blamed it on cocaine and a proclivity for outdoor sex.
Also in South Ozone Park, a driver killed himself and his passenger after speeding on the Belt Parkway when he lost control of his vehicle and crashed into a lamp post, splitting the car in half.
In Jamaica, a woman lost control of her car and smashed into a pole then crashed into a store, injuring herself and two of her passengers.
Also in Jamaica, a man approach an 11-year-old girl walking on the sidewalk, started talking to her then grabbed her thigh and ran away.
Again in Jamaica, a man escaped from his parole officer's office while still handcuffed and ran out to the streets.
And again in Jamaica,a fire engulfed a house converted into a boarding home, killing an 84-year-old woman.
And again in Jamaica, another city bus got stolen while the driver was taking a lunch break, making it three in a month by this kid. This time by another rambunctious kid who cruise around with his buddies for two hours and abandoned the vehicle in Cypress Hills. The MTA decided to install key ignitions in their fleet of 5,700 buses in the next few months, although storage is still an issue because they still have to leave them out in the open on the street for a lack of lots to park them.  Better hope some domestic terrorist or random mental person doesn't take one for a joyride too and plow a crowded sidewalk full of pedestrians during the upgrades.
And again Jamaica, a man driving wildly on the boulevard crashed into a car and two people on the sidewalk while being pursued by the cops. He was pantless when he got arrested.
And again in Jamaica, a man walked up to a news van and opened the door, then yelled at a reporter about why he's there and smacked his cellphone out of his hand. When the reporter went to retrieve his phone on the street, the culprit then tried to run him over with his car.
A fire that killed two elderly men in an apartment building in Jamaica last December as been upgraded to homicide and arson.
In Richmond Hill, two men jumped a woman when she was exiting her home and held her up at gunpoint. They forced her back inside her house and tied her and another person there with duct tape, pistol whipped her and stole $500.
In College Point, two men were shot at in their car while moving on the street that came from a vehicle that rolled beside them in a drive-by shooting after leaving a strip club following an argument with other patrons. The same club where a Grammy nominated rapper threw glasses at two bartenders there. One of the victims died 2 days later.
Also in College Point, a three alarm fire engulfed a warehouse, injuring a worker inside.
In Woodhaven, a man walked into a laundromat and punched a woman who worked there in the face and dragged her to a bathroom and strangled her.
Also in Woodhaven, a supervisor for NYCHA got busted for cabinets and kitchen appliances worth $1,300 that was meant for public housing.
In Ridgewood, a 13-year-old boy was jumped, beaten down on the ground and robbed of his backpack and wallet by four other boys.
Also in Ridgewood, a man broke into three lockers at chain workout gym club in two consecutive days, making off with three wallets and $1,800.
Again in Ridgewood, two commercial vans were broken into and robbed of tools.
In Kew Gardens, a man shot up a parked car multiple times.
In South Ozone Park, a driver killed himself and his passenger after speeding on the Belt Parkway when he lost control of his vehicle and crashed into a lamp post, splitting the car in half.
In Rego Park, a fire broke out on the fifth floor of an apartment building, killing a resident and injuring three others.
In Astoria, a man was caught stealing pricey toilet fixtures from the men's room of a Wendy's. This theft was part of a spree of restroom burglaries in 8 other restaurants in the world's borough.
Also in Astoria, two men in the middle of stealing a scooter parked by a diner fled with the vehicle after they threatened an employee at knifepoint who tried to stop them.
Again in Astoria, a man was confronted by two men on the F train who sat down next to him and asked for money. When the commuter told them he didn't have any and decided to verify it by showing his empty wallet, his accomplice then stuck a boxcutter to his face and threatened to cut him while he snatched his wallet and took his cellphone.
And again in Astoria, an 88-year-old man died two days after he got hit by a car while crossing the street.
In Fresh Meadows, a man had a mental breakdown and took two knives and stabbed his wife to death and slashed his daughters wrist and hands.
Also in Fresh Meadows, a man held up a gas station at gunpoint and robbed it of $600 and 15 cartons of smokes.
In Kew Gardens Hills, a man stalked two women who got off the Q65 bus and threw both of them to the ground and robbed their purses 8 days apart from each other. He is suspected of mugging a woman who also came off the 65 and robbed her designer purse and $750.
In Sunnyside, terra cotta tiles from the viaduct elevated 7 train tracks broke off and pierced the windshield of a parked vehicle and all over the parking lot.
(photo by Vitali Ogorodnikov)
In St. Albans, a man walked up to two men sitting in a car and took out a gun and shot at them multiple times, killing the driver.
In Forest Hills, a food delivery man was ambushed by three men who set him up by placing an order as he met the alleged customer in an apartment building and was jumped by two masked men who took his keys and robbed his motorcycle.
In Whitestone, two men broke into a house and robbed $6,500 in cash and merchandise.
In South Jamaica, a man held up a cellphone store at gunpoint and made off with $850 and a bunch of phones.
Also in South Jamaica, a 22-month-old child died from bodily trauma.
Again in South Jamaica, a fire engulfed a home, killing a woman and injuring a man and a four-month-old baby.
In Corona, a water pipe and a gas main broke on Northern Blvd causing the street to collapse, stemming from a construction site on the block that was issued a stop work order because it had been causing cracks on the pavement and the road.
Also in Corona, a man broke into a jewelry store through the roof and plundered a million dollars worth of merchandise into bags, but only made off with $100,000 worth when he hurriedly left other bags behind.
Again in Corona, a three alarm fire torched a home that left 3 people injured.
In Flushing, a man heading home got jumped by a man near his house who pistol-whipped him in the head multiple times and robbed him of $400 cash. The mugger also pistol-whipped another man and robbed his cellphone two days later and walloped another man with the gun two days after that but didn't get anything.
Also in Flushing, a man was furiously knocking on the door of a couple's apartment and yelling. After getting the door slammed on him, he fired his gun and his accomplice fired his gun in the side window, hitting a woman in the leg while she was in the kitchen.
Again in Flushing, a firehouse got infected with scabies, forcing it to close for delousing and leaving smoke-eaters all itchy.
And again in Flushing, a man destroyed eleven statues inside a Buddhist temple.
And again in Flushing, a man slashed another man with a box cutter during a fight inside a deli.
And again in Flushing, a fire engulfed a home, killing a woman.
In Maspeth, a woman had her car practically robbed by her city when a DOT worker affixed a no parking sign when there wasn't one before when she parked in that spot. A traffic cop arrived just minutes later and towed her vehicle to the pound.
In Elmhurst, a professional bench warming football player stiffed an app-hail driver of $32, leading to his arrest when the driver called the cops. During processing of his arrest at the 115th Pct., he punched a cop in the face.
In Glendale, two men broke into a home and held up a man at gunpoint, pistol whipped him and tied him up, then robbed it of $9000, a game console and a safe.
In Far Rockaway, a man got stabbed multiple times in the chest in front of a McDonalds and died from his injuries.
Also in Far Rockaway, a man stalked a woman to her car and whipped out his dick in front of her.
In Rockaway Beach, a man burglarized a pretentious hipster pizzeria and a Dunkin' Donuts.
In Averne, a man let off gunshots on the street from a 23-caliber handgun.
In Bayside, nine home invasion burglaries happened in eight days.
Also in Bayside, a fire broke out on the second floor of a mixed-use building, injuring two people.
Again in Bayside, a man got hit by a car while crossing the street by a reckless driver.
In Briarwood, a man slashed and stabbed his daughter's boyfriend to death during a fight inside their apartment over an argument about the victim's alcoholism.
In Middle Village, an off-duty NYPD cop killed himself with his own gun.
In Broad Channel, a 12-year-old child stepping off a school bus got hit by a hit-and-run driver who swerved the bus that was parked letting students off.
In Queens Village, two men got caught in a stolen car on the street by it's owner, leading one of the thieves to run and hide in a backyard. When the homeowner, who was a retired C.O. Captain saw him, he got punched in the face by the thief and then got into a physical struggle with him, then he managed to pull his gun and shoot him.
On the Jackie Robinson Parkway, an ATM machine was found ripped apart and destroyed in a wooded area near Forest Park, which led cops to a chop shop in Bed-Stuy that had three other ATM's that were stolen in that neighborhood, leading to the arrest of six men.
At Kennedy Airport, a truck hauling human fecal matter crashed into a airplane on the tarmac.
On Rikers Island, the rise in violence, notably stabbings, and a shortage of correction officers on patrol, has led to a drop down in attendance in the prison's education program for high school aged inmates.
Manhattan
In Washington Heights, two men loitering on the staircase of the 169th Street Station entrance who were annoying and harassing commuters were approached by two cops who were called to tell them to stop obstructing and move along. After cursing out the officers, the men suddenly put up their dukes and were provoking them to fight. The cops then pulled out their batons to defend themselves from the derelicts.
Despite getting hit with the stick, the man continued to swing at the cop, leading to a chase and the cop succeeding in getting him down to asphalt. As the copand a couple detectives held him. the cop, showing poor judgement and lack of restraint despite being vexed by the thugs, repeatedly wailed on him with the baton.
The social media video (which had outstanding play by play a woman who witnessed the entire altercation) and another video posted before the street hassle erupted shows the thugs were the agitators. Apparently, the skell who got the worst of the beatdown was involved in other prior violent altercations with the NYPD, and boasted how he had three lawsuits against the city and was awarded settlements and talking shit about how the cops can't touch him.
The dynamic douches are known to citizens in the area for selling K-2 and were also recently involved in a scrum with cops by attacking them with bats just last month.
The dick who bragged that this will be his fourth lawsuit against the city, hopefully the D.A. prosecuting this arrest should probably bring these taunts and salient facts to the judge who will hear this case. Unfortunately and nauseatingly, the braggart was released and not charged for his role in the street fight with the cops he started. This is why the cops have to tamp down on the use of excessive force, because these opportunist bastards are taking advantage of social justice policies and citizens demands to hold cops accountable for such actions.
Also in Washington Heights, a man stabbed his wife to death in their apartment, then committed suicide by stabbing himself and jumping off a balcony stemming from a marriage separation.
Again in Washington Heights at the 181 St. Station, a homeless man who failed to catch a bag of food that his friend threw at him which fell onto the tracks, decided to go onto to trackbed and retrieve it, but slipped and fell when he tried to go back on the platform. Then the 1 train arrived and the man miraculously survived getting splattered by crawling in the trough.
At this same train station at Washington Heights, it has become a brazen den of iniquity for junkies blatantly shooting smack in front of commuters as discarded syringes are spread out all over the platform and trackbed. This will probably add up since Governor Andrew Amazon has allocated $598,000 to the state health department to provide more syringes for the smack shooters which are dispensed from a mobile unit truck that happens to be parked across the street from this station (!!!) , kind of like Mr. Softee (anyone wanna do a photo shop of the iconic vanilla swirl head mascot as a junk peddler). Maybe Transit President Byford can ask for some of those needle disposal boxes that are barely being used in Cortona Park in the Bronx.
And again in Washington Heights, a woman killed herself and injured her passenger when she drove her car in the wrong direction on a road by Riverside Blvd, then crashed into another car then careening through a wall and landing on a cemetery grounds.
And again in Washington Heights, a man stepped out of his car and walked up to a double parked car and shot the driver in the neck, which eventually killed him and his passenger in the arm then drove away.
In Greenwich Village, a 62-year-old man got killed inside his apartment from a gunshot to his chest by a man who fled while holding a garbage bag from a drug deal gone bad.
In Kips Bay, a woman bit a peace officer on the arm during a scuffle with other guards at the DHS homeless intake center. The bitten cop got suspended without pay for defending herself by hitting the disorderly woman with her handcuffs.
Also in Kips Bay, a drunk man got hit by a car crossing the street by a hit-and-run driver.
In Midtown, a gang of teenage boys robbed seven newsstands by stealing candy then robbing the cash when the proprietor runs after them or they just punch them in the face and grab the loot from behind the counter. Truly Dickensian times your city is in,  Fagin would be proud of these scamps.
Also in Midtown, a man punched a random man in the face at a hospital. The perp once got off on a double murder charge 10 years ago for stabbing and killing two people on the 2 train and has been a naughty recidivist since.
Again in Midtown, two men pulled off a burglary spree of restaurants starting at Wolfgang's by busting down the glass door and robbing cash and booze, then went west and bashed a glass facade of another restaurant but was chased out by an employee, then they went up 20 blocks and broke into a Ray's Pizza and stole two cash registers.
And again in Midtown, a man that got caught shoplifting in a high end department store jumped into his car when he saw cops waiting outside and sped away, damaging other cars and sideswiping bike riders during the getaway.
And again in Midtown, a man got stabbed in the chest on the sidewalk by a man while his accomplice acted as a lookout.
And again in Midtown, a skeevy viral video celebrity chef is being sued by his waiters for wage theft for ripping of their tips.
And again in Midtown, a scaffold extracted itself from a luxury tower development and smashed into the windows, causing it to drop large shards of class to the sidewalk, and was perilously dangling from 48 stories high.
And again in Midtown, a man smashed two windshields on a car with a bike lock then hit the driver on the head with and jumped on it's roof and yelled with his arms outstretched like he was a gladiator or a preening wrestler.
And again in Midtown, a retired NYPD officer left her semi-automatic gun inside a comfort food restaurant bathroom and found it missing when she went back to get it. The rationale behind her possessing the weapon is from a perk awarded to retiring cops validating concealed-carry permits.
And again in Midtown at the 42nd St/Bryant Park Station, an imbecile decided to take a stroll on the train tracks, causing delays on six transit lines.
And again in Midtown at the 7th Avenue Station, a 21-year-old died after she fell down the stairs while carrying her one-year-old daughter and a stroller filled with groceries as both escalators at the station were only going up.
The NYPD and a city medical examiner concluded that the woman died from a "pre-existing medical condition"  after first determining that she died from the fall but did not divulge what that what condition it was. Although the woman's relatives said she had a thyroid issue and was suffering from migraines the day before her death.
First off it's amazing the expediency was to investigate this so fast to get a result for how this preventable tragedy occurred, preventable meaning that this station should have fucking elevators. Second is how the examiner utilized an Obamacare stipulation to determine how the woman died, which just stinks of undermining the severity of the woman's fall. Could her pre-existing condition been aggravated by the fall from hauling the cumbersome load of the stroller with the groceries while precariously holding her baby while walking down the steep staircase?
In the Upper East Side and Murray Hill, four teenage boys robbed four produce cart vendors of a total of $1,500 in a crime spree a week before the newsstand robberies above.
Also in the Upper East Side, a woman committed suicide by jumping from her apartment window.
Again in the Upper East Side, a slab of concrete fell off a luxury high rise building development still under construction and landed on the roof of an apartment building it shadows over next door and crashed through the ceiling of a man's apartment.
And again in the Upper East Side, a babysitter shook a 1-year-old boy by the head, lifted him up and threw him on the couch.
And again in the Upper East Side, a housekeeper was stuck in a lift of a billionaire investors'brownstone house for three days over the weekend. The elevator was cited for prior violations by the Department of Buildings.
In Harlem, a naked man climbed on top of a truck and danced for the crowd and the cops that showed up to detain him
Also in Harlem, a fireman crashed a firetruck with two of his children riding along with him into a dumpster and a parked car and drove it away during a holiday event arranged by the FDNY Engine 69. No report was ever filed of the accident and all of his fellow smokeeaters colluded to cover up the hit-and-run.
Again in Harlem, a pregnant EMT worker was assaulted by a drunk man she was treating as he punched her in the stomach when she recommended he go to a hospital for his injuries.
And again in Harlem, a man with a gun got tazed by a cop when he approached them with a gun inside a hallway.
And again in Harlem, a man was shot to death and found lying on the street.
In Chelsea, a 5-year-old boy walked out of his kindegarden class and wandered away from his school and walked into the 23rd Street Station on 8th Avenue.
Also in Chelsea, a water main broke on 7th Ave and 15th Street, causing the road to collapse and release tons of water onto the L train tunnel leading to suspending service on the line. This should put a literal damper on the governor's new fix it plan.
In Soho, a man broke into a store selling popular tech products by smashing the window at 1 a.m., and robbed over 50 items worth $75,000.
Also in Soho, a woman and man plundered an painting from an art gallery and ran away. The curator gave up chase and claimed that the piece wouldn't get resold. That is very strange reaction, especially considering the vanishing of a DaVinci painting worth 450 million dollars and the lack of effort or investigation to find it.
In the East Village, a woman was awaken from her sleep by a man who was standing above her in her bedroom. After he raped her, he demanded $1,000 from her. When she told the predator that she didn't have it, he bounded her with duct tape and stole her bank card, phone and laptop.
Also in the East Village, an off-duty cop was held up at gunpoint and assaulted by a man who pistol whipped him on the street trying to rob his cellphone.
Again in the East Village, a pile of christmas trees dumped on a street corner was set on fire, smoldering a van parked by it.
And again in the East Village at Tompkins Square Park, a vandal spray painted cartoonish penises and testicles on a tree and slide.
In Hell's Kitchen, a man and a woman committed suicide in a hotel room by asphyxiating themselves with plastic bags and laughing gas.
In Union Square, a man bolted from the 4 train at the station after he grabbed a woman's ass.
In Times Square,  a man grabbed a woman in the pussy on the Q/N/R/W platform and ran away when the woman he groped chased him
In Chinatown, a guard who works for the Department of Citywide Services, sexually molested a woman by grabbing and feeling up her ass as she was purchasing a metrocard at the vending machine.
In Central Park, a man robbed a police scooter from the Central Park Pct. and drove it all the way to New Jersey. Cops didn't realize it was gone for about three hours before they activated the GPS on it. The vehicle can only be operated with a universal key, which means some dummy must have left the engine running.
In the Upper West Side, a 17-year-old boy was stabbed in the chest in front of pizzeria and died hours later after refusing to provide the cops with his killer's identity or description.
Also in the Upper West Side by Central Park, an argument between two men escalated when one of them pulled his gun out and shot at the other man who fled and jumped over a wall in the park.
Again in the Upper West Side, an SRO apartment building fire killed one and injured two people.
And again in the Upper West Side, a man loitering inside an apartment building jumped a woman and her mother in the lobby and held them up at knifepoint and forced them into their apartment where he tied them up with electrical tape. When the woman's father showed up and knocked on the door, the man held a knife to his daughter's neck and ordered her to let him in and then tied him up to a chair with a belt then robbed them of their credit cards and split. The daughter broke free and called the cops leading to the perpetrators arrest after resisting the cops by fighting with and spitting on them. It turned out that the man was currently homeless and on parole.
And again on the Upper West Side, a big fucking couch is perched on a tree's branches. The city has been giving concerned citizens the runaround deferring responsibility to other departments to remove it.
In the Lower East Side, a man slashed another man in the face following an argument inside a diner.
Also in the Lower East Side, a man smothered his 8-month-old son to death in his wife's apartment at the Gompers Houses.
In the Flatiron District, a truck driver turned made a sharp wide left turn on 23rd st. and 6th avenue and sideswiped and damaged the fencing at the entrance of the 23rd St. Station
In the West Village, a woman committed suicide by hanging herself in her apartment.
And grand larceny has gone up on the subways in 2018 attributed to an international team of pickpocket thieves. Kind of makes this city feel like it's slowly reverting back to the days of the Artful Dodger or just an imitation of Tijuana, Mexico.
Brooklyn
In Sheepshead Bay, a man ran into a Chinese buffet restaurant screaming with a hammer and attacked three men who worked there. Killing a chef instantly by bludgeoning him in the head, and critically injuring the owner and another employee who both days later died from their injuries in the bias attack.
Also in Sheepshead Bay, an 11-year-old girl walking on the sidewalk with her friend was confronted by a group of boys who were sexually harassing and pouring water on her as the boy she was with filmed it on his phone for his social media account.
Also in Sheepshead Bay, two men are involved in a month long burglary spree, breaking into 7 buildings and robbing merchandise, money and surveillance products.
In Borough Park, a drunk man went inside a deli and wanted to crash in there and take a nap. When the clerk told him he couldn't do that, the vagrant asshole suddenly found energy and went nutso, knocking over the lotto machine and cash register then assaulted him, slamming him against the refrigerators, punching him repeatedly and throwing him to and dragging him on the floor. Then he continued to trash the place, knocking over snack racks and throwing candy all over the place.
Also in Borough Park, a traffic cop trying to tow a parking violator's car was disrupted by a group of three boorishly arrogant and crass men who managed to dislodge the car off the police truck and started to racially bait the cop while enabling the lawbreaking driver to flee, flee, flee. The three thugs then kept badgering the officer by calling him a loser and made threats that he will lose his job like they thought they were Jona Rechnitz or Jeremy Reichberg or some other politically and higher brass police connected powertripping asshole like them.
In Prospect-Lefferts Gardens, a fugitive wanted for his role in a murder of a man in Ozone Park in 2017 was shot at by FBI agents trying to enter an apartment he was hiding in, blowing out the windows and scaring the shit out of other tenants. The suspect was arrested and a hundred cops were deployed to manage the crowds, despite the fact that there were virtually no citizens outside for the phalanx to disburse.
In Bushwick, a man suckerpunched a 16-year-old girl and a 9-year-old boy on their heads inside a Bushwick Houses building while they were waiting for the bus to go to school. The lunatic then hit a woman with a tree branch outside moments later.
Also in Bushwick, a man jumped a woman from behind in an apartment building lobby and held a knife to her throat then sexually molested and robbed $100 and credit cards from her.
Again in Bushwick, a police officer was busted selling $25 worth of marijuana inside of a liquor store. Well, you got to take the badge and the power and responsibility that goes with it seriously, it isn't like you can give out gun permits to famous people like the President and his sons, his former fixer Michael Cohen or to some of de Blasio's special donors under the diligent watch of the legendary Commissioner William Bratton.
And again in Bushwick, a 19-year-old man was shot to death on the street from a shotgun blast to the chest.
And again in Bushwick and Bed-Stuy, two men went on a burglary spree breaking into washing machines in four apartment buildings and robbing it of thousands of dollars in quarters.
In Downtown Brooklyn, a man arrested for attempting to rape a woman at a homeless shelter, escaped from the custody of two DHS peace officers as they arrived at the police precinct. He ran away still handcuffed.
Again in Downtown Brooklyn, two people were shot at by a man in front of Macy's.
And again in Downtown Brooklyn, a man lost control of his SUV and drove up the sidewalk and knocked over a scaffolding building shed.
In Brooklyn Heights at the Borough Hall Station, a man confronted a woman on the two train and started rapping to her then went nutso and grabbed her neck while trying to steal her necklace then ran away when he couldn't get it.
In Brownsville, a woman walking on the street got jumped by a man who held her at knifepoint and dragged her to his SUV. He then taped her mouth and tried to rape her but she fought back and wrested the knife from him. He then took a tire iron and hit her and wrapped her arms with the tape and took down her pants and underwear and violated her, but she continued to resist so he threw her out of his car. The deviant was trailed by a determined police captain and eventually arrested him at his apartment in Mount Vernon.
In East New York at the Pink Houses, a man was killed in a hallway after getting shot by a masked man 11 times.
Also in East New York, a fire engulfed a house injuring six residents.
Again in East New York, two men held up a man at gunpoint and demanded that he hand them a bag he was holding. The gunman then fired a shot at the victim and missed as he and his accomplice ran away.
And again in East New York, five men got arrested for operating a heroin drug ring operation that expanded into Bushwick and South Ozone Park. They referred to the product with fancy expensive car names.
And again in East New York, a man pulled over by cops for driving recklessly, stepped out of his car and shot his pellet gun at them, leading two cops to fire back with three shots to his body.
In Bed-Stuy, a man was shot in the chest on the street and ran to a nearby deli screaming for help.
Also in Bed-Stuy, a woman walking on the sidewalk was approached by a man who panhandled her for spare change. After she gave him some, he continued to talk to her and then grabbed her ass and ran away.
Again in Bed-Stuy, a man brutally beat down a 63-year-old homeless man in front of witnesses who were chortling while one was filming it on a live social media platform in the hallway after he accused him of harassing his mother by looking into a peephole on the door at her apartment.
In Sunset Park, a delivery man was killed while riding his motorcycle to work as he got hit by a livery driver opening his car door and caused him to fall under a vehicle moving on the street behind him.
Also in Sunset Park, a man was killed by a hit-and-run driver when he was crossing the street.
Again in Sunset Park, three men held up a mahjong parlor in a social club at gunpoint twice in three days, robbing players and the house of $9,600.
And again in Sunset Park, a man was killed by a hit-and-run driver operating an 18-wheel truck. The driver abandoned the rig in an undisclosed location.
In Williamsburg, a man jumped a woman in the lobby of her apartment building, punched her in the head and tried to rape her then ran when she defended herself.
In Fort Greene, a 14-year-old boy was held up at gunpoint by two men and robbed of two shopping bags at the Ingersoll Houses. The two thieves ran away when two cops showed up, with one of them dropping their gun. The cops then looked at the weapon but decided to leave it on the ground. A few minutes later a man saw it as the cops were walking away, picked it up and fled. The NYPD allegedly disciplined the cops, who remain unidentified because of the 50A ruling that's supposed to protect police from criminals from finding out where they reside but is more often used as a shield to cover up malfeasance, incompetence, use of excessive force, and in this case, insouciance.
Also in Fort Greene, a man committed suicide by lying on the tracks in a tunnel near the Lafayette Ave. Station. as the A train ran over him.
Again in Fort Greene, a 19-year-old man vandalized a police car then along with his friend fought with the cops as they tried to arrest him.
And again in Fort Greene, a woman had her purse stolen from her car that had it's window broken.
In Flatbush, at the Beverly Road Station, a man taking a nap on the train got stabbed in the head and arm with a screwdriver and was robbed of $400.
Also in Flatbush, two men mugged a man in apartment building by gunpoint and robbed 200 bucks from him.
In Cypress Hills, two men held up a truck driver at gunpoint inside the cargo area and robbed him of $7,300.
Also in Cypress Hills, a woman standing on the sidewalk was attacked by two men who brutally beat her up with punches and kicks and robbed her of $1,400 and a cellphone.
In Gravesend, two men broke into a basement of an electronics store and robbed over 300 grand worth of tech products.
Also in Gravesend, cops arresting a man wanted for burglaries in the area was greeted by a dog he stole at his apartment during a search where they also found Ipads, boots, ID and credit cards and various weapons.
Again in Gravesend, a man opened the rear door of a van and stole boxes of camera equipment that were inside.
In Coney Island, a man cuffed for a robbery escaped from police custody at the 60th Precinct when he asked the detective to use the bathroom and then jumped out of a second floor window and fled towards the Luna Park Houses.
Also in Coney Island, a 63-year-old woman had an ax lodged in her skull in an attack from her son.
Again in Coney Island on the B train, a man held up a commuter at knifepoint and demanded money, but the man fought back and got lacerated but still made the mugger flee with nothing.
And again in Coney Island, a fight between two men escalated when one man stabbed the other in the chest in a hallway.
In Crown Heights, a man held up a beauty salon at gunpoint and robbed $230 from the workers and customers.
Also in Crown Heights, a man was shot at point blank in the stairwell of the Kingsborough Houses and died at the hospital.
Again in Crown Heights, a man got arrested after he grabbed a woman on the street and dragged her into a darkened corner in an attempt to rape her, but she broke free. He also stripped and groped a woman on the 4 train and robbed her headphones and $47.
And again in Crown Heights, three men jumped and beat down a man on the sidewalk.
In Manhattan Beach, three men broke into a house and stole $20,000 of jewelry and electronic items.
In In Bensonhurst, two men on a month long burglary spree robbed seven stores before the break of dawn, stealing cash, lottery tickets and surveillance equipment.
Also in Bensonhurst, a man crashed his car into another man's car, smashing his door. Then the reckless driver stabbed the man in the arm whose car he totaled and got in his car and drove off.
Again in Bensonhurst, a man was attacked by two men and got stabbed after he honked his horn at a car they were in that was blocking an intersection.
And again in Bensonhurst, two men held up a convenience store at gunpoint and robbed it of $400.
And again in Bensonhurst, two men broke into a bakery and robbed it of $200.
In Gowanus, a man crashed his car into a bus and rear-ended another car on the expressway and ran away from the accident, and injured his head when he jumped off the highway to the street below.
In East Flatbush, a 99 cent store was torched by a fire in it's basement, injuring two firemen.
In Prospect Park South, a man attacked cops who were trying to enter his apartment where a dead woman was on the floor wrapped in a blanket.
In Vinegar Hill, a man found half-conscious from getting beaten down inside his apartment at the Farragut Houses, died from his injuries.
In Bay Ridge, a man accessed an apartment building by pressing every residents button, then broke into a closet in the basement and stole two shopping carts, plumbing supplies and scrap metal. Nice haul, Bubbles.
Also in Bay Ridge, three men broke into a house and robbed it of $2,000 and jewelry.
Again in Bay Ridge, a homeless man was found dead on the street from a fall from the elevated train tracks.
In Flatlands, a man sexually molested a 16-year-old girl on a crowded city bus.
In Canarsie, East New York and Brownsville , two men robbed three businesses by breaking open cash registers and ATM's, making off with a total of over $25,000. The thief is suspected of 14 other burglaries of small businesses in Queens.
Also in Canarsie, two men broke into a pharmacy from a door on the roof and robbed the safe and register and also drugs worth $40,000. Those meds would have been worth a lot less if America had ratified legislation to keep the price of them down or even a Medicare for All program.
Again in Canarsie, a man died from injurious burns he got when he and a woman set off a fire on a rooftop preparing some kind of ritual.
In Midwood, two men mugged a man for his cellphone and 18 bucks.
In Clinton Hill, a man was shot to death in the stairway of the Lafayette Garden Houses just as he was about to visit his mother at her apartment.
Also in Clinton Hill, a woman critically injured herself when she fell out of a taxi cab and wound up lying on the road. (WTFH?)
In Marine Park, a woman was crawling on the guardrail on the Belt Parkway. (Again, WTFH?)
Also in Marine Park, a man randomly attacked a 13-year-old girl in the street by grabbing her neck and slapping her face.
In East Williamsburg, a man got shot to death in a hallway at Cooper Park Houses following an argument with two other men.
In Greenpoint, Neo-Nazi dickweeds are vandalizing walls, lampposts and emergency kiosks with bigoted and Anti-Semetic messages on postal stickers. One of their vile agitprop pastings got a sweet response.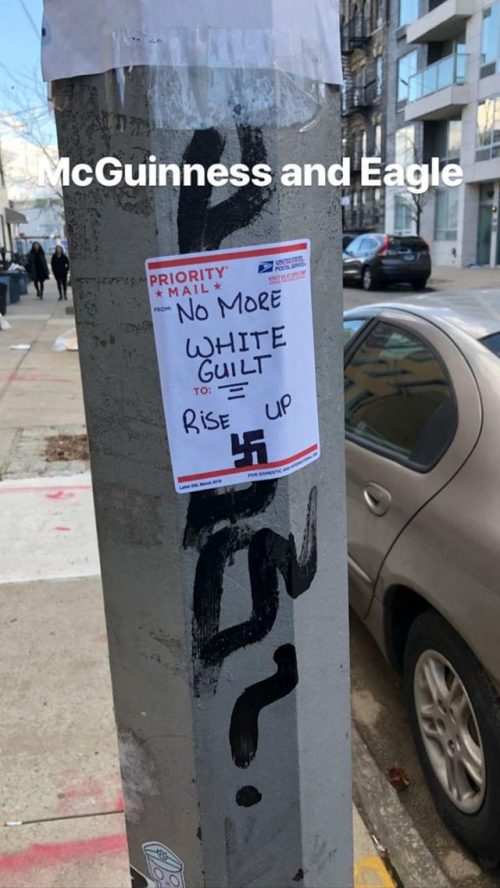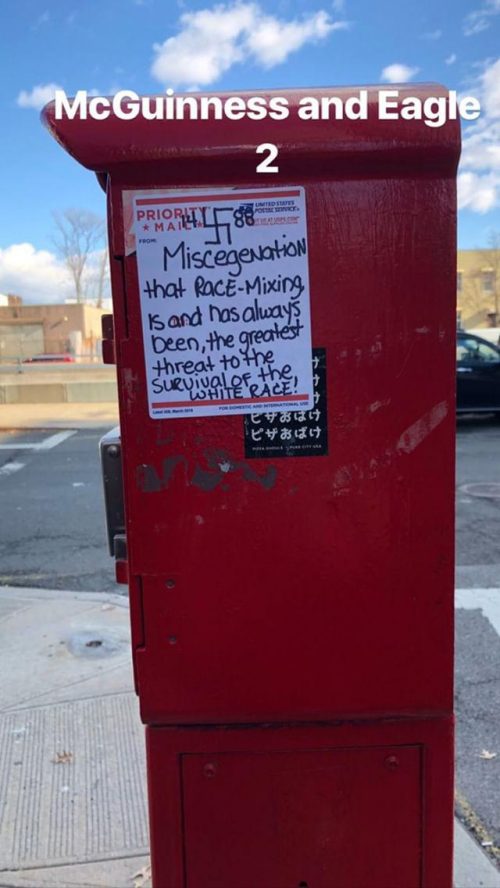 On the Belt Parkway on the renovated Mill Basin Bridge, a fireman fell to his death trying to leap to the other side of the bridge to rescue passengers of two vehicles that crashed. Why is there an open gap on a short bridge on a major highway?
A police sergeant that was in charge of a housing bureau command in NYCHA buildings  in Williamsburg, Bed-Stuy and Downtown Brooklyn was arrested and charged for heroin distribution.
The feds and the NYPD busted a drug ring operation selling heroin, fentanyl and cocaine operating in South Brooklyn.
In Fort Greene, a FDNY inspector walking in his town caught a parked truck's cargo densely packed with unsecured propane tanks by an "affordable" luxury tower development.
Also in Fort Greene at the Dekalb Station on the Q train, a man whipped out his junk and masturbated in front of commuters, then capped it with a cigarette before he got off at the Church Ave. Station in Flatbush.
On the Williamsburg Bridge, a roaming stray dog was found walking on the train tracks, delaying the J and M trains for 90 minutes as cops rescued him.
And the NYPD detective who had a pair of allegedly clean panties shoved in his mouth by his superior officer was greeted by his fellow brothers in blue at his home who detained him and was ordered to turn in his badge and gun and then sent to psychiatric ward. Just like what they did to Det. Adrian Schoolcraft when he tried to report NYPD corruption.
Bronx
In Morrisania, a 68-year-old man about to enter his apartment was ambushed by three men who pushed him down to the floor and rained fists on him while demanding money. They robbed his phone and $475.
Also in Morrisania, a man froze to death sleeping under a bench in a park.
Again in Morrisania, two gun traffickers from Florida were busted in a sting after meeting up with an undercover cop making a sale of $7,000 worth of high-capacity firearms.
In Soundview, a man was shot to death on the grounds of Monroe Houses from three bullets to the chest.
Also in Soundview, a man broke into a warehouse and robbed a coldcut slicer worth seven grand.
In Fordham Heights at the 182nd/183rd St. Station during the morning rush hour, a man loitering in front of the entrance asked a man approaching for ten bucks. When he refused to give him money and kept walking, the panhandler ran up and attacked him from behind and stabbed him twice in his back. The victim did wind up giving him some money after his attacker stood over him and the skell is still on the loose.
In West Farms, a man was shot to death as he sat in his car by the Murphy Consolidated Houses. The victim killed two women over there 15 years ago. The first one he strangled to death and left her nude in a stairwell, and the second one he murdered with an accomplice over being owed drug money and tried to cover it up by leaving her naked in a stairwell to make it look like a sexual assault. Wonder what would give him the inspiration for the latter. Good riddance.
In East Bronx, three men jumped a man and beat him down to the ground with kicks and punches all over his body and slugged him with a helmet then robbed his backpack and ran away
.
In the South Bronx, a man attacked an inebriated 66-year-old man in a deli by knocking him down on the floor following an argument they had on the street.
Also in the South Bronx, a woman walking across the street was killed when she was hit by a sanitation sand-spreading plow affixed truck as the driver kept going. The cops flagged him down and was not charged.
Again in the South Bronx, four teenage males attacked a woman in a train station, all taking turns punching her then robbed her headphones and a $600 belt.
And again in the South Bronx, two teenage prisoners sexually harassed a corrections officer at the Horizon Juvenile Center. The city waited an entire month to release the report.
In Eastchester, a man held up a worker at Dunkin Donuts at gunpoint and ordered her to empty the register then bolted out the door with $700.
In Belmont, a shootout on the street between two men alerted a drug task force consisting of DEA agents, NYPD and State Troopers to react, leading the suspects to flee the area only to get arrested later.
Also in Belmont, a man and a woman got drunk then got into an argument in their cluster apartment. The woman then stabbed him twice with a kitchen knife, causing him to die from his injuries.
Again in Belmont, a man grabbed a woman walking on the sidewalk and dragged her about a block then ran away when a man witnessing the abduction yelled at him.
In Westchester, an off-duty fireman killed a pedestrian with his car in a hit-and-run.
In Melrose, a 13-year-old girl stabbed a 14-year-old boy in the shoulder in the school lunchroom stemming from a insult he made about her on social media.
In Norwood, a decomposed body of a homeless man who was reported missing was found inside a park.
Also in Norwood, a man flashed his junk in front of an 11-year-old boy in an apartment building. The deviant was on parole after serving time for sexually molesting an 11-year-old boy.
In Mount Eden, a woman was jumped by a 17-year-old boy and forced into a building at knifepoint and raped her in a stairwell and stole $18 from her. The idiot rapist ran away and went into a deli, where the victim and her husband showed up and detained him until the police arrived.
In Pelham Bay, a man picked up a runaway 12-year-old girl in Soundview while impersonating a police officer promising her a place to sleep, then drove her to a motel and raped her there. The suspect was beaten up in Rikers Island.
In Kingsbridge, a man got stabbed to death inside an apartment building.
In Eastchester, an off-duty NYPD cop who got off from a prior DUI charge where he smashed into a NY State police car, crashed into a parked car while driving drunk.
In Co-Op City, a fire broke out in an apartment building injuring four children.
In Woodstock, a raccoon was found wandering on the tracks of the 6 train line.
Staten Island
In Clifton, a 55-year-old woman who was walking to a late evening prayer meeting around midnight got jumped from behind by a man who placed her in a chokehold, then savagely beat her up, dragged her on the ground and threw her against an iron gate and cracked her head open. While she was bleeding, the man tried to silence her as the woman defended herself, causing him to run away.
While at the hospital, cops showed up to question the victim but she couldn't recall if they actually asked anything to her and she found out the case wound up being closed a week after her attack.
The cops eventually arrested the suspect on Jan. 28, over 3 weeks after the attack. Because two days after this arrest and during that long time span while he was on the loose, a 69-year-old was murdered in Stapleton and found dead inside a house and this guy is suspected in this case because of a video capture of the suspect holding her arm and bringing her inside there. The deceased was also brutally beaten, and there is footage of the man leaving the premises by himself.
Now it turns out the initial earlier brutal assault case was marked closed because of a clerical error made by an city worker filing it at the 120 Pct. and the police sergeant working the desk allowed it to pass even though the detectives assigned to the case never interviewed the assault victim. Asked about how this incompetence that might have cost a woman her life, Chief Terrance Monihan gave thoroughly tone-deaf excuses of "administrative errors" and it "happens everywhere in life." And also "(It) probably should've been caught then but it wasn't. Now we've got to look what could have been done to shorten that time span, were there any systematic errors, any personnel errors."
"They see, wow, this case shouldn't be closed, it should be open," he said. "They reopen the case and send it up to the detectives for investigation."
NYPD Commissioner O'Neil "This is a terrible tragedy, so we'll be taking a look — a total look –at it."
Yeah, keep looking chief and commissioner. Wow, hopefully no one else will perish or crippled the next time you all suddenly realized you fucked up.
In Westerleigh, a 91-year-old man got killed when he got hit by an approaching car as he was crossing the street with the light still red.
In Donghan Hills, a woman snatched a dog off the stoop that was waiting to go back into his house.
In Port Richmond, a man driving drunk crashed into a house and ran away, leaving his drunk passenger to get arrested after he tried to get away but crashed it into a grassy knoll.
In West Brighton, a man was murdered in his apartment by as friend of his after meeting up with him at barber shop and had an argument when the victim asked his friend for money. The murder victim reportedly texted his mother on his phone as he was about to get killed.
The suspected killer and his girlfriend were caught on surveillance video dumping a bag and blood stained clothes in a dumpster by an apartment complex in New Jersey. The woman turned in her boyfriend to the cops after reporting a false emergency even though he physically attacked her in a domestic dispute. The suspect was brought to the stationhouse where he is claiming innocence and that he was being coerced to admit the killing by police interrogating him.
Further police investigations in search of the victim's body also searched a construction company lot with a history of building violations in Port Richmond owned by a man who let the suspect live in an apartment building he ran and is now also suspected for aiding and abetting the ditching of the body, and ended in a landfill in Pennsylvania.
And this post ends with the bizarre, peculiar and improbable death of the Saudi Arabian sisters, who were being demanded by their nation to return home and who were found dead duct taped to each other by their wrists and ankles by the Hudson River in Riverside Park in December was ultimately ruled a suicide by this city's medical examiner. So that's the end of that. Well, the Sauds do invest in a lot of tech companies operating in your city and we certainly can't disrupt that or upset them with murder conspiracy theories.
And it also should be noted that the killer of Brandy Odom, who butchered her and left her severed remains in plain sight on the paths in Canarsie Park 10 months ago is still lurking around.