1991 Rock and Rap round the clock renaissance: Nirvana, Metallica, My Bloody Valentine, Soundgarden, Cypress Hill, Sepultura, and A Tribe Called Quest
1991 was a very good year. It was a very good year for passionate, aggressive, uncompromising and innovative music. It was tremendously historic year that obliterated the status quo and radio formats, both of which needed a shellacking and power sanding a long time ago. 1991 ranked up there with other milestone musically revolutionary years like 1967 (Sgt. Peppers, Hendrix), 1971 (Zoso, Joni's Blue, The Who) 1977 (Punk, Fleetwood Mac) and the phenomenal 1984 (Springsteen, Prince, Van Halen, Madonna, Metallica, Post punk). Although 1986-1988 should get a lot of credit for the great contributions from thrash metal,, proto-alt-rock and hip hop's golden eras as well, for it has a major influence on this list.
Let's go.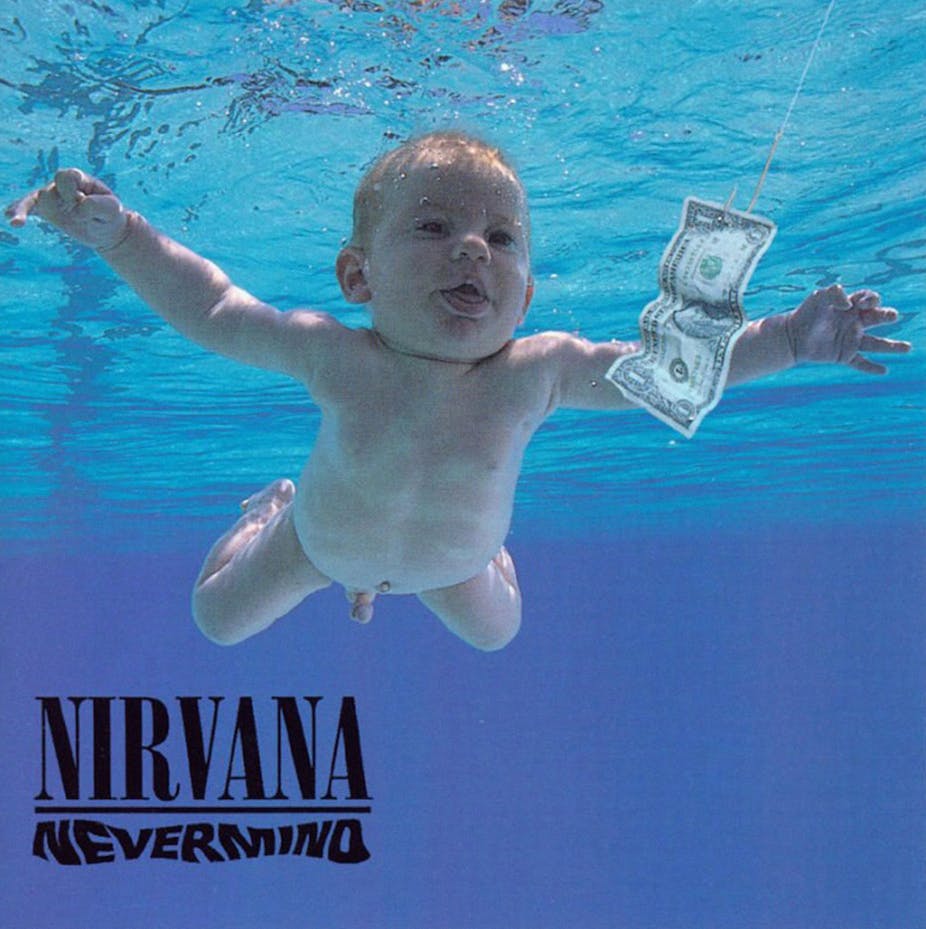 Nirvana, Nevermind
When Nirvana and David Geffen released Nevermind on September 24, 1991, it slipped under the proverbial radar. But all of sudden, this album landed on earth and the charts like a meteor and the contents of from that crash oozed all over rock radio airwaves and shot up the charts in no time, buoyed by the first single and leadoff song "Smells Like Teen Spirit" as it dominated the airwaves and pop culture.
The quickness with how this captured the nation was not seen since supergroup Asia blasted into everyone's conscience with "Heat of The Moment" nine years earlier, but in retrospect it's hard not to see why. Even though the post punk influence of the Pixies and Sonic Youth were definitely there with the song structure and guitar skronk solo, "Teen Spirit" had the catchiest power chords and riffs of all time (the riff was actually played with two open strings!), it was reminiscent of Boston's "More than A Feeling" from their own breakthrough landmark album, which was also a soft verse loud chorus structure. Another thing that propelled the song was the monstrous beats by new drummer Dave Grohl, who in 4 and half minutes became the heaviest drummer in the industry since Led Zeppelin's John Bonzo Bonham. On the abstract and ironic lyrics of "Spirit", Cobain riffs about making a hit song and singing to massive audience, emphasized by the shouting of the refrain "ENTERTAIN US" which conveys the demands of the crowd and also the record label's demands to attract them, which the author later comes to accept his fate and the lucrative record contract with the dismissive "oh well, whatever nevermind" until the loud part comes again for the last time. With this, Cobain, Novoselic and Grohl made one of the biggest revolutionary anthems of all time that defined its generation the likes it's seen since, well, The Who's My Generation and even the Beatles Revolution and Stepponwolf's Born to Be Wild.
The other factor of the song and album's overnight zeitgeist dominating success was because of their video, which made MTV suddenly relevant again as it dominated the station for months. But what really put Nevermind over the fucking top was the fact that Billboard finally decided to rank their albums solely based on sales rather than the old standard of including that with payola induced airplay and promotion activity. And this is where it gets really fucking hilarious;  around the same time during Nevermind and Teen Spirit's ascendance, Michael Jackson came out with his first album in 4 years Dangerous and he promoted this album and comeback by declaring himself the King of Pop as his album naturally climbed to number one despite a weak platitude song about racial division. After holding on to the top spot for about a month, on January 11, 1992,  Nevermind knocked Dangerous off and hit Number 1, and Nirvana dethroned Jackson and the new and true kings of pop
But the real X factor of the album's tremendous success was the album was filled with even more and more hits. Even when it got louder and faster, the second track "In Bloom" is also a monster riffing catchy song where Kurt throws massive shade at the audience that's embraced his band's music, basically a revenge film sequel to "Teen Spirit". That song was released as the third single that also became a massive hit that was propelled by a heavily played and hilarious video, which continue its momentum and domination of the number one position on Billboard's album chart.
The third song and second single  "Come As You Are" continues the allegory themes of commercialism and guns (Cobain really obsessed more about the latter) over a mellow psychedelic sounding riffs and flanged out solo.
Then comes "Breed" where Nirvana bring hardcore punk to the masses. Track 5 "Lithium", which also became a big hit single even though it was about treating manic depression. The first side (if you bought the cassette or LP) ended with Polly, a haunting acoustic incursion about date rape, this also became a popular song in a bad way but it did show Cobain's range as a songwriter.
Side 2/B (if you had blah blah) starts off with was is arguably the best song on the album, the blistering blast beating hardcore track "Territorial Pissings". Like "Teen Spirit" this is also a call to arms style revolutionary anthem for the down trodden. What really makes this a great song besides the pulverizing performance by the trio is how easily memorable the lyrics are, which are philosophical koans and nearly haiku-like. The best may be where Kurt tells the audience "just because you're paranoid, don't mean there not after you", which is pretty good and prophetic stab about power structures that are there but you're too powerless to stop or prove it's existence. Basically the genesis of the mindset for most conversations on social media and the deep state.
On the follow up rager "Drain You", this probably comes close to Black Francis/Frank Black influence on Cobain's lyrics, which is just a love song from the perspective of a parasite. It's followed up with another parasitic relationship themed song  "Lounge Act" driven by the bass riff of Krist Novaselic. "Stay Away" starts with militaristic snare bashing by Grohl and then the song goes basic 4/4 hardcore with basic chord progressions and refrains by Cobain in this song about identity and alienation. The transcendant "On A Plain" can be described as what you get if the Beatles and Husker Du wrote a song together, being that it's the best song that captures melody, noise and lyricism and it's infinitely unforgettable. Nevermind's last song is the haunting and dour "Something In The Way", played acoustically Cobain mutters his lyrics about isolation, disease and survival, revealing R.E.M.'s influence on his songwriting and the band as well.
Although if you were fast enough and a fan enough to buy the cd version when it came out, you got a special aural assault treat with the bonus track "Endless Nameless" which was improvised in the studio by the band while fucking around recording. Funny thing is that this would later become a concert staple. It's really hard to believe that it was 30 years ago when an album was this life changing and affirming as Nevermind was and still is. It's a testament and a living document to what rock and roll could be still be capable of.
Metallica, Metallica
After 1990 saw three thrash metal bands release classic albums (topped by Megadeth's Rust In Peace), the greatest band in the world were still working on their fifth album following their first four perfect masterpieces. Following their platinum and Grammy-snubbed breakthrough album "…and Justice For All", Metallica's next album was highly anticipated but also filled with trepidation, for their label Elektra assigned Bob Rock, producer who recently worked the EQ's for bands Bon Jovi, Motley Crue and Loverboy. Metallica also was given the heavy elite talent promotion treatment usually regarded for those such bands too, as they were able to get their first single (!!) debuted on commercial rock radio, a first for the band who got their initial fame on TDK and Maxell tapes and late night weekend metal hour radio formats. Speculation fomented about what the uncompromising band was going to sound like.
Then came "Enter Sandman".
As with the opening songs on every album they previously released, the intro of the song sets a foreboding mood with a clean ominous riff, and then the song solidifies  Jason Newsted's bassline and Kirk Hammett's wah wah chords, which already made clear of the new direction in sound (especially for Newsted because his bass was barely audible on "…and Justice").  Then James Hetfield comes in with the hook and Lars with the massive beats and fills and then the song about traumatic childhood REM fantasies commences and it's another trademark Metallica classic song. Even though the tempo is considerately slower than 90% of their songs, Ulrich's playing and Bob Rock's immaculate production kept the thrash feel of those landmark albums and the genre they invented and perfected intact.
Enter Sandman would go on to crack the top 20 on the pop charts, which wasn't a surprise given how it owed more to Alice Cooper and Deep Purple than it did to their more predominant influences Diamondhead and the Misfits. It also owes a debt to Queen considering how Sandman evolved into an arena and stadium anthem, most famously used by underground wrestling legend "The Sandman" to the Yankees  Mariano Rivera.
Then the album came out and immediately signified a new departure for the band showing a wicked sense of humor. Metallica made their album sub-titled and the album all black, in this case they made it "none more black" than Spinal Tap's fictional Smell The Glove and official movie soundtrack. A week later, on the strength of the single, label promotion and their legacy and also the reformatting of Billboard ranking, "Metallica" debuted at number one, their first chart topper ever.
Following "Enter Sandman", Metallica slows the tempo down even more on the gargantuan "Sad But True", a song about being overwhelmed by inner demons set to an evil hook that almost sounds like Led Zepp's Kashmir, accentuated by Hammett's wah wah pedal shredding again.
Ulrich returns to thrashing form on the hypocrite bashing "Holier Than Thou" and then comes the first power ballad on the album, The Unforgiven". Although inspired by the classic western starring a ragged and alcoholic mercenary played by Clint Eastwood, this stunning track focuses on being raised on and then rejecting religion and the bitterness and alienation that follows after being acclimated to it.
A similar theme follows in "Wherever I May Roam". Side A ends with the surprisingly  jingoistic "Don't Tread On Me" which the band wrote for the troops of Operation Desert Storm in the first invasion of Iraq, considering the bands opus songs about meaningless wars and nuclear holocaust. But it's actually one of their best songs, with an intro that cribs from West Side Story's "America" and trudges along with a savage riff and beat to march down the streets with a flag to. And Hammett's wah wah playing is absolutely killer. Should be noted that the visible snake on the album cover is designed the same as the one prominently displayed on the flag that bears the song's title and it also might be a dig at the label for the pressure of coming up with a hit record and the 2 year process to produce it.
After starting Side B (cassettes were dominant around this time) with the trashing "Through The Never", "Nothing Else Matters", Metallica's and thrash metal's first bonafide love song. While this song is universally reviled by original fans and haters of false metal as a sellout (which they are right to say) it actually illustrates what a underrated lyricist Hetfield is. While it's definitely written to maximize sales and airplay, it's tone and performance is incredibly sincere, including the obligatory loud part and Hammett's transcending solo. "Of Wolf And Man" heavy and silly song about a lycanthrophe is probably more in spirit with Spinal Tap than the album cover, but still a headbanger and "The God That Failed" continues the theme of religious cynicism explored in "Unforgiven". "My Friend Of Misery", about wallowing in self-pity, continues Metallica's exploration of mood musically and personal introspective themes that segues to the finale track "The Struggle Within", a song about battling depression that happens to be the fastest and loudest song on this classic album.
Metallica's eponymous fifth album in a row would become their biggest album of all time. But the bigger achievement is how they creatively managed to make 5 masterful classic albums in row on their first 5 tries. Not bad for a bunch of guys who made their first album in a decrepit music hall building in Jamaica, Queens not even a decade earlier.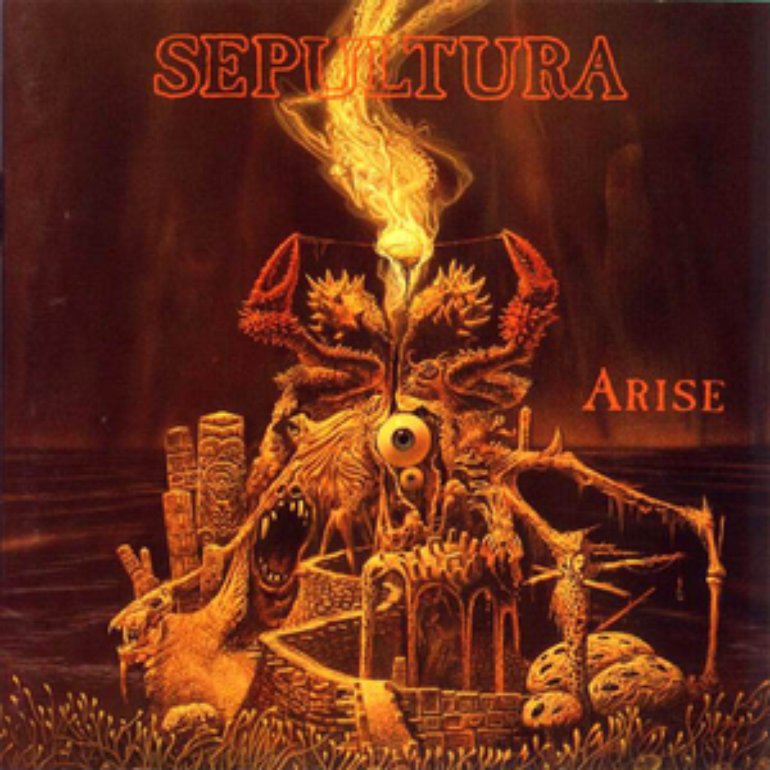 Sepultura, Arise
Following up their breakthrough album "Beneath The Remains", Sepultura emerged with the dynamic Arise. Featuring way better production, Arise is a wall of sound and apocalyptic fury that bludgeons you in the face right away with the title track where Max Cavalera growls about mankind's self-made obliteration over headbanging neck breaking chord progressions and hardcore beats, complimented by the stellar shredding by lead guitarist Andres Kisser.
The next song is the band's defining and greatest song "Dead Embryonic Cells", where Max's younger brother Igor really shows his improvement and inventiveness as a drummer, you can actually here elements of funk and industrial music during his trashing beats as Kisser comes up with chord progressing resembling Kamikaze dive bombing. Then the song about the existential dread living in a world of terror and weaponized technology progresses into complex chord changes and another blistering solo. The performance on this song is thistight.
"Desperate Cry" continues the bands experimentalism taking thrash metal to new dimensions. While the following track "Murder" slows the pace and brings it back to basics and is one of albums best songs addressing oppression and the penal system and the even better "Subtraction" brings it back to basics while reverting to headbanging speedy tempos in another grim song about individual greed.
Sepultura's experitmentalism gets even better on "Altered State". The intro to song brings a world music flavor for their fans with Brazilian percussion like something you normally here on a Peter Gabriel album, the band reverts to moshing chords but Igor C. subtly adds flourishes of tribal beats to the mix and then the band goes full speed ahead until another moody break comes in towards the end. The complex and tight playing on this is comparable to Rush.
The band gets even more experimental on Under Siege (Regnum Irae), a religious sounding anti-religion song featuring a solid groove metal track with spoken interludes. "Meaningless Movements" returns to their gold standard brand of thrash and Max C.'s excellent lyrics about false idols and power structures. The album concludes with the white noise riffs and hardcore rhythms on "Infected Voice".
Metallica may have made the biggest of the genre in '91, but Sepultura's  "Arise" was incomparably the best metal album of the year.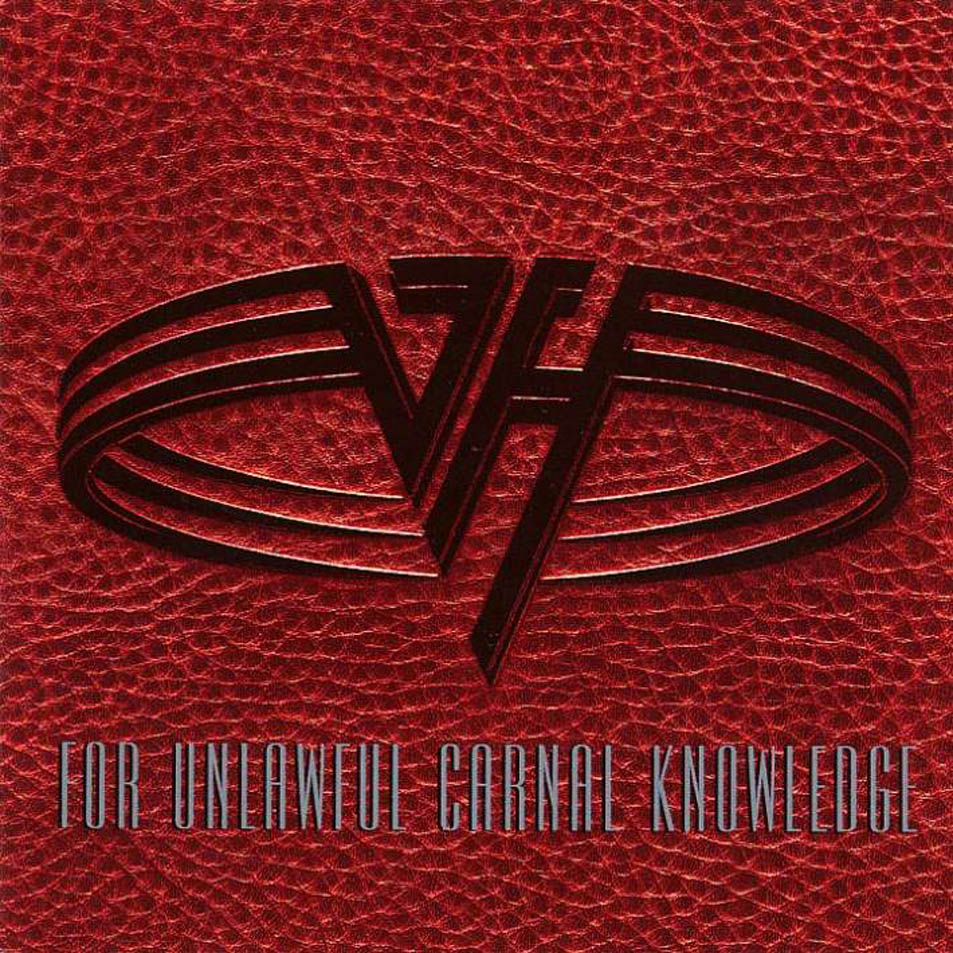 Van Halen, For Unlawful Carnal Knowledge
Going on 7 years without Diamond Dave, Van Hagar were able to exceed in record sales on their first two efforts with Sammy Hagar, the great 5150 and the ok OU812. But with commercial heavy metal starting to wane following the rise of the harder sounds of thrash and death metal bands plus the rise of alternative genre following the success of the Chili Peppers and Jane's Addiction, Eddie and Alex Van Halen and Michael Anthony were going to step up their sonic game in order to catch up with the competition and maintain their relevancy.
Wait, what am I saying, this is Van fucking Halen and the quality songwriting and colossus performance on For Unlawful Carnal Knowledge shows a band that didn't give a fuck what was trending and turned out to be one of their greatest albums ever, right up there with their '78 debut, 84's 1984 and their underrated monster 81's Fair Warning. Incidentally, FUCK actually takes after those three classics with Eddie's unequal innovative visionary fretwork and the Alex and Anthony's killer rhythm section. Also in the spirit of those albums, they keep the ballads off and Eddie only plays keyboards on one song (and it's the best one). Long time returning producer Ted Templeman gives FUCK a massive and incandescent wall of sound too, it almost sounds like the metal version of the Beach Boys Pet Sounds (Van Halen doesn't get much credit for their harmony singing) But Hagar actually exceeds his performance and even writing on FUCK, going for more depth than the usual topics of partying down, scoping chicks, getting laid, even though the whole album still is a party.
Speaking of scoping chicks, the first song is all about that in the molten first song and single "Poundcake" where Eddie takes a power drill to his guitar on the first notes, an indication that the shred legend was cognizant of rocks new generation by taking a trick from Sonic Youth's Thurston Moore, and he follows it with sparkling distortion chords over his big brother's big beat during Sammy's naughty food metaphors on another radio staple for the band.
Sammy get serious going after critics and criticizing religious zealotry and the band gets heavier on the semi-speed metal "Judgement Day". Following the ludicrous "Spanked", "Runaround" is another fast paced track driven by Eddie's nasty licks and riffs, reminiscent of their classic "Panama". But on "Pleasure Dome" is the first time the band gets musically exploratory on an entire song, as Alex Van Halen plays a free form jazz beat throughout the over 6 minute track, his greatest drumming since "Hot For Teacher, showing that even though his hot shot guitar slinger brother is the star of the band, it's easy to overlook Alex VH as one of the greatest musicians that ever played the skins along with Kieth Moon and Buddy Rich. While Hagar's lyrics are actually metaphysical here (or maybe this song is about getting hangover from his brand Cabo Wabo tequila) and Eddie VH solos take over the song towards the end, "Pleasure Dome" is Alex's tour de force.
Side B/6 starts off with the slide guitar riffing of the pounding In 'n Out, which is a song about working check to check and not about banging. Although the follow up "Man On The Mission" is all about courting a woman and banging her over a progression of nasty licks by the guitar legend. After these two excellent filler tracks, Van Hager saves their three best and most recognizable and memorable songs for last on Fuck. "The Dream Is Over" has one of the best hook intros ever recorded and Eddie goes to his slide bottle again and tears up his fretboard up on this catchy banger about self-reliance and survival.
Then there is the universal anthem everybody and every entity in the universe knows "Right Now", starting off with a virtuoso piano intro and precision vein chilling bass hits by Anthony, Alex and Eddie come on with the driving beat and piano hook as Hagar passionately delivers his motivational speech verses and the uplifting chorus. Then the song completes with inspiring shredding from Eddie. This pretty much was the best song on the album, even though the singles release coincided with a Pepsi ad, but the song is still capable of giving you goose bumps.
The album ends with the equally rousing "Top Of The World" which sonically segues perfectly from "Right Now" (and the brief acoustic track "316") although the song more about fucking the best woman in the world than total self fulfillment like the last song and the music suggests. But I guess that's why the band called the album FUCK.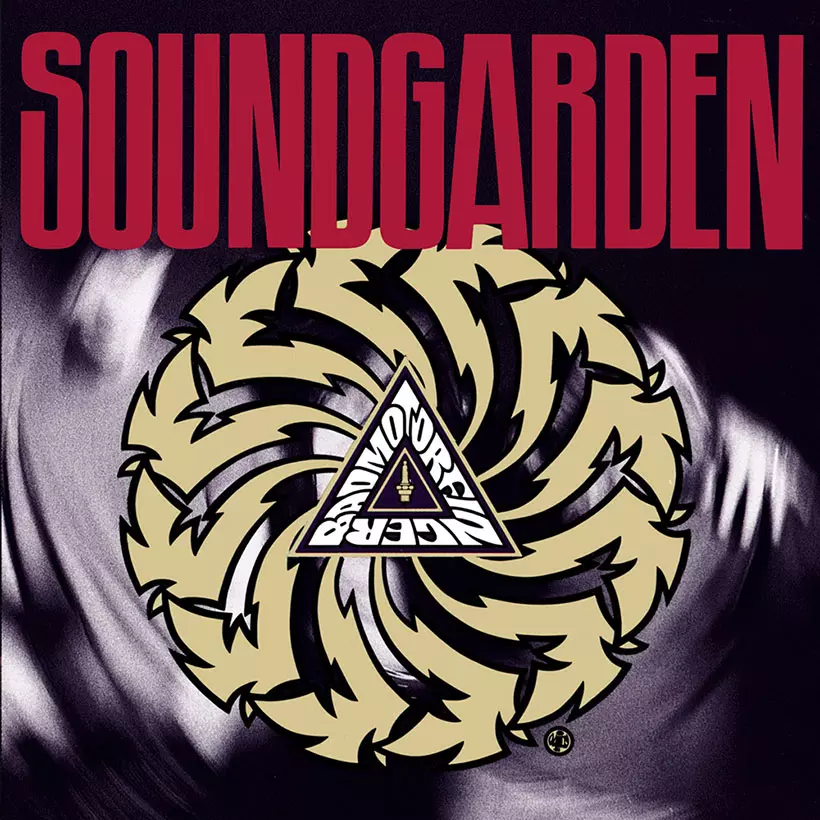 Soundgarden, Badmotorfinger
After struggling to get sales following critical acclaim for their SST classic Ultrameaga OK and industry hype for their lackluster but still great big league debut Louder Than Love, Soundgarden rode on the wave of the new popularity for adventurous and aggressive rock and roll and released the brilliant filler free Badmotorfinger. Starting with "Rusty Cage" beginning and driven by Kim Thayil's appregio riffing, late legendary frontman Chris Cornell wails on this graphic song about captivity and torture. Second song"Outshined"is a discordant blues jam that literally shines on the chorus with chiming riffs.
"Slaves And Bulldozers" is a pummeling dirge played with menacingly by the rhythm section of new bassist Ben Sheppard and drummer Matt Cameron along with Cornell's caterwauls and Thayil's repetitive high riffs and screaming solo on one of the album's best songs and famous tracks. Then it goes into the stunning first single "Jesus Christ Pose", where Shepard displays some nifty free jazz styles as Cameron plays a metallic rockabilly beat and Thayil conjures demonic white noise and riffs. Then Cornell rails against celebrity appropriation and false homages of the Son of God for 4 and a half minutes in one of the most unlikely hit songs of all time. "Face Pollution" has the band re-embracing their hardcore punk roots and expanding their already unique sound, which is unexpectedly and excellently accompanied by horns at the end. "Somewhere" is another successful transitory track, where their discordant tones are flourish with middle eastern and Beatlesque melodies.
Side B/2 continues the bands exploratory ascendance as one of rock's best bands with "Searching With My Good Eye Closed", it starts Thayil playing menacing Middle Eastern guitar licks as someone (maybe Chris) introduces the song by imitating the voice a see and speak game and then the song gets heavy and psychedelic as Cornell goes from moody to mercurial for nearly seven minutes in a song about the beginning of the afterlife.
Then that song's theme segues instantly into the monstrous "Room A Thousand Years Wide", as Cornell envisions a dimension of vast isolation, the chords and bending riffs and the sax solo and coda makes the track the most atmospheric performance on the album.
The detuned but tuneful balladic "Mind Riot" is a beautiful song about fate and death. On "Drawing Flies", Cornell draws inspiration from mental illness and destitution on another horn propelled jazzy rocking track. Final tracks "Holy Water" rails against organized religion and the wall of white noise "New Damage" railing against George Bush's invasion of Iraq and his promise and threat of a new world order ends the album with prophecies of doom and gloom and solidifies Soundgarden's legendary status as one of the greatest bands in history.
Melvins, Bullhead
The sudden interest for this album kinda came out of nowhere even though it was actually out for nearly a year and the reason for that is  Kurdt Cobain raved about this band in interviews as Nevermind cracked Billboard's top 10 and ranked this album number 2 on his top 10 albums of 1991. And listening to King Buzzo's opening riffs of Boris and off kilter but precision slow beats from Dale Crover and the influence on Nirvana made a whole lot more sense, because the buzzsaw riffs from Nevermind and Bleach really sounds a lot like the Melvins (Dale actually played a few songs on the their debut). Boris is 8 minutes of the creepiest evilist riffs that's ever committed to tape.
The next and best track "Anaconda" main riff is absolutely transcending and even more evil. "Ligature" is a moody slow headbanger and "It's Shoved" features Buzzo playing some sleazy licks as Crover plays a funky groove.
"Zodiac" begins side B/2 with single note riffing and hardcore trashing beats and their trademark breakdown . "If I Had An Exorcism" is the bands most musically experimental track even if the rest of the song is more of Buzzo's one note riffing, but he's probably the only guitarist that can that much atmosphere from that. "Your Blessened" is a massive track containing Buzzo's best solo on the album and the last song "Cow" contains dirty Iommi-like riffs and Dale's pounding his kit to kingdom come right to the songs coda.
It's hard to comprehend what Buzzo is singing about on this album, his lyrics are as non-decipherable as Captain Beefheart's. But that's probably the point, because the heaviness of the music is what your supposed to focus on. Bullhead is truly one of the best albums ever.
Death, Human
Although Death was already established as a seminal metal band for about 4 years and 3 albums, Human is the album that front man and lead guitarist Chuck Schuldiner broke out as the best and innovative songwriter in the early golden blackened era of death metal. On this legendary death metal classic, Chuck explores themes beyond tales of morbidity into tales of the mind on stellar tracks like "Fattening of Emotions", "Secret Face" ,"Lack of Comprehension" and "See Through Dreams" as the band's playing gets more stylistically intricate and progressive than other bands that were dominating ears and banging heads like Obituary and Cannibal Corpse.
The album does contain the genre's reliable graphic source material on the  "Suicide Machine" and "Together As One", songs about medically assisted suicide and freak shows, but those tracks deal more with emotional anguish than shock value. The final tracks, the instrumental "Cosmic Seas" and "Vacant Planets", Chuck introduces interplanetary and environmental themes to the death metal, taking it to new dimensions and standards that would leave a mark on the genre still dominant over 30 years later.
Morbid Angel, Blessed Are The Sick

Following their classic Altars Of Madness, Morbid Angel got more possessively, progressively creative, faster and louder and more demonic on Blessed Are The Sick. After the white noise intro by Trey Azagthoth, "Fall From Grace" and "Brainstorm" are necksnapping hardcore tracks about Lucifer's descent from the Heaven loaded with Trey's blazing riffs and shredding leads, the blast beats of drummer Pete Sandoval and the demonic vocals of bassist David Vincent
Following the hellacious battle hymm "Rebel Lands", Azagthoth deviates from death metal norms by playing synthesizer on the creepy "Doomsday Celebration" which segues into the hardcore ripper almighty defying "Day Of Suffering" The band slows the pace on the title track and even slower on the coda "Breeding the Rats".  "Thy Kingdom Come" and "Unholy Blasphemies" are apocalyptic black metal masterpieces that actually usurps Slayer's position as the world's most evil band.
The last tracks on the album then solidifies Morbid Angel as the premier metal band with the off-kilter trashing beats and grooves of damnation soul conjuring homage "Abominations". The following track "Desolate Ways" is a beautiful acoustic instrumental, and then it goes into the next aural ceremony of demon conjuring from the depths of hell with the jazzy trashing and shredding "The Ancient ones" and concludes with Trey's brief piano piece "In Remembrance, a fitting coda to the apocalyptic imagery conveyed by these black metal pioneers.
Pearl Jam, Ten
After their lead singer died overdosing on heroin in 1990 right when their debut album came out, the rest of the Mother Love Bone regrouped and hired surfer dude Eddie Vedder to be the frontman a little over a year later. And the result was Ten, one of the greatest debuts and rousingly emotional albums in rock history.
Like Soundgarden, Pearl Jam was in essence a metal band but didn't rely much on the Boss Distortion and were from Seattle too. But where their neighbors took their sonic inspiration from Sonic Youth and The Stooges, Pearl Jam progenitors were more like the Chili Peppers and R.E.M and came off like the 90's version of Aerosmith. This amalgam of funk, noise and atmospherics were evident on rocking jams like "Once and  "Why Go", hardcore jams like "Porch" and "Deep" and their immediate hits "Even Flow" and "Alive"
A retrospective review of this landmark debut would be remiss without mentioning Eddie Vedder introspective and introverted lyrics and emotional contribution to the band that shines brilliantly on the unforgettable ballads and standout tracks, the haunting "Black", the transcendence of "Release", the moody and resounding "Garden" and the topical and harrowing anthem of childhood angst, vengeance and gun violence "Jeremy"
Despite all the downer subject matter of Ten it would go on to be the second biggest selling album in the grunge era. And after the song Jeremy became a huge smash, school shootings would become a routine event nearly a decade later and beyond.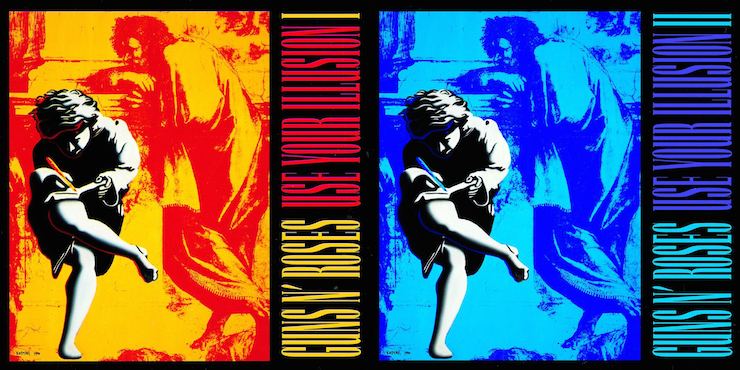 Guns N' Roses, Use Your Illusion I & II
After selling a zillion albums of their debut Appetite For Destruction, mercurial instant icon frontman Axl W. Rose must have felt a strong urge to give fans of Guns N' Roses more rock and roll for their dollar after waiting 4 years for a new album. So he and fellow instant icon lead guitarist Slash, guitarist Izzy Sradlin, bassist Duff McKagen and new recruit drummer Matt Sorum hit the studio and recorded 30 songs for two CDs and cassettes to make up for the lost time.
Although these are two pretty good heavy metal albums, this actually would have been better if it was pared down to one classic album and the rest of the filler was put on an EP like their last release Lies or if Axl would put his overly wrought ballads like "Estranged" and "November Rain" and self-indulgent concept tracks like "Coma" and his  outdated grudge anthem "Get in the Ring" (which targets rock magazines and publishers like Lou Reed once did on a live album) on a future solo album (which he practically turned the band into taking 14 years to make Chinese Democracy).
"Right Next Door To Hell",  "Perfect Crime", "Shotgun Blues" "Don't Damn Me" are breathless rip roaring rockers. Izzy contributes three songs that are actually some of the best songs on the album, "14 Years" "Dust 'n Bones" and the killer "Double Talkin' Jive". Axl's ballad "Don't Cry" is a pretty good breakup love song, although it shows up again on the second Illusion album as a reprise but is more is actually redundant. Also redundant is the remake of Wings "Live And Let Die". "The Garden" is a sinewy psychedelic metal track featuring Alice Cooper and followed by the hardcore sequel"Garden Of Eden".
But the best songs on the album(s) are the ones where the band stretches out and jams like on their greatest song, the opus Paradise City and most of them are on Illusion II. G N' R conjure the spirit of rock and roll progenitors from the Stones, Skynyrd, Aerosmith, New York Dolls, and even the Beatles and Elton John on tracks like the piano charged "Breakdown", the guitar shuffle of "Locomotive", the psychedelic middle eastern tinged "Pretty Tied Up", the relentless protopunk rager "You Could Be Mine" and their masterpiece anti-war anthem "Civil War"
While not as polished and structured like their landmark Appetite, there are lots of great songs here and the band brilliantly brought out and were able to integrate both their metal and acoustic sides on this expansive set, which makes it still a pleasure to sit through for a few hours even now. And Axl's sappy symphony ballads ain't half bad.
A Tribe Called Quest, The Low End Theory
A Tribe Called Quest was still riding high off their debut People's Instinctive Travels when they dropped the The Low End Theory and it instantly joined the pantheon of rap's golden age hall of fame classic albums and they did it perfectly with the release of their first single "Check The Rhime" in the summertime and the first lines resonated with the quickness.
"Back in the days of the boulevard of Linden, we use to kick routines and the presence was fitting."
Accompanied by a video where they are riding the actual boulevard, M.C.s Q-Tip and Phife's fond recollection of growing up and honing their rhyming skills in St. Albans, Queens immediately resonated with hip hop fans from their native New York to across the nation. The music produced by DJ Muhammad featured  infectious samples over bass heavy rock steady beat that made paths of rhythm natural for walking and cruising around neighborhoods and grooving at the parties and club.
The Low End Theory was almost like a concept album that emphasized the bass and getting the booty shaking, and these elements were fulfilled by the unofficial fourth member of Quest for this album, Ron Carter, upright bass player for John Coltrane's transcendent jazz albums on Impulse (notably A Love Supreme) who provided the low end for over half the songs. Two of them were the stellar opening  "Excursions" and the hardcore second track "Buggin' Out", where he provides the hooks on Q-Tip rapping about the band's new sound and mission and on Phife's stunning freestyle rhyming on the latter track. Phife continues his vast improvement on the mic on his first solo cut "Butter" about the difficulties picking up women and the ease in getting them after acquiring fame over Muhammad's infectious keyboard hook and jazzy beat.
Q-Tip grabs the mic for a bit of braggadocio and shoutouts to his MC peers on his next solo cut "Verses of The Abstract". "Show Business" is one of the first posse cuts on the album featuring two members of Brand Nubian and Diamond D, where they and Phife and Q-Tip rip apart the music industry for exploiting hip hop and their artists, which Tip also found a few verses to warn about on "Check The Rhime" and on his other solo track "Rap Promoter". Then Tip and Phife defly trade off verses on the sterling "Vibes And Stuff".
On "The Infamous Date Rape", Q-Tip tells a tale of sexual courting gone wrong over Ron Carter's creepy bass line and on his followup solo "Everything Is Fair" he tells the tale of a hooker and a groupie and their unfortunate fates over a Funkadelic verse sample providing the hook. Then comes the second single "Jazz"a straight forward track where the band sets a new standard for hip hop, rapping about their skills and their new sound over the head bopping beats and keyboard samples by Muhammad and Carter's stunning bass line.
Phife and Tip trade off rhymes again on the wah wah driven catchy advertisement of outdated technology "Skypager". After two minutes of Tip's waxing philosophical on the track "What?", that's song's ending would serve as the intro to the final track "Scenario", where the Leaders Of The New School join forces with Quest in the as the 5 rappers go wild style over a monstrous snare driven beat by Muhammad. Like the other singles off the album, "Scenario" became another hip hop standard and the most famous and greatest posse cut of all time and pretty much launched the career of Busta Rhymes.
Like Nirvana's Nevermind, ATCQ's The Low End Theory also became the album of a generation and influenced thousands of other artists of their genre with their second effort. Along with Public Enemy, Eric B And Rakim and their buddies De La Soul who introduced them, Quest elevated hip hop to even newer heights and solidified the golden age of rap legend that's still revered by the DJs of today that still play these jams.
Cypress Hill, Cypress Hill
1991 was a renaissance year for popular music, and with renaissances come cultural shifts that brings progress and change to the status quo. That's where Cypress Hill and their eponymous classic album comes in.
Hailing from Southern California, MC's B. Real and Sen Dog and DJ/Producer Muggs didn't fit into any category of hip hop at the time which had an West Coast/East Coast rivalry going on, although they derived their inspiration from both locales lyrically and musically respectfully. Like NWA, they rhymed about shooting up rivals on the crime ridden streets and derided cops on tracks like the doo wop drenched "Hand On The Pump", "Hole in the Head" and the leadoff track "Pigs", but the music was influenced by the grimy loops, white noise and minimalist hardcore beats sound pioneered by Public Enemy on "The Funky Cypress Hill Shit" and the killer first single "Phunky Feel One".
But the thing that distinguished Cypress Hill from the rest was their beloved devotion to marijuana on songs "Light Another" and "Stoned is the Way of The Walk", which led to a rise of awareness of the weed and led to a political uprising to get it legalized and rising sales for High Times magazines who put the band on the cover. What led to this rise to the hip hop dominance was "How I Can Just Kill A Man", a Travis Bickle inspired track about taking matters into your hands while living on the crime ridden streets over Stax soul rhythm and guitar skronk samples that immediately resonated with the hip hop and metal heads alike.
After rapping about guns and weed on side A/1,  B Real exhibits his stellar rhyme styling on the third single from the album "Real Estate", a braggadocio rap declaring using territorial rites over whack M.C.s looking to trespass and bite over Muggs sick beats and singular guitar riff sample, which wouldn't sound out of place on a Marley Marl album for Cold Chillin'.  Sen Dog and B Real devote two cuts to their Latino heritage on the eerie "Latin Lingo" and  "Tres Equis" and close the album with the old school party jam "Born To Get Busy"
Cypress Hill was the first Latino band to disrupt and dominate their music genre since Santana did with their own classic landmark debut album, and like they did at Woodstock, Cypress Hill would go on to steal the show at Lollapalooza a year later on the strength of their album and growing fan base, making their own mark on the zeitgeist while strengthening the movement for pot legalization; which has become a reality 30 years later. And reactionaries say stoners are listless.
Ice-T, O.G.: Original Gangster
Ice-T was on a roll at the turn of the decade, coming out with his best album The Iceberg, starring as a cop in the blockbuster crime drama "New Jack City" and performing to new demographics on the first Lollapalooza concert in 1990 and it naturally continued when he came out with his magnum opus O.G.: Original Gangster.
This sprawling collection of gangster tales plays like Iceberg Slim's Soul on Ice book on tape set to hardcore hip hop music, even if the various skits on the album takes away the flow (the album actually has 3 introductions!). Finally the album starts with the kinetic "Mic Contract" where Ice-T comes off like a hip hop mercenary over DJ Evil E's monster beats and cuts. Ice's soundtrack contribution from his hit film "New Jack Hustler" returns here, fitting perfectly in his tale of a remorseless opportunist recidivist villain over a relentless blaxploitation soundtrack car chase track and Sly Stone break beats.
On "Bitches 2", Ice-T does a critical take on his peers arbitrary use of mysoganistic lyrics by focusing on how men act like pussies by mistreating women and using other people for personal gain like his antihero on "New Jack".  But on the next track "Straight Up Nigga" he raps in solidarity with his peers over Evil E's militaristic breaks and scratches as he goes off about his right to continue using the word while directing it at virulent racists trying to malign him and bleeding heart liberals chastising him to stop using it. Then it segues to the iconic title track, like Ice's allegorical "Lethal Weapon" , Ice-T waxes nostalgic for how he rhymed about crime on the streets instead of rocking a party out while rhyming over the "Impeach the President" breakbeat. The first edition of the O.G. saga concludes with "The House", a news bulletin horror tale about child and drug abuse that's so brief it resembles how easily these stories get lost in the mainstream local news.
Side B/2 begins with a skit with Ice T dismissing a request to do a filthy sex song and goes right into the hectic speed rap showcase "Flyby" and the Black Sabbath sampled dirge gangbanger tale "Midnight". "MVP's" is a four minute jam of shoutouts to his hip hop peers from east to west, hardcore to pop (including MC Hammer, excluding Vanilla Ice) and then it goes into "Lifestyles of The Rich and Infamous", which comes off like a funky ET celebrity news segment about himself. Then there is "Body Count" where Ice-T invites his heavy metal band of the same name to jam for 4 minutes to fulfill his and their rock star aspirations. The song has heavy Suicidal Tendencies influence lyrically and musically, especially on the chorus. "Escape From The Killing Fields" has Ice advising his listeners to better themselves and flee from their urban hellscapes and the album's finale' "The Tower", Evil E slows down the Halloween movie them as Ice T raps a graphic tale about the systemic violence and cultural clashes in prison, evoking the inhumane conditions in 4 minutes nearly a decade before a whole TV show would portray it in a New Jersey prison on Oz. Ice-T's O.G. is the Scared Straight of hip hop's golden age albums.
Organized Konfusion, Organized Konfusion
As with the last 5 years when rap moved from 12″ single to full album format, lot of outstanding hip hop albums came out in '91 especially from young legacy artists from Ice Cube, NWA and De La Soul. But it's only fitting to include the overlooked and although the artist has to be East Coast. And nobody on the East Coast got even close to this dynamic duo from Southeast Queens, Organized Konfusion , who were ironically signed to a west coast label owned by the Disney company.
Whoever Mickey Mouse and co hired when they were scouting and found OK really knew their shit, because MC's Prince Poetry and Pharohe Monch had abundant skills to pay the bills. This is evident right way on the first three tracks;"Fudge Pudge" is 5 minutes of relentless rhyme play with an assist by label mate and fellow Queens rapper O.C.. On the soulful"Walk Into The Sun" has PP and PM trading verses about the nature of the streets of New York along with sampled hooks by Roy Ayers and Steely Dan. Then there is "Releasing Hypnotical Gases", the wordplay and metaphors by this duo about their incomparable rhyme skills range from space travel, middle east invasions and the periodic table of elements. "Prisoners Of War" is another mindblowing display of wild styling rapping featuring even wilder scratching and cutting.
OK  get comprehensive on the lowdown "The Rough Side Of Town" documenting the harsh realities of the streets of their hometown in South Jamaica but they still don't waste their breath slowing down describing them except on the shout along chorus. On their name sake title track, Prince and Pharohe revert to freestyle form again on a massive funky drummer mix and a sly sample hook of "What Condition my Condition was In".
On "Roosevelt Franklin", OK wax nostalgic about their childhood memories in the form of a street and academically smart kid. "Who Stole The Last Piece Of Chicken? is fun fast paced track homage to BBQ's and home cooking and playing rough on the streets, which also gets a slowed down finger licking good Richard Pryor sampled remix reprise at the end of the album which was actually the first single from the duo.
The album ends with arguably Hip Hop's first foray into gospel music "Open Your Eyes" where Pharohe and Prince proselytize inspirational verses and harmonize beside live organ playing and choral singers. The concluding "Outro", OK brings it home integrating old school rhyming with their new school innovative verbal hyper-syllable hyper-metaphorical wordplay.
Organized Konfusion also produced their debut album themselves, which they credited fellow Southeast Queens resident and legendary producer Paul C from nearby Rosedale, who discovered the duo and helped record the demos that got them signed but was brutally murdered at his home a few years before this album came out. It's no wonder why this masterpiece still transcends time…and the organisms.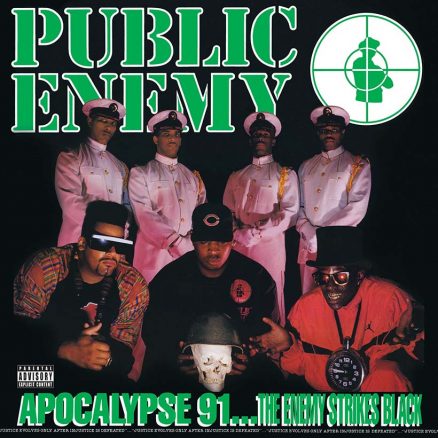 Public Enemy, Apocalypse '91: The Enemy Strikes Black
Coming swiftly after the sprawling hip hop classic Fear Of A Black Planet, Public Enemy wasted no time and dropped their fourth hip hop manifesto Apocalypse 91…The Enemy Strikes Black with a bigger and louder sound and messaging. Although long time producers The Bomb Squad is diminished here, Chuck D, Flavor Flav and Terminator X turn the beats, the rhymes and the cuts up to 11. Terminator X continues his turntable hero dominance from the last album on the furious DJ virtuoso intro "Lost At Birth" which segues into "Rebirth", which turns the beats up to 13 on the most menacing and hardest track they ever recorded as Chuck D takes one verse to remind the audience that he's still the hardest rhymer and then when that track ends cold and segues into the ghetto blasting "Nighttrain", Chuck rails inward against Black politicians, drug lords and thieves who take advantage of powerless Black people by using identity politricks. The bombtrack "Can't Truss It" compares corporate power structures as modern slave traders over old school style rhyming (Like Run Dmc's dum diddy dum) that uses a lot of nonsense words to make the message more accessible and palatable to the masses, ironically using the same tactics to sell P.E.'s own product.
Flavor Flav's first showcase track "I Don't Want to Be Called You Nigga" strikes black against people who annoy him by addressing and critiques against the normalization of the slur in hip hop and on the streets. On "By The Time I Get To Arizona", Chuck maligns that state's government for not recognizing Martin Luther King Jr.'s birthday on a menacing blaxploitation theme music track.
Apocalypse doesn't let up on its themes to motivate Black people out of apathy and alcoholism on the tracks "Move!" and "One Million Bottle Bags". Flavor gets topical again on the piano tinged "More News At 11". Then the hardest, heaviest anthem of the album comes in with "Shut Em Down", Chuck D.'s call to arms to sanction corporations taking from communities and not giving back to them over a behemoth beats.
The album ends with a third Flavor song ranting against the NY Post and the winning B side track "Get The Fuck Outta Dodge" a horn driven track about another routine illegal search by the popo and the inclusion of Anthrax's fistful of metal remake duet with the P.E. on their cover of their immortal "Bring The Noise".
Scarface, Mr. Scarface Is Back
Following the breakthrough success of the Geto Boys sleeper hit single (2nd best song of the year) "Mind Playing Tricks On Me" and the album We Can't Be Stopped, another surprise by the band was the release of MC Scarface debut solo album the same year "Mr. Scarface Is Back" one of the rawest and relentlessly ultraviolent works of art that came out. While the music culls the best of 60's and 70's soul from crates of Stax and Volt 45's, Scarface's drug lord fables and horror movie inspired lyrics are the hip hop equivalent of death and black metal.
"Mr. Scarface is Back" continues the saga set from Brad Wilson's song from the Geto Boys Grip It! LP. in a verbal reinterpretation of the drug lord's domination of the industry and the killing spree that followed. "The Pimp" adds to the anthology of pornographic sex tales by the Geto Boys, carrying on the tradition set by Blowfly, Schoolly D and 2 Live Crew. On the devastating "Born Killer", Scarface tells a tale of a hitman's killing spree and also the environment and mental condition that sealed his fate on the hardest and most cerebral track.
Following the high crimes detailed on "Murder by Reason Of Insanity" and "Your Ass Got Took", "Diary Of A Madman" is where Scarface documents mental breakdowns leading to acts of criminal violence told with remorse.  On "Money And The Power", Scarface brags and boasts in this fable about making bank in the drug game and financing his hip hop ambitions. On "Good Girl Gone Bad", Scarface doesn't mention a woman but he does get a son after whacking his father following a heist and a set up by his victim. Then there's "A Minute To Pray And A Second To Die", Scarface's noirish tale of exacting revenge on rival gangbangers who tried to rub him out over haunting loops of Marvin Gaye songs and winds up getting killed at the end of his hunt, which segues into "I'm Dead" where Brad doesn't realize he's in the afterlife where he will walk the streets where he committed his recidivist criminal acts in limbo.
Main Source, Breaking Atoms
On the legendary hip hop music hour on public television, Video Music Box, a video came on featuring a new rap group of two DJs and their bespectacled MC Large Professor, who's optically nerdy image was far from the mold of the typical MC around the time. Their song "Watch Roger Do His Thing" was also unique, for it wasn't a gangsta tale or a political rap, but about a dude working his ass off in school and winding up a success. The production was very raw too, with live synths and the DJ's Scratch and Kut cutting up jazzy break beats. While it was a damn good record, it didn't make much of an impact because the subject matter of achieving in life wasn't compatible with the gangsta rap that was dominating the charts.
Until the day when Breaking Atoms came out and their second single and hip hop classic break up song  "Looking Out The Front Door"was released. Without resorting to tropes (bitch bitch bitch), Large Professor rhymes his justifications for leaving his woman over brilliant loops of deep soul tracks and what Scratch and Kut's killer scratches and cuts.
And "Front Door" isn't the only classic on the album. Breaking Atoms starts heads nodding immediately with "Snake Eyes", where Professor instantly becomes one of the best rappers and producer's in the industry about street hustlers, false friends and acquaintances over a hard hitting snare, guitar and flute loops. Then there's the ethereal "Just Hangin' Out", with LP rhyming about chilling out on the streets over string arrangement and soulful guitar loops.
On "Just A Friendly Game Of Baseball", Large Professor uses his mastery of metaphors discussing the abuse of the badge and the inherent biases of the criminal justice system. Then there is masterpiece "Peace Is Not The Word To Play", where Large condemns the misuse and trivialization  of the word "peace" over a fast paced staccato beats and ends with the double lead scratching of the DJs reminiscent of Eric B. and Rakim's seminal "Paid In Full" (Large adds an even better verse on the the video remix)
Following the latin-flavored rant about whack MCs"Vamos A Rapior and the slamming "He's Got So Much Soul" is the other legendary definitive posse rap song that came out in '91 "Live At The Barbeque". Starting with horn crash samples from the Sweetback Badass Soundtrack and old school cadences on the chorus, LP and his crew spit lyrics about slaying all competitors. But as hip hop heads are aware, this is the song where Queensbridge Houses Nas, known as Nasty Nas, made his rookie of the year debut in the studio and on wax. Explaining how graphic and provactive his verse was cannot do it justice.
Street's disciple, my raps are trifle
I shoot slugs from my brain just like a rifle
Stampede the stage, I leave the microphone split
Play Mr. Tuffy while I'm on some Pretty Tone shit
Verbal assassin, my architect pleases
When I was 12, I went to Hell for snuffin' Jesus
Nasty Nas is a rebel to America
Police murderer, I'm causin' hysteria
My troops roll up with a strange force
I was trapped in a cage and let out by the Main Source
Swimmin' in women like a lifeguard
Put on a bulletproof, nigga, I strike hard
Kidnap the president's wife without a plan
And hangin' niggas like the Ku Klux Klan
I melt mics 'til the soundwave's over
Before steppin' to me, you'd rather step to Jehovah
Slammin' MC's on cement
'Cause verbally, I'm iller than a AIDS patient
I move swift and uplift your mind
Shoot the gift when I riff and rhyme
Rappin' sniper, speakin' real words
My thoughts react like Steven Spielberg's
Poetry attacks, paragraphs punch hard
My brain is insane, I'm out to lunch, God
Science is dropped, my raps are toxic
My voice box locks and excels like a rocket.
This album's legacy was solidified when Large Professor left the band the next year over money disputes with Skratch And Cut. And that's all.
U2, Acthung Baby
Coming off the lackluster Rattle And Hum movie and soundtrack, U2 were another band that had to update their sound and persona for the new decade and Bono and the boyz did just that with Acthung Baby. Besides the cool album cover, the new U2 was immediately felt on "Zoo Station", where Adam Clayton, The Edge and Larry Mullen Jr. throw down an industrial style racket with distorted bass riffs, dissonant guitar bends and oil barrel beats.
The next song "Even Better Than The Real Thing" is even better, the band bringing catchy hooks to the white noise and clamor and Bono's new style of lyricism in this song courting and copulating a woman (I'm ready for the laughing gas).U2 strips down the cacophony they embraced on the beautiful ballad "One" a break up song and also a hymm of loss and acceptance.
On "Until The End Of The World" a stellar track driven by Edge's sparkling chords and Adam and Larry reggae dub rhythms on Bono's take of the Last Supper.  First single "The Fly" is a straight rocker about media consumption and the basis of one of Bono's stage personas he would take on the bands high concept legendary Zoo Station Tour.
The sultry love song "Mysterious Ways" is filled with more of the Edge's distinctive catchy riffs. Bono comes up with some odd lyricism on the ambient and moody love song "Trying To Throw Your Arms Around The World". "Ultraviolet (Light My Way)" and  "Acrobat" are atmospheric tracks about devotion and alienation. The album concludes with the funereal "Love Is Blindness" about how love is misinterpreted and weaponized, driven by the Edge's discordant searing leads at the end.
While Acthung Baby didn't have the anthems of War or the hit smashes of The Joshua Tree, the album's updated sound and cohesiveness still makes it a great thorough listen as those classic LPs.
Teenage Fanclub, Bandwagonesque
After the success of Jane's Addiction and Lollapalooza and Sonic Youth playing sold out shows in 1990, the corporate music industry was chomping at the bit and circling like vultures to sign indie rock bands. The latter band which happened to be on DGC, scooped up Nirvana and wound up making mass profits from their monstrous success, becoming the biggest rock band since Guns N' Roses on the poppa Geffen label. Which probably was why they thought they can afford to roll the dice with Teenage Fanclub, who just came off a critically acclaimed debut album and heavy college rock radio play.
Although released with great fanfare and adored by critics as well, Bandwagonesque did not become the blockbuster DGC though it would be, although some songs on here were catchy enough to be huge hits, but they did wind up with a platter of major label product perfection. "The Concept" combines soaring leads with jangly chords and an ending that combines the harmonies of the Beach Boys with Neil Young riffage. The follow up instrumental "Satan" starts off with white noise amp distortion like Slayer's "Hell Awaits" and backwards masked vocals and then the band plays a hardcore jam that ends abruptly in 40 seconds.
Then for the rest of the album it's see why this band was worth all the hype because every song is absolute perfection, especially on the tracks "December", the stunning 80's new wave pop of "What You Do To Me", the bluesy "I Don't Know", and the ascending power punk rager "Star Sign".
Side B/2 starts with the Byrds meets Cheap Trick heavy jangle track "Metal Baby followed by the horn accompanied rocker "Pet Rock". "Sidewinder" is a silly love song with the a killer double lead. The album closes with three musically transcendent tracks; the slacker anthem "Alcoholiday", the melancholic "Guiding Star" and the discordant double guitar harmony masterpiece "Is This Music?"
While the band is not  original, they are basically to pop rock legends Big Star what the Black Crowes were to the Faces, two retro sounding bands giving modern takes to legendary bands whose great music did not reflect to great sales. But at least the time and the moment was right for Bandwagonesque to get the promotion it deserved.
Pixies, Trompe Le Monde
A year after Bossanova and Kim Deal's excellent side hustle band The Breeders debut, things got hectic between her and Black Francis as the Pixies were recording Trompe Le Monde. Although the "college" rock cum "indie" rock band wouldn't have a problem expanding their audience with the legacy they already had in only 4 years of existence.
The hostility between the band members rubbed off on the first three songs on the album, with the melodic thrashing title track and the raving punk rockers"Planet of Sound" and "Alex Eiffel" are new wave infused headbangers as Black Francis sings about aliens and the designer of Paris' most famous monolith.
"The Sad Punk" is another speed metal track that breaks down at the end in a song about dinosaurs and is followed by the band's first cover, a straight on take of  "Head On" by the Jesus And Mary Chain. "U Mass" is a glam rock style jam about the bands alma mater and "Letter To Memphis" is a metallic Big Star homage to that bands hometown.
The album slows down the pace  on "Bird Dream Of The Olympus", "Space (I believe In) and the skronky "Subbacultcha". The sci-fi themes resume on the surf rocking "Lovely Day" the folksy alien conspiracy jam"Motorway to Roswell" and the finale "The Navajo Know".
Released one day before Nirvana's Nevermind with their swan song Trompe Le Monde, The Pixies would add another classic to their discography. More high octane and metal than Bossa Nova, a lot of the songs were longer and none were sung by Kim, so even though the best qualities of the band were dispensed, it didn't affect the material because the songs were just too fucking good.
Mr. Bungle, Mr. Bungle
Two years after Mike Patton took over the planet with Faith No More with their breakthrough art/heavy metal masterpiece "The Real Thing", he came out with his band and their debut album Mr. Bungle, absolutely the wildest and weirdest genre destroying product ever released by a corporate major label and what makes this album even greater and more significant is that Warner Brothers was obligated to release this album for it was in Patton's contract to have his band signed when he agreed to sing for Faith No More!
Starting with "Travolta", which incorporates metal with circus music and industrial. The next track, "Slowly Growing Deaf" veers from trash metal to ska, to death metal and then lounge, could be the most commercial song on the album if the coda didn't have a recording of someone with explosive diarrhea appears in the coda.
"Squeeze Me Macaroni" is a Zappa inspired disco metal food fetish homage that features the DJ and guitarist Trey Spruance engaging in a scratch/shred battle. "Carousel" is a ska metal  killer clown warped nightmare track. On the thrash polka "Egg", Patton graphically sings/raps the birthing process from conception to existence."Stubb (A Dub) another ska track that gets disrupted by a showtune interlude about a dead dog. The metal trashing mad "My Ass Is On Fire" is the closest the band gets to Faith no More in spirit but the breakdowns and tempo changes is all Bungle.
"The Girls Of Porn" is the only song where it doesn't jump genres and is a straight funk  number aping the Ohio Players and the wacka chicka sountracks of the tracks subject matter. "Love Is A Fist" is a musical hot mess of lounge and free jazz and thrash metal. After a recording of a grade school PSA of titular namesake of this lunatic hour of music (once featured on Pee-Wee Herman's legendary HBO special), the album ends with the 10 minutes of circus and ambient music "Dead Goon".
Massive Attack, Blue Lines
The golden age of rap had a huge influence on the sound of modern r & b, resulting in the rise of the New Jack Swing in America and the creation of a new genre from England that combined hip hop with the bass dominant reggae dub called trip hop, pioneered by the trio Massive Attack on their debut Blue Lines.
Leading off is "Safe From Harm", an ominous track with guest singer Shara Nelson verses and MC 3D rhymes evoking gang violence on the streets and a paranoia similar to the Geto Boys "Mind Playing Tricks On Me". The title track, 3D, Tricky and Daddy G mumble freestyle over a jazzy beat. Massive then does a straight sample free remake of 70's soul standard "Be Thankful For What You Got. "Five Man Army" uses a classic Al Green drum break on Massive's posse dancehall rap track.
The penultimate track on Blue Lines is the monumental "Unfinished Sympathy", Shara Nelson takes the lead vocal again singing as a lover forlorn over a standard disco beat mixed with two drum breaks accompanied by furious DJ scratching and a live string section that crescendos at the end. There hasn't been a dance song this meticulously arranged and produced since the collected works of Barry White.
"Daydreaming" has Nelson providing vocals again as 3D and Tricky rhyme about political and cultural issues dominating their native Britain over a jungle beat and "Lately" is another head nodding song about loneliness. The album concludes with "Hymm Of The Big Wheel" a soulful and funky political ballad about the continuing inequitable divide between the haves and the have-nots.
My Bloody Valentine, Loveless
At the end of the 80's, an unlikely guitar hero emerged from England in the indie rock genre in Kevin Shields of My Bloody Valentine, who with fellow guitarist Belinda Butcher and their Fender jazzmasters  emerged with a new sound defined as shoegaze, which they perfected on the band's third album Loveless; a cacophony of transcendent sustained melodies.
"Only Shallow" hits your aural cavities immediately with chainsaw white noise hooks that refrain after each verse. The band sounds like the love child of Jesus And Mary Chain and the Coctaeu Twins. The tremolo drenched white noise on "Loomer" runs propulsive percussion similar to early Velvet Underground. On "To Here Knows When", Shields adds keyboards to give the song an orchestral feel to accompany the guitars droning hooks. Drilling high pitched skronk riffs envelope the hard driving and sugary "When You Sleep" and "I Only Said" is guitar driven track accentuated with seagull like sounds.
On the pounding metallic "Come In Alone", Shields evoke siren sounds from his tremolo leads. "Sometimes" is a slow building ballad with Shields and Butcher chugging their detuned jazzmasters as Shields adds keyboards to make the track ascend even further. "Blown A Wish" is a dynamic psychedelic sounding track with the guitars mixed backwards. "
What You Want" is a incandescent hard rocking track with Sheilds and Butcher's best vocals. The final song "Soon" starts with a sampled hip hop beat and then goes into full drive with a loopy keyboard riff and Shields and Butcher's dual white noise racket rhythm and lead playing.
My Bloody Valentine spent 2 years working on this masterpiece, which was laborious it took 20 years to make a follow up album. 9 years later, it's a safe bet that their 4th album is not realistic, but the omnipresent influence of Loveless will surely last for more generations to come.
Here's how they rank:
Nirvana, Nevermind
A Tribe Called Quest, The Low End Theory
Cypress Hill, Cypress Hill
Sepultura, Arise
Soundgarden, Badmotorfinger
Metallica, Metallica
My Bloody Valentine, Loveless
Scarface, Mr. Scarface Is Back
Van Halen, For Unlawful Carnal Knowledge
Ice-T, O.G. Original Gangster
Main Source, Breaking Atoms
U2, Acthung Baby
Organized Konfusion, Organized Konfusion
Morbid Angel, Blessed Are The Sick
Mr. Bungle, Mr. Bungle
Teenage Fanclub, Bandwagonesque
Melvins, Bullhead
Massive Attack, Blue Lines
Death, Human
(Tie) Pearl Jam, Ten; Public Enemy, Apocalypse '91: The Enemy Strikes Black; Guns 'N Roses, Use Your Illusion I & II
Honorable mentions, because this would take weeks to write them up.
Red Hot Chili Peppers, Blood Sugar Sex Magik; Matthew Sweet, Girlfriend; Prong, Prove You Wrong; De La Soul, De La Soul Is Dead; Kyuss, Wretch; Dinosaur Jr., Green Mind; Gang Starr, Step In The Arena; Naughty By Nature, Naughty By Nature; R.E.M., Out Of Time and Ice Cube, Death Certificate.