He knows when you are sleeping, when you are merry and when you are noisy. (Craig Ruttle/AP photo)
Manhattan
In Greenwich Village, two men with guns broke into a frozen yogurt shop as it was closing, pistol whipping two workers then rob it of $1,600 along with their iphones and wallets.
In the Financial District, a Bronx on-call drug ring selling coke, smack, and fentanyl to Wall Street residents and workers involved in real estate and advertising got busted for trafficking, driving a dealer attempting to escape the raid by jumping out a second story window.
In Soho, a block wide building scaffold shed collapsed by the busy intersection of Broadway and Prince St., injuring 5 people.
In Harlem, a woman set her apartment on fire when cops showed up responding to a emergency call of a mentally disturbed person.
Also in Harlem, during a police investigation by an apartment, a man came charging out waving knives in both hands and was subsequently shot in the leg after the officers demand to put the weapons down.
In Tribeca at the Chambers St. E line train station, a man flashed then stuck his scaly hand up a woman's skirt and ran out when it arrived at the station.
At Columbia University in Morningside Heights, a man stole $13,000 of Apple computers in two burglary attempts.
In Midtown at the Grand Central Terminal, a woman was assaulted by a man when she refused to give him her phone.
In Kips Bay at the 33rd Street station, a man and woman attacked and slashed a commuter at 4:15 a.m.
In East Village, a fire went off under a sidewalk shed that has been a drug dealing haven and an encampment occupied by homeless junkies for months.
Also in the East Village, two scumbags stole a bike off a holiday decorated tree fencing by cutting it with a power tool.
Also in Greenwich Village at the 14th st. F line train station, a 19-year-old man made violent threats against cops present there and proclaimed that he was going to assassinate every cop at a NYPD precinct in Elmhurst.
Bronx
In Fordham-Bedford, two male teenagers, one with a blade, got into a fight with a clerk inside a bodega and cut him during the scuffle. The two psychopaths then tried to escape in a livery cab but the driver refused to take them, so they attacked his three passengers slicing one of them and cut off his thumb when he tried to defend himself and his customers. The perpetrators got off on bail for $200, right on time for Thanksgiving. That's a good way to keep the jail population low at Rikers so the electeds can dole out parcel permits for predatory developers to build their blade runner towers.
In Morrisania, a man was being bullied and harassed by three teenagers. As he tried to defend himself, one of the turds sucker punched him and knocked him down and his pussy friends returned to kick the victim when he's down and defenseless and then stole what little money he had on him, which was 10 bucks.
At Concrete Plan Park in Foxhurst, a man attacked a woman walking there from behind knocking her out. When she came to, the letch was thrusting his body on her then bit her lip when she tried to defend herself.
In Middletown, three men invaded an 82-year-old man's apartment feigning to be exterminators, grabbed his throat and robbed him of $3,600.
In Soundview, a 15-year-old girl getting high with five men in a basement got raped by two men while three were waiting for their turn. She also had her cellphone stolen.
In the South Bronx, a city bus started smoking and caught fire with passengers on it at 6:45 a.m.
Queens
On Rikers Island on Thanksgiving Day, a C.O. captain was attacked as a prisoner sucker-punched and repeatedly swung his fists and beat him to the floor and then was kicked by two other inmates. His fellow captains ran towards the door with the other prisoners when the attack began and continued.
In Hollis, two men, one pretending to purchase food and one that pulled out a gun, robbed a fried chicken restaurant of $1500 at 1 a.m.
Also in Hollis, a man pretending to make a delivery forced his way into another man's house then his accomplice shot him in the leg when he got pushed back.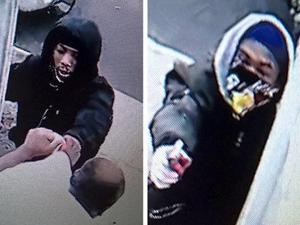 In Bayside, a man and woman are involved in a string of store burglaries on the same block, stealing a total of $4,000 in cash, tools and pharmaceutical drugs.
Also in Bayside, an elderly couple's home was invaded by 3 men, 2 brandishing guns, who tied them up and robbed them of 60 bucks and jewelry.
In Whitestone on Thanksgiving night, a man driving drunk hit then ran over a 71-year-old man crossing the street then abandoned his van and ran off but got busted when he tried to retrieve his vehicle.
In Ozone Park, a man was abducted by four men who repeatedly beat him in their car, then took his keys and tried to rob his apt, stole his wife's purse, then left in bloodied on the street.
In Sunnyside, a man was beaten on the street by two men coming out of and SUV, one with a baseball bat after he stepped out of a restaurant and had an argument with them.
Also in Sunnyside, a man held up a Pizza Hut at gunpoint and robbed it of $3,200 by forcing the manager to open a safe inside.
In Richmond Hill, a man stabbed another man in the stomach while brawling during a basement party after drinking irish whiskey.
In St. Albans, a man went berserk and stabbed his sister's boyfriend during an argument with her over who to invite over for Thanksgiving.
In Lindewood, 7 car thefts occurred in a span of a month.
In Jamaica Estates, a man tried to rob a Dunkin' Donuts and wound up with squat after he tried to rob the tip jar and jumped over the counter to steal from the register while waving a knife.
In District 29 in the towns of Cambria Heights, Springfield Gardens and Hollis, 5 middle schools have statistically the highest amount of violence among students in the entire city.
At John Bowne High School in Flushing, a brawl involving 6 students sparked by two male teens fighting over a girl were found possessing guns.
Also in Flushing, a man ran up to a woman and grabbed her ass and ran into an apartment building to hide.
Again in Flushing, a teenage boy held up a man leaving his house at gunpoint and robbed his iphone. He is also wanted in another mugging on Halloween.
And again in Flushing, a police sting on a massage parlor frightened a prostitute to flee and jump out a window, killing herself.
In Jamaica, an 18-year-old man shot his kid brother while fighting over a video game and made a 14-year-old boy who was with them try to hide the gun.
In Astoria, a man was held at knifepoint by a mugger who forced him to go to two ATM's on the street and withdraw money to give to him.
In Middle Village, a man tied his drug addict friend to his bed and forced medication on him against his will.
Brooklyn
In Starrett City, a man and a woman were shot at 3 times inside an apartment building over a drug dispute. The male victim died.
In Sunset Park, a food delivery man was attacked by 2 men who tried to steal the food he was carrying, then slashed him with a machete and robbed $140 off him.
Also in Sunset Park, a 14-year-old boy was struck and killed by a speeding BMW as he was crossing against the light.
In East New York, an off-duty detective engaged in an argument with another person and flashed his state government-approved and permitted gun at him at a chain restaurant.
In Bushwick, a fight between two men in a check cashing place in the early afternoon escalated into one of them getting shot to death.
In Prospect Park South, two men, one with a knife, threatened two workers in a store and robbed it of $300
In Bed-Stuy, a man held up a 7-11 at gunpoint and robbed $150 from the register.
Also in Bed-Stuy,  an argument between two men inside a grocery store escalated when on man stabbed another man in the face with a screwdriver.
In Greenpoint, a man was caught masturbating in front of a coffee shop window ogling a female employee, then went through the back door and tried to rob money from the register.
In Canarsie, a man punched his wife in the face giving her a bloody lip during a domestic dispute. Cops showed up but did not arrest him because he is a diplomat.
In East Flatbush, a massive fire engulfed a commercial building destroying two auto repair businesses
In Bay Ridge, a man drove his car off the pier and killed himself.
In various incidents in Bensonhurst and Bath Beach, three men stealing books and bookbags while another man was playing basketball beat him up when the victim demanded his property back. A man stole $8,500 from a unlocked truck. A man burglarized an unlocked apartment of $2,000 worth of merchandise. And a man punched another man from behind and stole his backpack.
In Crown Heights at 2:40 p.m., a 15-year-old girl got caught in a crossfire between two men during a drive-by and avoided getting shot.
Also in Crown Heights, a gun running ring was busted inside a house during a raid involving the NYPD and the ATF.
In Brownsville, a man jumped out of an SUV and brutally beat up a man on the street by punching him repeatedly in the face.
In Williamsburg, a father and his 2-year-old daughter were attacked from behind by a man who sprayed some kind of fluid on them.
In incidents in Marine Park and Flatlands, a man broke a car window and stole i.d. cards from it, and a man loitering in a shopping center robbed a walkie talkie from a security guard.
Staten Island
In Randall Manor, a 63-year-old woman walking down the street just steps from her house during the afternoon was randomly attacked by a man who stabbed her repeatedly and killed her. The man had 34 prior arrests and a history of mental illness.
In Dongan Hills, two neighbors involved in argument over car damage engaged in a knife fight resulting in both of them getting stabbed.
In Arden Heights, a drug dealer awaiting sentencing for his involvement of his pregnant wife's heroin overdose, nearly died the same way in his mother's house.