Who needs those idiots Mayweather and McGregor? We got the NBD bout of the week.
Manhattan
On the Upper West Side at 6:45 a.m., a street hassle involving two men arguing over traffic protocol escalated when the pedestrian, distracted by talking on his phone, banged on the drivers window, leading to the driver taking out a machete from his truck and swinging and throwing it at the pedestrian and missing him, followed by the pedestrian throwing garbage cans at the driver and ended with the two exchanging blows and flexing.
In Times Square, a man singing aloud and walking with his friend was slashed in the face by a man who thought his friend was disrespected when the victim blew him off.
In Midtown, a homeless man threw a brick at a window of a bar that inspired the hangout of that horrendous show "How I Met Your Mother?" and the reprehensible Bro, Brah and Broheim culture and craze. That's the show with Doogie Howser ,the exhibitionist from Forgetting Sarah Marshall, and the girl who stuck her flute up her pussy at band camp.
In Stuyvesant Town at the First Avenue train station, a man molested a woman by pelvically grinding on her.

In Murray Hill, 4 people got injured during a multiple car crash that included a garbage truck at 2:30 a.m.
In Greenwich Village, a civilian employee for the NYPD got caught trying to rob a bank on West 4th street by claiming to have a bomb.
On the Upper East Side, a man loaded on drugs lost control of his SUV, hitting a curb, mounting the sidewalk and crashing into a watch store, injuring 3 people.
In Union Square, 3 teenage boys robbed a cellphone off a display rack.

"I want 20's, I want 50's, I want 100's…"
In the Lower East Side and later in Noho, a man dressed like Spaulding from Caddyshack attempted and failed to rob 3 banks with an object in a flimsy plastic bag.
In Washington Heights, 2 men were attempting to steal letters from a mailbox using glue traps and string
At the Manhattan Supreme Court in Downtown, a prisoner tried to escape the holding area by shoving the D.A. and attacking the guards.
In Midtown West at Penn Station, a man on parole slashed another man in the face after an argument escalated between the culprit and the victim and his girlfriend on the subway platform.
In the East Village, a man broke into a church and burglarized it.
Brooklyn
In Brighton Beach at 6:10 a.m., a man sitting on a crate eating a bagel in front of a deli is confronted by a man who proceeds to conspicuously take out a knife, bends down to say something to the man sitting and stabs him once in the mid-section. The victim walks backwards away from his attacker and heads toward a cab that pulled over, then collapses. He is taken to a hospital where he died from his wound. The killer was known to pick fights with people in the vicinity.
In Canarsie, a 70 year old woman was found dead in her house, her legs bound in an electrical cord. Her adopted son is suspected in the murder.
Also in Canarsie, a 19 year old man was shot in the chest at the back of a house.
In Bed-Stuy, an 18 year old woman was injured after being shot at sitting in her car. This happened despite the ubiquitous presence of high end dining establishments.
At an apartment building in Crown Heights, two teenage girls, aged 16, were held captive and forced into prostitution by a couple in their early 20's. One of the girls attended an event sponsored by the Adminstration For Child Services a month earlier and afterward was brought to her unsuspected captors by a person who worked for the ACS.
Also in Crown Heights, a man chasing and shooting at other men on the street when he ran into undercover cops patrolling the area who then shot him when he refused to drop his weapon after he was still shooting for his targets.
And yet again in Crown Heights, the same wimp that tried to rape 2 women and got his ass kicked, attempted to rape another two women and got his ass kicked again.
hciL
Also in Clinton Hill, a man was stabbed on the street at 3:15 p.m.
In Bushwick, a thief broke into an electronic bike store and stole 7 motor powered bikes worth $10,000.
In Prospect Heights, an off duty correction officer nearly killed a man with his car who had a protection order against him.
At the Sutter Avenue train station in East New York, a man tried to wrest a gun from an MTA patrolman who was guarding a technician repairing a metrocard dispenser.
In Flatbush, 2 men are involved in a gunpoint robbery scheme involving meetups feigning to buy expensive merchandise ranging from stupid Iwatches and Iphones to grotesque sneakers designed by Kanye West.
In Coney Island, a man was caught driving drunk with his 7 year old daughter on his lap after he crashed into an ambulance.
In Prospect Heights-Lefferts Gardens, a woman broke a window in her apartment and tried to kill herself.
In Fort Greene, a burglar broke into an apartment building and ripped a laundry card machine from it's base, stole the money inside it and rode away on a Citibike. Two men wearing bandannas like in the old west robbed a man of his backpack at knifepoint at a bus stop. A cabdriver drove away with a woman's purse after she naively trusted him with it when she wanted to make a quick stop to the nearest market. And a man was beaten and slashed by 3 men while walking on the street at 9:45 a.m.
In Carrol Gardens, a man crept into a woman's apartment and stole her laptop.
Bronx
At the Gouverneur Morris Houses in Claremont Village, 3 men were wounded from being shot at.
Also in Claremont, a woman was sexually assaulted in an E.R. at a hospital care center by a man with a stolen I.D. and medical jacket.
In Port Morris, a woman was found dead at a warehouse in a closet resulting from beatings by her ex-husband, who hung himself a day later.
In Mott Haven, a man hit a bike rider and drove off, leaving him on the street with critical injuries.
Queens
In Richmond Hill, a woman double-parked on the street was held up by gunpoint, robbed then raped by two men.
In Long Island City at the Ravenswood Houses at 12:00 p.m, a man was shot multiple times to death by an gunman who fled the area and is still at large.
At the Grand Central Parkway in Jamaica Estates, a drunk driver caused a 4 car collision killing 2 and injuring 7 after he swerved 3 lanes to pass a vehicle in front of him and smashed into a guardrail and landed on the opposite road.
At a high school in Cambria Heights, an 18 year old man sexually assaulted a 16 year old girl after luring her to the basement.
In Flushing, 3 men traveling in a minivan are snatching purses off of random women and still on the loose. They have robbed cash and valuables worth over $10,000.
Also in Flushing at Kissena Park, a man raped two women on consecutive evenings, both attacks happened around 11 and 11:30 p.m.
In Hunters Point, a woman was robbed of her iphone by a boy riding on a Citibike.
In Woodside, a man snatched a purse from a car with the windows down.
In Queens Village, a 14 year old girl is reported missing who last seen on Hillside ave. at 8:30 a.m.
The Worst Fucking Transit System In The Universe
On Monday morning, a track fire ignited in the A train express tunnel by the 145th street station in Harlem, leading to a mass evacuation causing a shutdown of 4 lines which led to a massive overcrowding on the 1 train blocks away on Broadway for it was the only line accessible for transit service.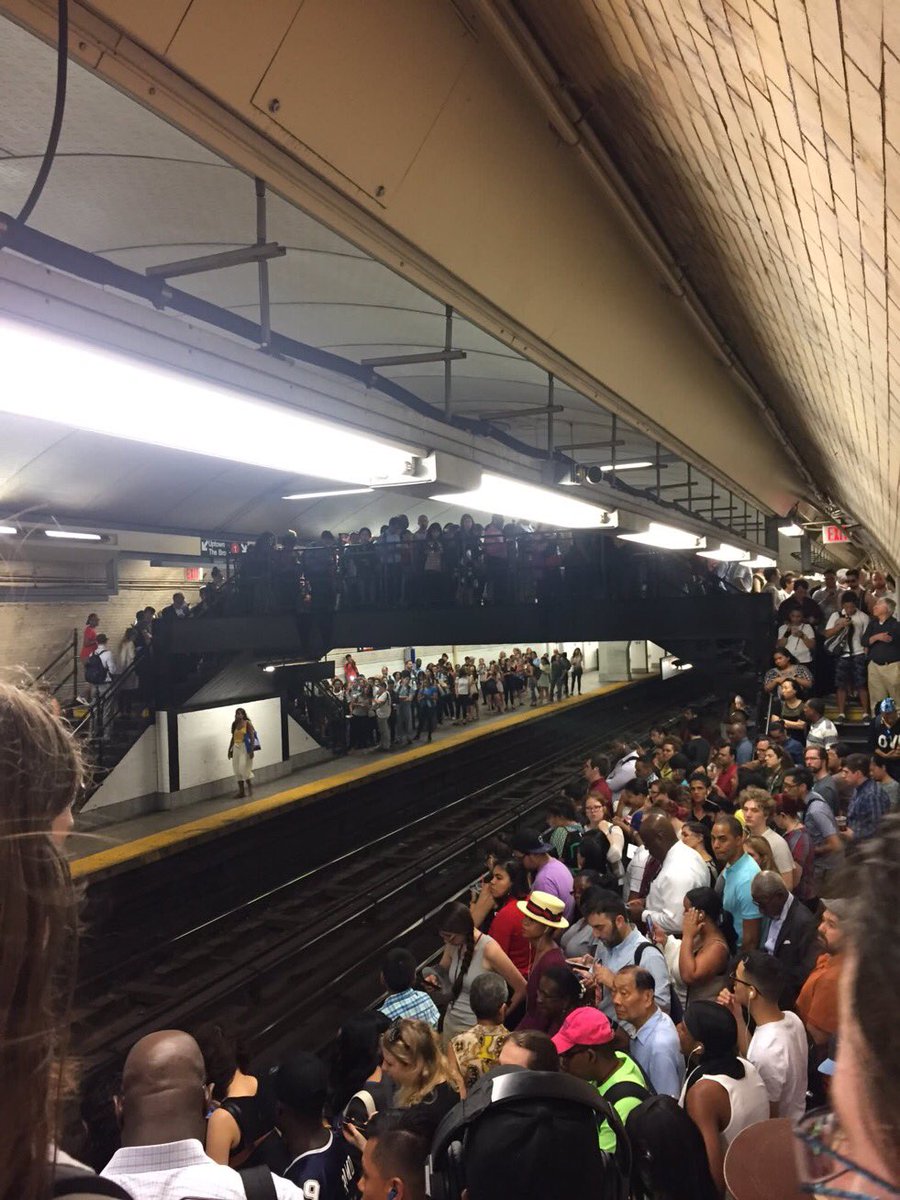 Interim Commissioner Joe Lotha's first response to the latest MTA atrocity exhibition; "We are not very good right now". His proactive response and solution. "Don't eat on the trains." No wonder he lost to De Faustio.
During the Friday morning rush, the Q train derailed by the Brighton Beach station resulting in delays on the line for the entire day.
And in the making the same mistake and expecting different result dept., the worst fucking and criminally undermined for decades transit system in the universe had a work train derail by the West 8th street station and after doing some repairs it derailed again 2 hours later when they tried to run it. It was revealed that the previous day that the car was faulty when it was operated at a railyard in Coney Island.
This week has been crushingly and oppressively humid. It can't be hotter than July after this last week and a half. On that note, here's Stevie Wonder with the proper sentiment.
And the inspiration of today's post title.
Faster