To start off chapter 90 of the New Bad Days chronicles of New York City, here is this tweet straight from some putz who works for NYC Council, trying to snarkily dispel any criticism or even palpable evidence that the city they represent is "dead". Well it may not be dead, but it sure is bleeding, wounded and fucking more dangerous than it's been in over 20 years (and fucking broke as well but that's for another inevitable post) with 121 percent more shootings this month compared to October 2020, emphasized by the shooting deaths of teenagers in gun and gang violence. And all this is happening during Mayor deBacle's recovery for all of us.
In October's post about NYPD's compstat index crime stats on the NYC Mayor's website and despite how it was pathetically white washed, there were 399 murders committed in 2021 which is just 8 shy of the total for the entire year of 2020. Other crimes that have exceeded the totals of last year are rapes with 1,241, robberies with 10,822, grand larcenies with 30,768 (!!!!) and auto theft with 8,084 (the only "improvement" is the decrease in burglaries even though there were still 10,000 committed).
Keep up the snark city council cronies, because those red flags only symbolize the blood that's spilled this month and all year long.
Manhattan
In Times Square at the 42nd St. Station, a woman got up from a bench and randomly pushed another woman off the platform and missed killing her by a second as the 1 train was arriving, but still caused serious injuries to the victim who fell back onto the concrete from the impact of getting hit by the train. Then the woman casually walked away.
The mentally ill woman had multiple priors for charges of assault and robbery, her most recent offenses were robbing a cellphone after scratching a woman's face and savagely beating down a woman on the A train after getting into and argument with a man who shoved her and a judge released her with a desk appearance ticket for breaking her victim's nose and knocking her teeth out. This time a smart judge imprisoned her on $100,000 bail and charged her with murder.
Also in Times Square and also at the same station, a man shot himself in the leg while taking a piss on the platform.
Again in Times Square at the 42nd St. Station on 8th Ave., a homeless man ripped the wallet out of another man's hand after he refused to give him money.
And again in Times Square, a man yelled racial slurs and threatened to stab a woman on the street in broad daylight.
And again in Times Square, a homeless man snatched a cellphone off a woman on the street and then shoved another woman onto the pavement when he was running away. The woman wound up in a coma after landing her head on the curb from the fall and died from her injury days later, leading the judge to charge him with murder at his arraignment.
And again in Times Square, a homeless man committed suicide by lying  on the asphalt under a parked box truck as the driver was unaware he was there as he started moving and ran over him.
In Harlem, two boys were shot in the back and head inside a fried chicken restaurant while they were eating dinner.
Also in Harlem , a man got into a shootout with cops at his apartment when they showed up to arrest him on a warrant for an assault he committed on his girlfriend and kidnapped their child on the street in the late spring. Then the man committed suicide by blowing his brains out during a three hour standoff with the cops.
Again in Harlem, a belligerent reprobate opened an emergency window on a city bus and climbed out of it while two passengers held onto him since the bus was still moving. The reprobate then bit and spat on a mans hand who was holding him and spat on the other man as they were preventing the jerk from hurting himself.  When the bus stopped, the reprobate spat on the other man who reacted by pushing him out along with his shopping bags. The reprobate then built up a wad of saliva and snot in his mouth and wouldn't leave until he spat on him again.
And again in Harlem, a 3-year-old boy fell out of a third floor apartment window and died through a crevice covered with cardboard that was taped next to an air conditioner when he playing on his bed.
And again in Harlem, a gang of four young men chased a 14-year-old boy down the street and into a city bus and then one of them shot at him twice, grazing his head and the bus driver on his hand.
And again in Harlem, an off-duty C.O. beat up his girlfriend in a domestic dispute at his apartment.
And again in Harlem, a 17-year-old boy got shot to death from a point blank blast to his chest when he came out of a McDonalds.
And again in Harlem, an infamous drug lord and FBI informant got shot to death while sitting in his pickup truck as he was dumping drugs out of his window thinking the cops were on his tail but it ultimately turned out to be rivals looking for revenge for a gangland murder of a fellow drug dealer and best friend 32 years ago. The dead snitch was also responsible for 12 other killings.
Also in East Harlem, a man crashed into a stone column while speeding on the exit ramp coming off the FDR Drive.
Again in East Harlem, an off-duty firefighter crashed his car into a parked vehicle while driving drunk.
And again in East Harlem, a man got killed while riding a citibike when he got hit by a car driven by a man with a suspended license.
And again in East Harlem, a man shot another man to death under a building scaffolding in the dead of night.
And again in East Harlem, a man known to be a nuisance in the area hassled a deli worker to give him store credit for loosies and threatened to shoot him when he got rejected. Then he went on a rampage and banged on the deli's windows, which provoked the deli worker, who came out with a golf club, and his co-worker to chase him away. But the man remained and got into a tussle with the deli worker, who swung the club at him and missed him and then the man stabbed him to death.
In Midtown, a man bumped into a woman while riding his bike on the sidewalk and called her a xenophobic slur.
Also in Midtown, hundreds of people told Mayor de Blasio to go fuck himself and called him an asshole as he was marching in the Columbus Day Parade with his minion staffers, who collectively clapped their hands and cheered the mayor so his ears wouldn't hear and his brain wouldn't register the derision and loathing from his constituents who are sick of his big ugly face.
Again in Midtown, a man running to be mayor of New York City ran into ongoing traffic against the red light and got hit by a taxi cab and broke his arm.
And again in Midtown, a man got caught stealing baquettes by a pregnant worker from a high end chain bakery but escaped after he punched her and knocked her to the floor.
In the Upper West Side, a man shot another man who was sitting in his car while parked during a drive-by.
Also in the Upper West Side, a man riding a citibike on the expressway got killed when an unlicensed driver hit him with his car.
Again in the Upper West Side, three teenage boys accosted an 82-year-old woman inside a movie theater and then stole her purse. The hooligans also robbed another woman's purse who saw the crime go down and robbed a man's bookbag on the way out. If anything, since they were allowed inside the building, at least they were vaccinated.
And again in the Upper West Side, a 71-year-old man caught a stray bullet in the leg from gangbangers engaging in a shootout nearby an elementary school. Three suspects hopped in a car and fled the crime scene.
In the Upper East Side at the 63rd St./Lexington Ave. Station, a 16-year-old girl climbed down onto the trackbed and decided to commute by foot to Queens by going through the subway tunnel. The girl was met by cops at the 21 st./Queensbridge Station who removed her from the tracks.
Also in the Upper East Side, a super freaky woman with a microphone ambushed Mayor-elect Eric Adams on the sidewalk as he was walking to a campaign stump with his powerful elected Democrat Party allies and then she disrupted their booster rally by asking Adams if he's a dirty cop.
Then the hilarious woman curses out fauxgressive council crony Ydanis Rodriguez and a security guard for getting in her way.
This is all you need to know about how they all felt about her presence. You can't be afraid of a woman with powder on her tits.
In Washington Heights, a man got shot to death during a drug deal gone bad in front of an apartment building.
Also in Washington Heights, a man attacked a woman napping on a park bench and ripped off her clothes and then attacked another woman nine days later at the same park and tried to rip her clothes off at knifepoint but the woman fought back and ran.
Again in Washington Heights, a 7-year-old boy died in a fire inside an illegal conversion basement apartment that was caused by a faulty power strip. The blaze also left his grandmother, father and two other relatives who lived there homeless.
In NoMad, cops on patrol caught three men suspected of pulling off high end in a black Benz with tinted windows by a restaurant, and when two patrol cars cornered them the driver sped down the sidewalk and nearly ran over dozens of people milling in front of a restaurant, compelling one of the cops to shoot at the vehicle and blowing out the windows and windshield. Two of the thieves then abandoned the fancy car and ran, but the cops were able to catch and arrest one of them trying to escape. The perp is currently imprisoned on a weapons possession charge and $50,000 bail.
The NYPD is linking these gunpoint heists to one gang and estimate that over $4,000,000 in jewels have been plundered in the last 3 months in 3 of the 5 boroughs. A most recent one was days earlier in Tribeca, two men ambushed a diamond merchant by his car after he walked out of a posh barsteraunt and held him up at gunpoint and robbed $150,000 of jewels and ran away with them.
In the East Village, a gang three young men, one of whom was 14, beat down a man and stabbed him multiple times on the pavement and stole his scooter.
Also in the East Village, a man grabbed a 12-year-old girl's crotch on a city bus and then she got off at the next stop.
Again in the East Village, a man stalked a disabled 80-year-old man to his apartment building and then held him up with a box cutter inside the elevator and robbed 60  bucks off him.
In Little Italy and the Lower East Side, a gangbanger went apeshit on random people on the streets; first he threatened a woman with a broken bottle at a cafe, then he snatched two butcher knives from a restaurant and used them to threaten random people including an elderly couple who were in his path. When the cops showed up and caught up to the lunatic, they tazed him multiple times but they had zero effect on him and then he broke north with the cops in pursuit while he was still wielding the knives and they tazed him again and shot at him but still couldn't take him down until they finally trapped the skell and tazed him a few more times and cuffed him. Maybe it's time to throw former commissioner William Bratton's weak ass tazers in a garbage incinerator.
In Stuyvesant Town, a grown ass man got into an argument an 11-year-old girl and then socked her in the face and pulled her hair and then began to choke her and then punched a 15-year-old boy who tried to intervene after she and a bunch of kids were hassling him and a friend of his passing by them while walking their dogs.. The hipster strangler worked with a non-profit organization that was dedicated for helping troubled kids and young adults. He also was a board member although the NPO is claiming he never had such a position despite his name saying such on their website.
In the Lower East Side, a man walked toward a group of men on a street corner and shot a 16-year-old gangbanger to death point blank at his face and wounded another man on the knee in a gang-related attack. A man and his girlfriend fleeing the scene of the crime tried to take shelter in a nearby cineplex but was refused entry until they showed vaccine passports. The victim was scheduled to appear in court for an armed robbery offense and was previously charged with vandalizing a teachers car when he was 13 and also multiple muggings of Asian people and had a murder case against him that got sealed in the last few years of his short life.
Also in the Lower East Side, a man taking a break sitting on a park bench after midnight after delivering food for an app-food service company got accosted by a stranger who sat down next to him and demanded he give him his ebike. Then the lowlife slashed him in the face and stabbed him in the gut and rode away with it, as the worker bled out on the sidewalk trying to catch him and then died hours later from his wounds. The victim recently bought that ebike a month earlier.
Again in the Lower East Side, a manplowed a NYPD sergeant with his motorcycle when he hit a barricade she was standing behind as she ordered him to stop at a checkpoint by the Williamsburg Bridge. The perp was tripping balls and didn't have a license.
In Greenwich Village, a man broke into cellphone store, four restaurants and a pet store and robbed cellphones, ipads and laptop computers worth totaling over $10,000 and $1,100 in cash in a 7 day crime spree.
Also in Greenwich Village, an argument between two men in front of a deli escalated when one of them pulled out a knife and chased his foe into the West 4th St. Station and then stabbed him in the gut.
Again in Greenwich Village, two men walked into a high end fash designer's store and held up it at knifepoint while threatening to shoot workers (?!) and they made off with dozens of handbags worth over $10,000.
And again in Greenwich Village, restaurants shanties are being utilized by homeless men for sleeping and sheltering themselves.
In the Meatpacking District, a man stabbed a security guard twice inside an upscale electronic brand chain store following an argument he had with the guard after he ordered him to put on a face mask and after he punched a worker in the face.
In Hudson Yards, two men on a scooter riding on the sidewalk sneaked up behind a man and the man riding saddleback hopped off and held him up at gunpoint and snatched a gold chain from his neck, then hopped back on and got away with his accomplice.
Also in Hudson Yards at the 34th St. Station, a man snatched a celly out of another man's hand and doused his face with pepper spray on the 7 train.
In Penn Station, two men started brawling in the spanking new Moynihan transit hub and when it spilled onto the street, they both took out knives and slashed each other in front of a pizzeria and left a crimson mess on the sidewalk.
In Hell's Kitchen, two men got into a brawl with two traffic cops who stopped them from going into the Lincoln Tunnel.
Also in Hell's Kitchen, a woman stabbed her boyfriend in the back inside her luxury apartment during a domestic dispute.
In Union Square, demonstrators marching in a protest against The Blaz's fascist extortion vaccine mandate stopped by a testing site and knocked over the table and the canopy and dragged it on the sidewalk.
Also in Union Square, a man shot a man in the leg in the subway on the NRQV platform during the start of the evening rush hour after he demanded his cellphone and his victim wouldn't comply. The NYPD transit chief actually said the victim should have gave up his property while spinning the act of gun violence occurring on a crowded heavily used subway station as a rarity and making a ludicrously false claim that the subway is safer than ever.
The perp held up another bank in Chelsea the next day but got caught and arrested by cops when he tried to take the 1 train at the 28th St. Station (but were the cops wearing masks??) and was caught with three guns in his backpack. Following his arrest, it was found that he robbed a bank at gunpoint and made off with $1,100 in Chinatown before he took the train to Union Square and stuck up a man ordering food inside a deli and robbed him of 45 bucks the day before in Midtown. The perp tried to preserve what little self-respect he had by cursing out the prosecutor and the judge during his arraignment.
In Downtown Manhattan, a man with 136 prior arrests that was about to be transferred to Rikers Island attempted suicide by trying to hang himself in a holding cell at the central booking jail in the criminal court building. He still died from his injuries.
Wonder why he would decide to snuff it?
When pressed about the continuing dystopian ultraviolence and uninhabitable environment at Rikers after photos were finally published of the deplorable conditions at the few facilities left on the island and a  new expose of women C.O.'s getting sexually assaulted by prisoners, The Blaz naturally blew them off with non sequitor talking points, deflecting his responsibility for the disintegration of order and humanity of the island prison complex, even though his idea to close it for good has turned the jails into modern day medieval dungeons; illustrating once again that he doesn't like to be reminded of things he already knows.
Also in Downtown Manhattan, a man was found dead lying on top of a wrought iron fence like a wet blanket at a park near NYPD headquarters. The man died overdosing on smack, which follows Governor Kathy Hochul decriminalizing the possession of syringes. 
Again in Downtown Manhattan, a man was found dead on a bench by a pier at tourist attraction South Street Seaport.
In Chelsea, a man smashed the windshields and windows of cars with a long piece of wood and proceeded to walk to NoMad to cause more damage when three men who witnessed his violent vandalism followed him and cornered him in front of an office building and one of them snatched the blunt object from his hand and then cops arrived to the scene and collared him.
Also in Chelsea, a man got caught shoplifting a robot vacuum cleaner by security guards inside a home department store and then they escorted him out after he stuck a knife up at them.
Again in Chelsea, a man sneaked into the basement of a Mickey D's and stole wallets belonging to the workers, then he used their credit cards to buy lunch and dinner at the same place he robbed.
And again in Chelsea at the 28th St. Station, a man walked up to another man and asked him a bizarre question and then cracked a bottle over his head.
And again in Chelsea, a pro soccer player and his friend sexually harassed a woman on the dance floor at a rooftop party at a fancy hotel and then they both beat down a man and cracked a bottle over his head when he tried to defend her. The horndog athlete was charged in a similar incident with another friend of his in Australia 3 years earlier.
In Kips Bay, a man shoplifted a load of electronic and pharmacy products and grub in two duffel bags from a chain dept. store and then he flashed a box cutter to security guards and easily waltzed out the door.
Also in Kips Bay, a man lifted a wallet out of an 89-year-old man's pocket while he was shopping at a supermarket, then he used one of the credit cards to spend $1,200 on shit. The crook got busted for stealing a wallet back in August despite still being on parole and despite his recidivism and recent arrest, the judge released him on his own recognizance.
In Noho at the 8th St. Station, a man hectored two cops patrolling the platform for not wearing face masks, then one of the cops grabbed him and bounced him out through the emergency exit door.
In the Financial District, the Department of Homeless Services run by townhouse owning Windsor Terrace resident Stephen Banks sent 5 registered pedophiles to shelter at a hotel near four grade and pre-k schools.
On the Williamsburg Bridge, a man killed himself after falling off the J train while trying to surf it and onto the opposite tracks as another train ran him over.
Also on the Williamsburg Bridge, a man riding an bike stabbed another man on a skateboard in the chest after they got into an argument on the bike path, then the perp got off the bridge and rode his bike to a park and stabbed another man. The same park where a lowlife stabbed an app-food delivery man to death for his e-bike.
A man punched a woman in the face after she told him to take a chill pill on the D train.
Two couples got into some dead ass fucking on the subway and on the street next to a dollar pizza place.
Bronx

In Soundview, two men walking on the sidewalk suddenly stop and then they both pull out guns and engage in a shootout in broad daylight like they were cowboys as a woman was walking towards them with a shopping cart.
Also in Soundview, a student got pinched by safety agents in possession of a gun after he got scanned. He also had a bag of weed on him but that shit is legal now.
Again in Soundview, a man got shot in the leg twice inside an elevator at a public housing building and died from ruptured artery.
And again in Soundview, a man got killed by a hit-and-run unlicensed driver when he tried to cross the expressway on foot. His mother believes he was chased there by a criminal who mugged him while trying to get away.
In Morrisania, two gangs engaged into a shootout across the street from each other and nobody got hit, even innocent bystanders.
Also in Morrisania, cops catch a man possessing a gun on the street and then get bombed with eggs from residents in an apartment building on the same block as they were trying to put the man inside the patrol car.
Then dozens of cops break into the apartment building by prying the window off the front door trying to catch the egg chuckers but were unsuccessful.
In Hunts Point, a 13-year-old boy got shot on a basketball court in the middle of the game in broad daylight by another 13-year-old boy over a feud they got into while dissing each other on a social media platform. The young gunslinger walked away as a friend of his followed on a bike.
The boy was involved in menacing anti-social behavior with gangs before he sought vengeance against his snapchat foe. The mother of the problematic child  turned him in to face charges of attempted murder.  The mother of the victim demands why the NYPD cannot prevent guns that are easily getting into the hands of inner-city kids. 
Also in Hunts Point, an inmate attacked two C.O.'s who were trying to remove him from a housing area in the barge prison and then other inmates intervened and all of them savagely beat them down with tables and chairs. Prison violence has doubled in the last year since the city started depleting C.O personnel, leading to more attacks against C,O,'s, and more use of force against prisoners. Slashings and stabbings among inmates have also doubled.
In Mott Haven, four rowhouse apartment buildings went ablaze in a four-alarm fire and added more city residents to the homeless population.
Also in Mott Haven at the 138th St. Station, a man attempted suicide by jumping in front of the arriving 6 train but he survived.
Again in Mott Haven, an 18-year-old student refused to enter his high school because of the metal detectors and he ran away and ditched the gun he was holding inside the campus.
And again in Mott Haven, a young man got shot in the thigh after a confrontation with two other men on the street.
And again in Mott Haven, a man broke into a chain fried chicken restaurant by breaking the window with a cinderblock and crawled through the window and then slithered under the plexiglass by the cash registers and robbed a safe containing 2 large.
And again in Mott Haven, a man got shot on the sidewalk in front of an apartment building.
And again in Mott Haven, a man got stabbed to death in the vestibule of an apartment building after his killer chased him on the street and caught him trying to hide in there.
And again in Mott Haven, a juvenile holding facility has seen a rise in violence among  residents and security personnel and weapons confiscations happening on a daily basis in the past 4 months. The federal monitor also revealed non-existent record keeping by the center's management staff. Like Rikers Island, here's another case of systemic rot being neglected by a city agency, this time by Mayor de Blasio's Departments of Social and Administrative Children's Services.
In Foxhurst, two men walking past a man in a red jacket on the sidewalk both pull out guns and shoot him in broad daylight.
Also in Foxhurst, two construction workers wound up with broken bones and are lying in critical condition after a scaffold collapsed under them causing them to fall 20 ft to the floor inside a building.
Again in Foxhurst, a man held up three bodegas at gunpoint in seven hours but got caught by the cops at his last heist got into a shootout with them. Then the man ran away as the cops were still shooting at him but eventually got collared.
In Norwood, a man shot another man twice in the basement of an apartment building.
Also in Norwood, a gangbanger got shot twice while getting his haircut in a barber shop by two other gangbangers who took turns shooting him in retribution for his recent switch of allegiances to his current sect.
In Pelham Bay, a 17-year-old boy got shot in the back twice while he was walking on the street late in the evening.
In Wakefield, a man shot at a car passing by while he was walking on the sidewalk and missed his target as stray bullets blew out a window on a parked car and went through a window of a man's apartment while he was inside. The gunman ran away with his accomplice and they're still on the loose.
In Mount Eden, a gang of four men pounced on a man coming out of an apartment building and beat him down on the staircase and stabbed him in the chest.
In Claremont Village, a man stalked a woman on the street and into her apartment building, then he chased her and tried to barge into her apartment.
In Claremont, a man molested 2 kids in a daycare center he was running at his apartment.
Also in Claremont, a man demanded money from cashiers at a smoke shop and then he got ass kicked by them when he climbed over the counter.
In Highbridge, a man got shot in the chest following a confrontation with two men by Yankee Stadium.
In Fordham, a woman got stabbed on her side multiple times following an argument with another person.
In Fordham Manor at the Kingsbridge Road Station, a man grabbed a 16-year-old girl's ass.
In Kingsbridge, an 85-year-old man got accosted by a much younger man who ran out a car and held him up at gunpoint. The elderly man resisted despite the visible threat and smacked his aggressor in the hand. Then the thug kicked him in the legs twice and stole his victim's wallet as he laid on the pavement.
In Woodstock, a man riding a miniature e-bike got jumped by two men on the sidewalk. Then 3 other men and a woman arrived and cornered him against the building while trying to steal his bike and then they all ganged up on him and threw rocks and bottles and also tried to whack him with a stick but one of them managed to slash him before they all ran away.
In Melrose, a man shot another man to death by blasting him in the chest on the sidewalk in front of a public housing building. Residents of the Albany Houses and the area have become numb to the frequent shootings happening every day.
Also in Melrose, a woman got shot on the street in front of an apartment building.
In Norwood, a man shot at a 16-year-old boy in a drive-by shooting and hit him on the knee while he was riding on the sidewalk.
In Schuylerville, a mentally ill homeless man wrapped in a dirty blanket grabbed a 3-year-old girl away from her grandmother and ran down the block as her two other grandchildren stood at the corner and panicked. A street sweeper and a Samaritan who came out of his car stopped the lunatic and made him let go of the child and then the kidnapper got on a scooter and rolled away but was all smiles during his perp walk and arraignment.
In City Island, a traffic cop got caught jerking off inside his car.
In Charlotte Gardens, a 5-year-old boy fell out his bedroom window by opening a slat that was covering a gap between the sill and the air conditioner.
In Crotona Park East, a 17-year-old boy got caught possessing a gun he tried to sneak into his school by safety officers. His mother tipped the school off.
In Concourse, two gangbangers got into a shootout on a street nearby a public school as kids were leaving the building at the end of the school day.
In Castle Hill, a man got shot in the hand on the grounds of the Castle Hill Houses in a gang-related attack.
In West Farms at the East Tremont Ave. Station, a man sitting on a bench got slashed on the wrist by a man he mouthed off too.
In Van Nest, a man took his dick out on a city bus and masturbated in front of a woman and a 9-year-old girl.
In Riverdale, a man got killed by a hit-and-run driver in a Benz as he was crossing the street while commuting home from work.
NYPD and ATF agents arrested an off-duty NYC Transit worker for possessing automatic rifles and guns he assembled with parts he ordered online from his apartment.
13 teenage gangbangers were indicted for the gang warfare shootings of a 13-year-old boy and 16-year-old boy back in September.
Brooklyn
In Crown Heights, a man shot at two men in the lobby of an apartment building, killing one and missing his other mark as he f at the Albany Houses.
Also in Crown Heights, a man jacked a car and then crashed it into a funeral home where a wake was happening at the time and while children were playing outside. Then he and two of his accomplices ditched the wheels and ran away.
Again in Crown Heights, an off-duty fireman crashed his car into a parked car while driving drunk.
And again in Crown Heights, a cop approached a parked car with four men inside smoking weed and demanded the driver to come out. When the driver did, the man riding shotgun grabbed the wheel and hit the pedal and drove over the cop's patrol car on two wheels and easily escaped despite the cop using his shitty tazer gun to stop him.
The daredevil driver abandoned the car a half mile away from where he pulled the playstation 2 stunt.
And again in Crown Heights, a man got shot in the face from a bb gun from a drive-by while he was walking on a street corner.
In East New York, a man stabbed another man to death after they got into an argument in front of the apartment building where they both lived at. The two men were long-time friends.
Also in East New York, a man got killed after he got into a car accident and while he was exchanging information with the other driver and a cop, a drunk driver speeding on the freeway rammed into an NYPD cruiser and knocked him over the median and fell to the ground.
Again in East New York, a woman got killed on the street when a stray bullet hit her in the head that came from a man who was shooting at a group of other men on a street corner.
And again in East New York, a woman caught 4 stray bullets to her leg and torso in the crossfire from a shootout between two men right in front of an event center where she attended a baby shower.
And again in East New York, a man stabbed a woman to death for stealing his car.
In Cypress Hills, a man got murdered by a hit-and-run driver who ran the red light and ran him over while he was crossing the street while walking his bicycle, commuting home after a hard day's work at a bodega.
Also in Cypress Hills, a dead woman tied up with duct tape and wrapped in a comforter blanket and covered in a economy size garbage bag was found on the street nearby a luxury public housing that's still under development.
In Brownsville, a man got shot to death by a rival gangbanger on the street in broad daylight as he was walking to his mother's house.
Also in Brownsville, a woman and a man attacked another woman threw her to the pavement, causing her head to land on a bioswale fence. The the woman savagely beat her down to the ground and bashed her head on the fence again and robbed her purse. Then the woman continued to pummel her victim even while she was unconscious.
Again in Brownsville, a man shot two men hanging out on the street, hitting one in the chest and the other on his arm.
And again in Brownsville, a man got shot to death inside an apartment and was found under the bed by cops after detaining two women and a man who were hanging out there.
And again in Brownsville, a man got strangled to death after getting into a brawl with a homeless man who owed him forty bucks up on the roof of an appliances store.
In Bed-Stuy, a junkie beat up two paramedics inside the ambulance and while they were treating him after they found him unconscious from an overdose. He also brutally beat down one of them on the pavement when the victim tried to flee. A judge released the violent dope fiend the next day without bail.
Also in Bed-Stuy, a man speeding down the avenue in his car killed a man riding a motorcycle when he lost control of his vehicle.
Again in Bed-Stuy, a man got pissed off at a deli worker who bounced him out his store for scaring customers and also slashed his hand, so he came back and threw a molitov cocktail inside the store and caused the front counter to go up in flames. Then the pryomaniac lit up another one but a Samaritan batted it out of his hands.
And again in Bed-Stuy, man fatally shot near his Brooklyn home, a man shot another man to death as he came out of an apartment building.
In Bushwick, a man shot at another man on the street to win an argument. His debate opponent wouldn't say shit to the cops.
Also in Bushwick at the Aberdeen St. Station, a man pushed another man onto the tracks when he couldn't rob anything off him.
Again in Bushwick, a man got shot to death in front of Mexican restaurant after he ordered tacos in a gang-related attack.
And again in Bushwick at the Wilson Ave. Station, a man snatched a phone off commuter on the L train and got chased down and caught by a cop on the street.
It wasn't reported if the crook's mark was napping during the larceny, but a chunk of robberies on the subway was because the mark was dozing off at the time. Meanwhile, robberies and other felonious violent crimes have gone up since summer ended and current Mayor de Blasio sees absolutely nothing urgent about these trends.
In Sunset Park, a fire engulfed a rowhouse apartment building that caused injuries and homelessness to 16 residents.
Also in Sunset Park, inhumane conditions resurface again for inmates at the Metropolitan Detention Center with complaints about shitty food, broken toilets, no electricity and C.O. under staffing. Here's hoping Jeffery Epstein's platonic girlfriend is O.K.
Again in Sunset Park, two men got ambushed by a gang of four men who jumped out of van and beat them to the pavement with sticks and bats and made off with their wallets and a bicycle. Making the two victims statistics of the rise of over a thousand felony assaults from last year.
And again in Sunset Park, a man driving a Benz ran the red and crashed into another car and killed the driver. Then he and his passenger ditched the vehicle and ran only to get caught by the cops in pursuit of them.
And again in Sunset Park, a man got shot to death in the lobby of the apartment building where he lived and where he survived getting shot twice at the same spot back in June. Both attacks were gang-related.
In Fort Greene, a man on a bike rode up to a 65-year-old woman on the sidewalk and got off punched her in the face and dragged her on the pavement while trying to steal her purse that contained money she earned turning in recyclables at the supermarket, but gave up when she persisted his attempt to rob her and he rode away on his bicycle.
Cops wrongly arrested a man who they thought was involved in the savage mugging.
And again in Fort Greene, a man who murdered another man from New Rochelle got into a shootout with cops who left their jurisdiction in Westchester and pursued him to a NYCHA building he tried to hide in.
In East Flatbush, two men held up a man and a woman at gunpoint in an attempted robbery but the man was and NYC Parks cop who was armed and both men engaged in a shootout. As the cop shot one of the gunmen, two of the muggers accomplices arrived and shot the couple from behind and the cop fired back and managed to wound one and kill the other man.
Also in East Flatbush, a man got shot in the leg and then got dumped onto the street after being pushed out of a car. He bled out and died from his wounds many hours later.
The victim's brother got shot to death execution style by a gang of four men on the street when he was 18 over twenty years ago.
Again in East Flatbush, a man was beaten and strangled to death draped on a bench on the boulevard.
In Flatbush, a woman poured gasoline by a lawn gate at a Yeshiva school and set it ablaze.
Also in Flatbush, a man got killed while jaywalking across the street when a speeding SUV driver ran him over in a hit-and-run.
In Ocean Hill, a man wanted for an assault on a woman months ago and armed with a gun ran away from the cops and hid inside a school where an after-school event was going on with hundreds of kids gathered in the auditorium. He probably should have climbed a tree and stayed there for about a week.
In Bensonhurst, an off-duty cop broke into her ex-girlfriend's apartment and shot and wounded her in the torso and murdered her new girlfriend by shooting her in the chest multiple times when she saw them walk in together. The killer was hoping to rekindle her relationship with her ex and was crashing at her apartment occasionally after their split.
In Downtown Brooklyn, a man shot at another man while he was driving his SUV, hitting him in the shoulder and causing him to crash into a parked car.
Also in Downtown Brooklyn, cops caught two groups of men fighting in front of a chain chicken fast food restaurant and then caught one of the men getting into his car and he made a sharp U-turn before he fled the area as cops shot at him trying to stop him
Again in Downtown Brooklyn, a man who murdered another man from New Rochelle got into a shootout with cops who left their jurisdiction and pursued him.
And again in Downtown Brooklyn, an anti-vaccine mandate protest for Kyrie Irving attended by thousands of people at Barclays Center escalated when demonstrators knocked down the barricades and attempted to get into the arena.
In Williamsburg, a woman threw boiling hot water at a man's face and stabbed him in the chest to settle an argument.
Also in Williamsburg, a 14-year-old boy got caught smuggling a gun into his school.
In Gravesend, a 15-year-old boy and a 14-year old girl riding on the same scooter collided with an SUV in motion in an intersection.
In Canarsie, a man buying a six pack at a bodega got into an argument with another customer who was hanging out at the counter and then the man grabbed him and threw him out of store and clocked him in the head with a bottle of Guinness.
In Bay Ridge, an NYPD detective got pulled over at the Verrazzano Bridge toll booth for driving an unregistered vehicle and tried and failed to persuade the cops to let him slide by flashing his badge and wound up with a citation to pay over $14,000 in toll beating fees.
Also in Bay Ridge, a woman running for city council filmed campaign ads of herself driving around town behind the steering wheel while cradling her little dog. She wound up winning her district on Election Day.
In Midwood, a man walked up to a group of four men loitering in front of a deli and shot all of them, hitting three of them on their legs and one of them in the arm in broad daylight and near a grade school and pre-k schools.
Also in Midwood, two high school students got into an argument at their school and decided to take their beef outside, so they took their guns out of their lockers and got into a gang-related shootout in front of their high school. Cops caught the younger gangbanger at an apartment building he tried to hide in and found his ghost gun in a stairwell. The young perp had two prior gun arrests earlier this year during Spring. Both students stored their guns in their lockers because the school doesn't have metal detectors and their safety officer personnel was slashed in half like every other school in the city.
In Brighton Beach, a man stabbed another man to death on a street corner in the early morning darkness.
Also in Brighton Beach, a woman socked a 17-year-old girl in the head with a cardboard box and called her a xenophobic slur.
In Borough Park, two men walked up to a car and surround the driver from both sides and threatened him to pop open the trunk and then they found and stole over a $1,200,000 worth of jewels in two duffel bags and ran away with them.
In Mapleton, a student got busted carrying a gun by safety agents after they intervened in a fight he was having with another student.
Also in Mapleton, two vagrant man drunk off their asses bullied a man who was standing in front of nite club and then ganged up on him and beat him down to the pavement after slurring him for being Jewish.
In Sheepshead Bay, a man got killed when he collided into a car while riding the wrong direction on a one-way street.
In Mill Basin, two men menaced and threatened a 17-year-old boy with a knife at a gas station.
In Carroll Gardens at the Carroll St. Station, a man committed suicide by jumping in front of the arriving G train.
In Greenpoint, an 84-year-old woman died from a fire inside her apartment that spread through two floors of an apartment building.
In Dyker Heights, a 64-year-old woman got hit by a city sanitation truck as she was crossing the street.
In Prospect-Lefferts Gardens, six firefighters drove a FDNY truck to a state senator's office and blasted their sirens and flashed their lights against the vaccine mandate. Even though the senator had nothing to do with implementing the edict.
Cops and ATF agents raided a man's house and collared him for possessing an arsenal of homemade "ghost guns" and a device to assemble them and also standard guns and a cache of bullets.
A man seduced girls into shooting kiddie porn videos in hotel rooms after promising to give them careers in modeling and pulled this deviant scheme off for 7 years.
Queens
In Brookville, a man who beat up his girlfriend on the street and threatened his mother evaded police who arrived to arrest him on a warrant for assault by crawling out the window of his mother's house and then he climbed up and occupied a tree in front of it,  where he remained for 52 hours because he didn't want to go back to Rikers Island. The cops coaxed the man to come down by offering the man a banana. Bet they thought that was mildly amusing.
During the nearly 3 day ordeal, the NYPD deployed hundreds of cops to force him down but then coaxed the man to come down by offering the man a banana (bet they thought that was mildly amusing). But a violence interruptor organization had more success and managed to persuade the mentally disturbed man to come down.
An area resident who just happens to be a NYPD chaplain was not only utterly taken aback at the size of the NYPD's presence and the  excessive and ludicrous resources they had to take down one man from a tree (like using drones), but also that they didn't have a functioning unit to deal with mentally disturbed people.
Queens Chronicle:
"I'm a neighbor," Perry, who said police turned the neighborhood upside down for three days, told the Chronicle Monday. "There was noise, banging and floodlights … if they would have called the crisis prevention program, it would never have led up to this."
Thomas was traumatized from his time on Rikers, according to Perry. Instead of a crisis management team, nearly 50 officers were on the scene and tried to get Thomas out of the tree by bribing him with food, using bright floodlights, flying drones and banging on some drums.
"There was noise and banging and floodlights and that was never the goal," said Perry, who has known Thomas for six years. "The goal was to get him treatment … and that could have been resolved instead of all that manpower."
Perry, who also happens to be an NYPD chaplain, suggested to police on Oct. 6, that they should reach out to a mental health crisis prevention team, but she said her recommendation was ignored.
"If they had called them from the beginning it would never had led up to this and now he is publicly humiliated and our neighborhood is now a target for a man that was in a tree," said Perry. "People are still coming here to take pictures and it's embarrassing."
In Jamaica, a man got shot to death on the sidewalk in a gang-related attack in front of a house in broad daylight.
Also in Jamaica, a 12-year-old boy stabbed another 12-year-old boy at a school playground.
In Far Rockaway, a man shot another man to death by blasting him three times in front of a deli.
In Edgemere, an argument between a man and two other man at a gas station escalated when the man pulled out a gun shot at them, blasting one man in the chest and hitting the other man in four places as they tried to flee.  He also hit a bystander in the ankle with a stray bullet.
In South Ozone Park, a man got killed when a speeding car crashed into him from behind on the highway as he was illegally riding his e-bike on the middle lane. The five men in the car abandoned the vehicle and ran away.
Also in South Ozone Park, a man got caught shoplifting a necklace in a store by it's manager and then he slashed him in the neck and chest when he tried to stop him from fleeing.
Again in South Ozone Park, a man pickpocketed two wallets from a man on a city bus and from another man inside a bodega.
And again in South Ozone Park, a dice game on the sidewalk led to an argument that escalated into a shootout between two men, one of them wound up getting killed.
And again in South Ozone Park, a man walking on the highway got killed when an SUV ran him over. The driver abandoned the vehicle in a nearby location.
In Ozone Park, a man sneaked up behind a 78-year-old woman and grabbed her ass while she was unloading groceries from her car and then he flashed his choad at her and walked away.
Also in Ozone Park, two well decorated cops from the 106th Precinct ran a prostitution ring with two call girls for a month, but it was actually an internal affairs investigation involving two female undercover investigators.
In Corona, a man pushed a 10-year-old girl off her bike and and stole her cellphone and rode away on her bike. This skell must have quite a daily itinerary.
In Astoria, a man sneaked into a church through a basement entrance and stole 800 bucks from a collection box.
Also in Astoria, a dead man's body was found floating in the river under the Hell's Gate Bridge at the park.
Again in Astoria, a homeless woman sneaked up behind a 16-year-old girl eating outside of a restaurant and wrapped her hands around her throat then walked away.
In Long Island City, an 18-year-old man lost control of his pick-up truck and ran over and killed a man riding his ebike home from work while he was in the bike lane.
Also in Long Island City, a man shot another man to death to settle an argument by the Queensbridge houses.
In Jackson Heights at the 74th Ave./Roosevelt Ave. Station, a man got slashed in the face during a tussle with two men on the E train and a man intervened by flashing a gun at the thugs to get them to stop. A potential Bernie Goetz incident is imminent.
In Flushing, a man got killed when he crashed his motorcycle into a car on an intersection. The dead man was recently released from prison after serving time stabbing a man to death 30 years ago.
Also in Flushing, a man was found dead in the back lot of row of stores with his face slashed.
Again in Flushing, a rapper got collared by the feds right when his set was about to start at a hip hop festival at Citifield for running a national drug ring trafficking and selling blow, smack and fentanyl in two states.
In Woodside at the 69th Ave. Station, a man and a woman menaced a 69-year-old woman and demanded her purse, then one of them cut the strap off with a knife and snatched it while cutting her arm during the mugging.
In East Elmhurst, a junkyard owner lets his junkyard dogs run roughshod at a cemetery next door where they go through a hole in the fence that was cut by him. Even when there are people mourning for their loved ones at their burials. The junkyard has made a concerted effort to annex the cemetery's property for years.
Also in East Elmhurst, a man stabbed a woman inside a nite club. Where's the night mayor at?
Again in East Elmhurst, a man killed himself when he crashed into an iron fence while riding an e-scooter.
In Rosedale, a man broke into a house and shot a 14-year-old boy in the back twice.
Also in Rosedale, a married couple got their house raided by the cops and were found with an arsenal of guns they assembled themselves along with clips and hundreds of bullets. Parts of the weapons and guns were found in the dresser drawer in their 10-year-old daughter's bedroom.
In Elmhurst, a man feigning to be a cop pulled a woman over in her car and robbed $360 from her at a parking lot.
In Whitestone, a killer wanted for shooting a man to death in Corona was found and arrested at his mother's house where he was crashing at and laying low for 4 months.
In Middle Village, a man got shot by his car after being pursued by his assailant after both men left a speakeasy party held in a closed small business store where a brawl broke out between a group of women on the street.
Also in Middle Village, a gang of 10 men attacked five boys riding bikes at the Atlas mall and robbed their wheels after brutally beating them up.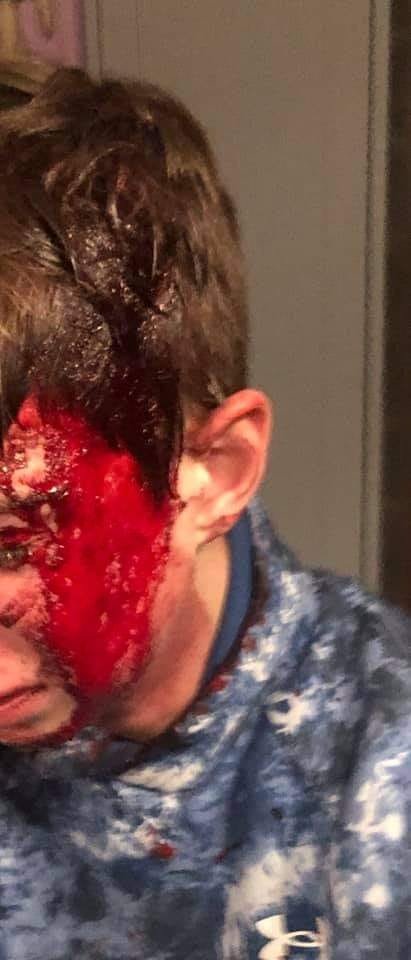 In Bayside, a man was found dead in a lake at a park after being reported missing for a week.
Also in Bayside, a social media account revealed fourteen brawls and rumbles between students at inside and outside of the same high school. Looks like The Blaz and Chancellor Meisha Porter's gold standard school reopening has regressed into a knuckle standard.
In Queens Village, a 16-year-old boy got caught possessing a gun when it fell out of his pocket during a fight with another student inside a classroom. Looks like The Blaz and Porter's gold standard for schools has also regressed into a lead standard.
In Willets Point, the FDNY raided a warehouse belonging to a welding suppler and confiscated over 500 cylinders of propane tanks (no propane accessories?). It's a safe bet that this supplier had orders for these from restaurants with open street shanties to be used for autumn and the coming winter but was suddenly in a bind when the stupid fucking idiot mayor The Blaz signed a law banning the use of them a few days earlier and had nowhere else to store them.
In Kew Gardens at the Queens County Courthouse building, a man already imprisoned for the murder of a man at a nite club in Flushing got indicted for the first shooting homicide of the year on New Years Day of a 19-year-old man in front of a hotel located across the street from the court building and around the corner from the D.A.'s office.
In Forest Hills, an off-duty school teacher gave her mother a fat lip during a fight at her house.
On Rikers Island, nine men Governor Kathy Hochul released prematurely from their sentences in order to ameliorate the violence inside the jails returned to their cells after they committed more crimes, notably gun possession and muggings, to add to their career of recidivism.
Again on Rikers Island, a C.O. got caught and suspended after sneaking a razor blade to an inmate.
And again on Rikers Island, an inmate who was sentenced for getting into a standoff with cops walked out of a prison facility after administrative staff lost his records. The fugitive was found at a parking lot nearby the next day.
To go along with the astronomical rise in auto theft, the plundering of catalytic converters also has seen a massive increase this year, which is contributing to the rise in carbon emissions from cars.
Staten Island

In New Brighton, a 16-year-old boy fired shots at a house but nobody was home for him to maim or kill.
In Clifton, a man loitering in front of a NYCHA building got approached by another man who knocked him to the ground with one punch and then shot him to death on the pavement.
In New Springville, a man shoplifted $2,000 worth of merchandise by a chain electronics department store in broad daylight and then decided to take the bus after his plunder where he eventually got pinched by the cops.
In New Dorp, an 18-year-old man shot his mother to death and wounded his father with his own 9mm gun following an argument with them inside their house.
In Elm Park, a man got shot in the ass on the street
Also in Elm Park, a man ambushed another man who was walking on the sidewalk and beat him down on the pavement to steal his cellphone.
Again in Elm Park, a 2-year-old got killed when she ran in front of an SUV coming out of a parking lot.
In Port Richmond, a woman held up a chain dollar store by feigning to have a gun in her pocket but wound up with nothing, but was able to get some cash pulling the same stunt at a laundromat.
In Grasmere, two men stole $2,300 from a car that was left open.
In Tottenville, a 62-year-old woman got into a fight with her 84-year-old mother on the street and pushed her to the ground and then hit her with her car and drove away.
In Clifton, a man attempted to burn a woman's apartment down by setting cardboard on fire by her door.
In New Dorp, a man shot a woman in the back on the street.
In St. George, a man and a woman stole wedding bands worth $17,000 from a jewelry store by tricking the salesperson.
In Willowbrook, a brawl broke out between three girls and escalated into a rumble with dozens of other students inside a high school, as one safety agent was left alone to deal with the chaos with assistance by a dean who recovered a knife carried by a 13-year-old girl, thanks to the understaffing issue caused by current mayor de Blasio's extortion driven vaccine mandate and the "woke" driven policies written by the fauxgressive city council cronies to deplete the NYPD safety officer personnel from the schools.