Clinton Hill, Brooklyn, New York
Riding my bike on Flushing Avenue two way bike lane on a very brisk January afternoon by the Brooklyn Navy Yard there was a very peculiar sight. A large mural on a commercial warehouse building featuring the name of current city council member of the 33rd District  Lincoln Restler was featured on it. Thankfully there wasn't a picture of his mug there, but what made it odd is what else was written on it.
According to the information that seems to be advertised here, the borough of Brooklyn loves Council member Restler (and also safe streets) and also a date to vote on June 22. That date just happens to be the primary he won last year against about over a half dozen other candidates leading to his inevitable victory running virtually unopposed on election day in November. Yet this mural campaign advertisement has remained there during that time between primary and general election and still remains to this day in Mid-January.
Wonder why is that? And the other wondrous thing about this campaign mural ad is that it hasn't been tagged over with graffiti, even though the Restler campaign deftly painted over a couple tags that are still visible,usually you would get your ass kicked for desecrating another graffiti artists work for that breach of street art protocol. Yet Restler's campaign mural is still immaculate.
Although this might be easy to miss while commuting by car and even bicycle, (which has a painted and a two way line on the sidewalk), the only way you can probably see this ad is if you walk out of the navy yard entrance that connects to Clinton Avenue, but the bigger mystery is how this was missed by New York City's campaign finance board, which clearly shows Lincoln is heavily violating charter rules for this thing still being up. To my knowledge, there has been zero reporting about this shit that Linky left on this wall from the legacy news media websites and even from at least 5 Brooklyn news blogs. The only one that actually brought attention to this was defeated rival Victoria Cambranes which she photographed and tweeted a month after the election was over.
One things for sure, somebody or some collective entity are paying for this way outdated campaign mural to remain on this wall. Because whoever owns this building has definitely sold it's walls to be used for advertisements. The artwashing kind. Because around the corner from Lincoln Restler's blight, there's a creative street art piece bought by Oscar Mayer.
But on Restler's campaign mural, there is nothing identifying who put this up, not even one of those "paid for by the yadda yadda yadda of so and so" notifications like on every normal campaign ad.
But there is a tell on who and what entity is behind it, and that's where (safe streets) factors in this. Why the Restler campaign and the entity would need to put open streets in parenthesis is subliminal advertising and promotion, very boldly considering the size of the ad and the font. For there are these urbanish bike zealots and "public space" lobbies and think tanks that have gained massive influence in most of our liberal city officials and even in the Department of Transportation in the last decade, which hit an extreme tipping point during the pandemic when former Mayor Bill de Blasio and the City Council cronies approved new bike infrastructure and, ahem, open streets that makes them open for people to mingle and frolic on them while closing them to vehicular traffic. This also led to notorious open restaurants program, usurping former parking spaces for cars to place outdoor dining shanties for people to eat and avoid catching covid.
And since his brief time in City Council, Restler has shown how deep he is with these bike zealots and urbanish entities, tweeting about making more bike lanes and open streets for his district, which consists of mostly upper class wokish thinkers like him. This behavior and this illegal campaign ad has shown that Lincoln Restler is a willing and defiant servant of agency capture, being that he is serving in the private interests of the "open streets" urbanish minority and their financial backers over the will of his constituency. And as long as Linky keeps that shit on that wall, it manifestly confirms it.
Yet Lincoln is not the only one enslaved by the "open streets" agency capture. His hipster neighbor and buddy Assembly Member Emily Gallagher brazenly showed her dedication to the urbanish open streets cult by arranging a zoom trivia contest with her gentry bike zealot base that was co-hosted by the transportation totalitarian caliphate members and actorvists and also some author whose book Emily was promoting, and the contest's theme was…. "safe streets."
And the fun part is that you had to donate to her re-election campaign to participate it, making people literally pay to play it.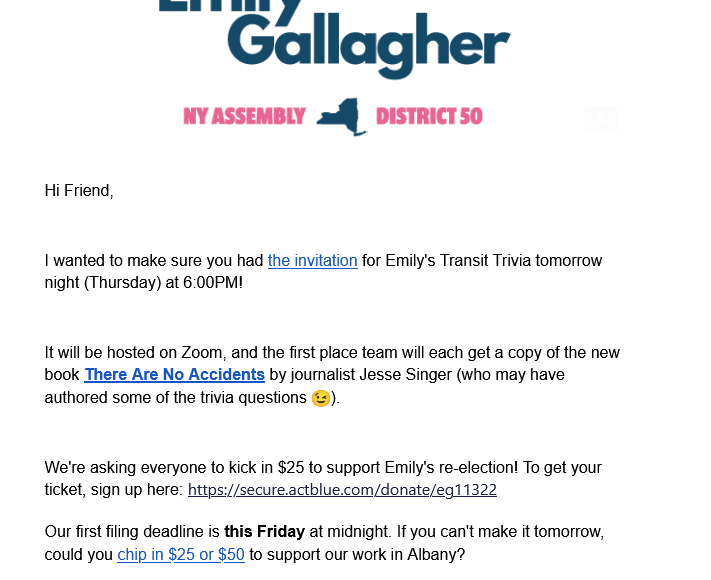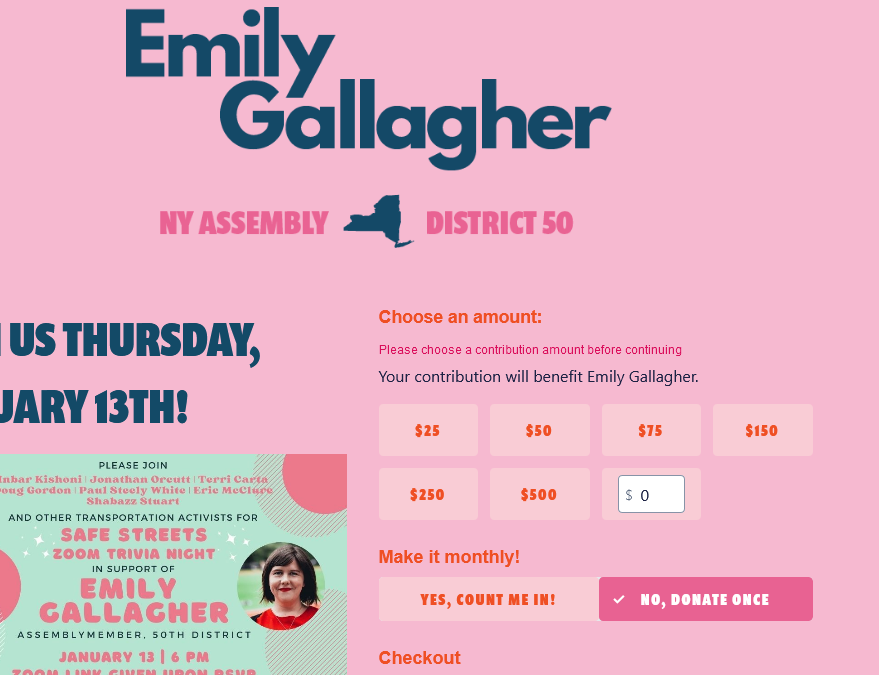 Surely, whatever answers there were to this trivia game where wholly rigged to fit the Transportation totalitarians narrative and surely will be sneakily processed into her policy proposals to take to Albany, circumventing whatever community reaction and detraction to them.
These people may act wholesome ideologues, but they don't fuck around when it comes to the little power they wield and whatever means necessary they will try to achieve to placate their greedy and selfish benefactors. All while unaccountability continues to get more normalized in the borough of Crooklyn and the rest of this goddamn fucking city.
Update:
A Crooklyn resident informed me that this Flushing Ave. warehouse where this illegal campaign mural still stands is own by a person named Marc Agger, a very successful businessman who runs a fish distribution business and is on the advisory board of Transportation Alternatives.
There's the connection to the (safe streets) mention. Why there's no indication of who is paying for this ad which would have racked up over a million dollars in fines in a normal city run by ethical and moral officials who care about things like accountability. But NYC would rather be a dystopian kakistocracy with bike lanes.