Albany, New York, U.S.A.
It took a decade, but the reign of Governor Andrew Cuomo finally and mercifully has ended. There actually was a time when Mario's Son would have been extricated earlier when he abolished the Moreland Commission to investigate permanent government corruption in the halls of the Albany State House-which was actually a fulfillment of a campaign promise he swore on that got him the governor's position-but wound up being at the time his biggest self-own as D.A. investigations were going into REBNY's role in influencing state policy decisions and eventually wound up getting two of the three men in the room Shelly Silver and Dean Skelos incarcerated for their pay to play schemes benefiting their donors.
Surprisingly, Cuomo managed to skate after all that and he continued on with business as usual making sure his moneyed donors continue to profit off his policy decisions. It wasn't until COVID-19 ravished New York that Cuomo really went overboard. Sure everybody knows about how his executive decisions got 15,000 elderly people killed with his nursing home edict and how he obscenely profited from the pandemic by writing a book about it, but the reason why he's gone is because Cuomo is a horndog.
After homemaker entrepreneur Sandra Lee dumped Cuomo just a few months before the pandemic was about to smack New York, Cuomo must have been really hardup to get laid. Then when the pandemic was ravishing his state, Cuomo was suddenly thrust into the limelight with his daily briefings and his constant appearances on his kid brother's prime time news show on CNN. Suddenly and disturbingly, the governor became a sex symbol over night, culminating with universal adoration from morning and late night talk show hosts and social media influencers which led to even more disturbing merchandise honoring the governor's sex symbol status . And being a megalomaniac narcissist, he probably though he can parlay this newfound fame into getting some young poontang in the office. And being how he was a counterpoint to universally culturally loathed Donald Trump, he probably thought he could shit where he ate and get away with it.
It was around this time Charlotte Bennett was his aide. Although he didn't lay a hand on her, Cuomo's still took opportunities to give her insinuations and implications that he thought would make her swoon for him. Cuomo must have thought he could parlay those Cuomosexual t-shirts into political ingenue arm candy.
Around the time Cuomo became the recipient of a just made up Emmy award is when he set his ribald wiles on Executive Assistant #1 by getting her alone in a room at the Governor's mansion and having his way with her, as he reached into her shirt and went to second base with her. EA #1 kept this traumatic incident to herself because of the culture of intimidation established in the Cuomo administration and undoubtedly the cult of personality around him because of his celebrity and mostly his political status as a leader guiding his state and the nation during the pandemic.
After EA #1 was highlighted in A.G. Letitia James report as well as a female State Trooper Cuomo got liberally handsy with and one incident where he asked her why she doesn't wear a dress (maybe it's because that's not the required uniform ya perv), Cuomo released a mea video culpa to all media outlets that he never touched anyone inappropriately, repeating the same defense he made after Lindsey Boyland unleashed her accusations of predatory behavior towards her back in March that opened up the investigation. Following 10 minutes of ponderous anecdotes and denials, Cuomo's video unleashed a montage of photos showing him kissing and touching his mother and other politicians.
From the looks of some of these photos, it's telling if these people, and one child, were appreciative of Cuomo's affectations.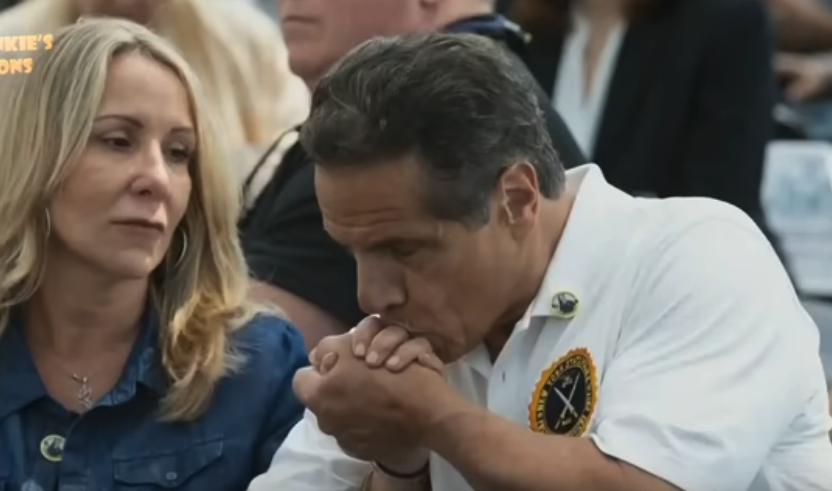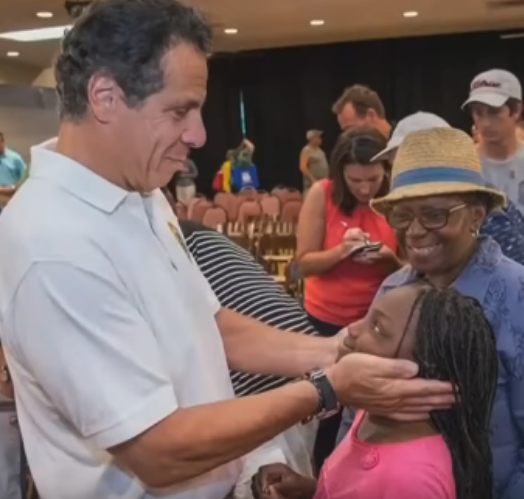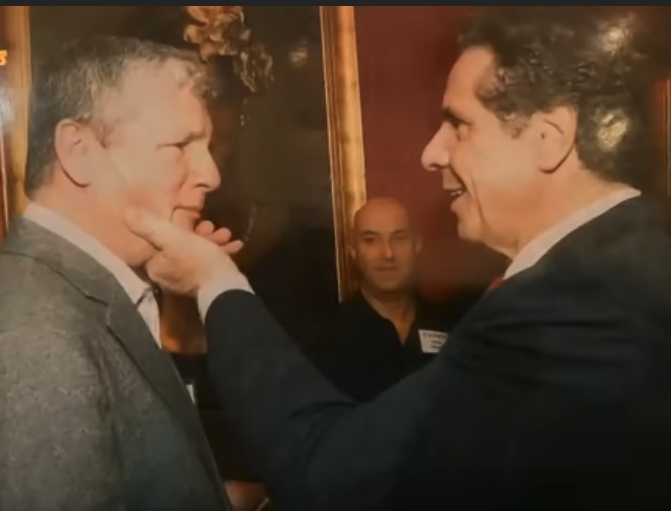 Even Vice President Al Gore was visibly cringing.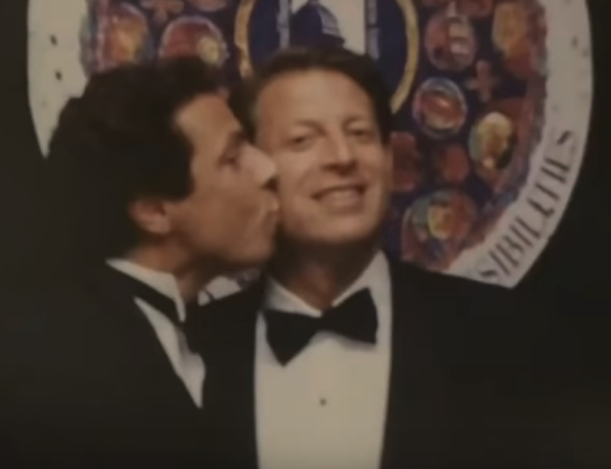 Prefacing and during this ludicrous montage, Cuomo claimed that they were all acts of affection that was passed down by his mother Matilda and became ingrained in him while growing up Italian, brazen false equivalencies he attributes to his aggressive inappropriate touching and condescending come-on incidents with the 11 women he had encounters with. But it's extremely doubtful that any Italian mother ever reached into her son's shirt and grabbed his boobies or made lascivious comments about his figure for being such a good boy.
Once D.A. James report was released and confirmed that Cuomo did touch all those women inappropriately, it didn't take long for the typhoon deluge of demands for his resignation from New York's elected officials and Democrat Party establishment, again, now that it was politically expedient after letting Cuomo slide for months to continue lording from the Governor's Mansion although while taking advantage of the weakened megalomaniac by getting marijuana finally legalized, debt forgiveness for CUNY students and extensions of the eviction moratorium.
It also didn't take long for new expose's to come out about Cuomo's protection racket that tried to oppress accusations of his abuse of power and toxic workplace environment with Cuomo's political gun moll Melissa de Rosa got cited for assembling a team to dig up dirt on Lindsey Boyland after the former top aide went commando with her accusations against the LuvGuv on Medium and Twitter. The fallout also crashed on Mario's other son Chris Cuomo, who along with other major DNC advisors got caught giving his brother advice while being given access to state records to circumvent the bad publicity of his brother's scandal.
Also after Cuomo's shitty video lament, it was clear to Executive Assistant #1 that her former boss was going to continue smearing her and she came out and exposed her identity in an interview with CBS News as she thoroughly explained her harrowing experience with her former boss, her expression wholly revealing the trauma she went and is still going through with the memory of that incident. Which was enough to convince Mario's son to finally announce his resignation after 20 minutes of his follow up unrepentant sorry/not sorry video still denying all the sexual harassment allegations against him. 
"I have never crossed the line But the lines have been redrawn"

It's not hard to figure out why Mario's Son is still being defiant about his fervent denials and it's not just his frequent misinterpretation of being New York Tough which inspired him to reject resignation for 5 months. Its that D.A. James report doesn't really charge him with anything, for it's a civil case and not a criminal case. So Cuomo won't be seeing any jail time any time soon, unless the incident with Brittany Commiso leads to charges.
Plus a deal was clearly made with Cuomo and the State Assembly for him (and his moll de Rosa) to keep his job and run the state for another two weeks, which should factor in the major land deal coming to the Penn Station district for another Hudson Yards luxury tower and commercial tower district with plutocrat Stephen Ross and who knows what other land grabs and tax break extensions Cuomo will enable and entitle them with after the sociopath developer donor money funded suarez they threw on Andy's birthday a week before James report came out. And now with Assembly Speaker Carl Heastie abruptly dropping the impeachment proceedings against Mario's son for his shitty resignation, Cuomo can still run for office again if he wishes to do so.
So what's happened here is that after all the accusations and all the corrupt machinating that kept Cuomo running New York State has really amounted to nothing except getting the governor cancelled or deplatformed for a little while. D.A. James investigation was an exciting chase that was better than the actual catch. Meanwhile, Cuomo's other major crime that affected and traumatized more lives-and ended over 15,000 of them-is still not being addressed, and that coward Carl Heastie has just killed the chance for James to do a long overdue probe on it, which follows the Biden Administration's Justice Dept. heinous decision to not pursue civil rights charges against Cuomo for his edict ordering nursing homes to take in COVID patients while knowing full well how the virus impacts on elder people with weakened immunity and in vulnerable environments. And with the exception of a few  officials, it's amazing how they were willing to tolerate Cuomo for his involuntary mass manslaughter of thousands of elderly people and then order de Rosa and her mean girl posse to juke the stats so it would be presentable in a book her boss got paid 5 million to write and then order her to lie to federal officials about the real death count.
The same with Washington D.C. too. For Cuomo has a loyal friend in the senile fascist Figurehead of the United States in Biden, because Cuomo was there in meetings about the infrastructure bills being written in Congress during James investigation and was also still the leader of the National Governors Board. It must have hurt Unkie Joe to finally call for his ouster for his perversions considering all the hair of children he opportunistically smelled during swear ins and his own finger raping of Tara Reade that he got away with thanks to the undermining of her accusations and militia style smearing of her on social media. That undermining courtesy of the fraudulent feminist organization Times Up, which also assisted Cuomo in providing protection for him going after his accusers.
All New York got out of this was a brief respite for seeing Andy's gargoyle face for a while and it seems no justice is really going to come for all those elderly people Cuomo made expendable to protect his hospital and hospice care executives. The executive downfall of Mario's son may assure a better working environment in the Albany State House but the disease of permanent government patronage and cronyism will still remain the same.
To quote Joe Biden: Nothing Will Fundamentally Change.
Surely, the former LuvGuv can appreciate all that.